February, you were filled with so much love. I will miss you.
(Also, Happy Leap Day! I wanted to create an awesome post to celebrate this day that happens every four years, but I wasn't able to. Whoops. Ha.)
In February—
Love-A-Thon is consistently my favorite bookish event in this community because there's just so much love and positivity! I loved talking to you all, and caps-locking. It has reconnected me back into the community, and that's so wonderful. This event shows again how awesome this community can be. I'm so blown away by the many people who decided to partake. Keep the love, joy, and positivity year-round!
YESSSSSSSSSSSSS.
SHE WAS FRICKIN' AMAZING. When I got to the bookstore, I saw her and quickly averted her eyes because that's Victoria frickin' Schwab! Gahhhhh. The event was amazing. There was never a lull in the conversation when she spoke. She is a goddess. I was just ajksdhahdasidhadadha, and couldn't even speak. (I will try to write my recap of the event soon!)
Also at the event, I met Lizzie (aka @nerddelizzie)! She participated in Love-A-Thon a week before, and then a week later, we met at Victoria's event! What a small world! SEE, THIS IS PROOF LOVE-A-THON BRINGS PEOPLE TOGETHER IN REAL LIFE. I was internally screaming because how it happened!
I finally started listening to new music. 
It felt like ages since I've actually listened to music that weren't in my Music to My (Y)ear post. I've gotten back into Ra Ra Riot (who I loved in high school), Foxes, and Daughter! I'M JUST SUPER EXCITED FOR NEW MUSIC. WHEEEE.
BOUGHT
FOR REVIEW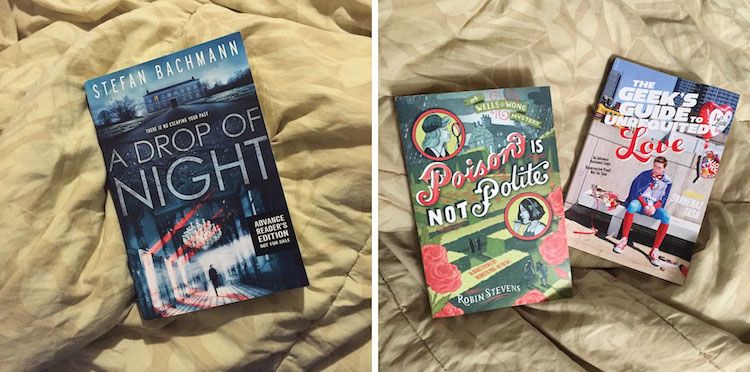 Thank you for the books, HarperCollins and Simon & Schuster!
REVIEWS
DISCUSSIONS
LOVE-A-THON
NOTE TO SELF FOR NEXT MONTH
Read, read, read. Write, write, write. Comics, comics, comics. 
As usual.
How was your February? Was it a great month for you? Anything you're looking forward to in March like books or events?