[quote]Top Ten Tuesday is a weekly meme hosted by The Broke and the Bookish where we list our top tens![/quote]
This week's topic is "top ten eight books I enjoyed that weren't my type of book (but now is)." Middle Grade books! I never thought much about Middle Grade books, but I've found myself yearning for them after getting a taste of the awesomeness I read. It's all those beautiful displays of friendships and the adventures the characters get themselves into. They have seduced me! Now, I've been bit by the Middle Grade-loving bug! I need to get all of them!
Here are eight Middle Grade books I enjoyed, and that you definitely need to read. (I highly recommend the first five.)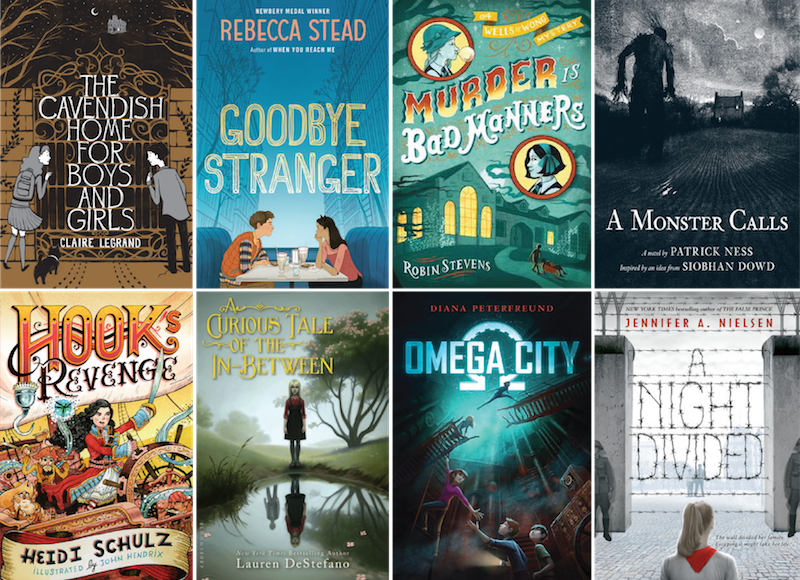 THE CAVENDISH HOME FOR BOYS AND GIRLS
Why you need to read it: Bizarre and creepy, unexpected outcome. Parents sending their children to The Cavendish Home for Boys and Girls, a reform school. Kids disappearing. It's brilliant. (My review)
Why you need to read it: Beautiful displays of friendship, where fights do not end them. So honest and full of love. Made me very emotional. (My review)
Why you need to read it: Murder mystery investigated by Daisy Wells and Hazel Wong. Told from Hazel's POV, a Chinese main character. Super fun. (My review)
Why you need to read it: Patrick Ness is a gem (and he wrote this). Very emotional book. Great illustrations that will consume you.
Why you need to read it: Super delightful MG about Captain Hook's daughter. Pirate antics.
THE CURIOUS TALE OF THE IN-BETWEEN
Why you need to read it: Supernatural tale about a girl who can talk to ghosts. Honest portrayal of death and grief. Good friendship! (My review)
Why you need to read it: Treasure hunt about lost Cold-War technology, disappearances and government cover-up, space-themed riddle, gun-toting bad guys, and an underground city doomsday bunker! (My review)
Why you need to read it: A taste of history. Simple historical portrayal of life after the erection of the Berlin Wall. Lots of tension between Greta's family and the Stasi. (My review)
I hope you'd read these Middle Grades! This is just the beginning. I have lots I want to read. What Middle Grade would you recommend me?