I love comics and graphic novels, so what do I do with that love? Well, I turn it into a new feature!

From Panel to Panel is a new feature where I talk about the awesome (and perhaps not-so awesome) comic books and graphic novels I've read. Basically, this will be me pushing them onto your laps. You're welcome.
Can you just smell the awesome that's about to head your way? Get your shopping carts ready because I'm gonna unload a bunch of awesome sounding comics onto your heads! ;) You will see my beloved popstar gods, a teenage president, reincarnated assassins, and so much more!
Let's see these February comics that intrigued me. (Maybe it will interest you too!)
PREZ • VOL 1 – CORNDOG IN CHIEF
Meet Beth Ross, the first teenaged President of the United States. In a nation where corporations can run for office, the poor are used as human billboards, and tacos are delivered by drone, our only hope is this nineteen-year-old Twitter sensation. But the real question isn't whether she's ready for politics—it's whether politics is ready for her.
Writer Mark Russell (God Is Disappointed in You) and artist Ben Caldwell (Star Wars: Clone Wars) take on a very unusual hero in these stories from PREZ #1-6, along with the Sneak Peek story from CONVERGENCE: BATGIRL #2. — DC Comics
Publication date: February 3, 2016 by DC Comics
Buy: LCBS · Amazon · Barnes & Noble · The Book Depository · Indigo · Comixology
Why I'm excited: A world where a teenage girl is president? Intriguing! Did I just read tacos? Hellloooo, I'm here! (I'm very easy to please. ;)) How will Beth Ross do as president? I have no idea, but I'm excited to see how she tackles politics and how different this world is. I'm ready for this political satire! (Panels tells you why you should pick up Prez, and I'm convinced!)
THE WICKED + THE DIVINE · VOL. 3 – COMMERCIAL SUICIDE
After the detonation of FANDEMONIUM the gods-as-pop-stars of THE WICKED + THE DIVINE try living in the long dark shadow. Team WicDiv are joined by a stellar cast of guest artists to put the spotlight on each of the gods. The multiple Eisner Award nominated series continues in the only way it knows how: darker, weirder, faster. Don't worry. It's going to be okay.
Collects issues #12-17. 
Written by Kieron Gillen, and art by Jamie McKelvie, Kate Brown, Tula Lotay, Stephanie Hans, Leila Del Duca, Mat Lopes, Brandon Graham, Clayton Graham, and Matt Wilson. — Image Comics
Publication date: February  3, 2016 by Image Comics
Buy: LCBS · Amazon · Barnes & Noble · The Book Depository · Indigo · Comixology
Why I'm excited: IT'S HERE. I REPEAT, VOLUME 3 IS FINALLY HERE. CUE THE EXCITED SCREAMING. AND IT SHOULD BE IN YOUR HANDS NOW.
They might call this "Commercial Suicide" (because the art can make or break this volume), but Kieron Gillen and the many artists deliver. This volume promises a lot of craziness—from the different art styles and what happens in this—that works perfectly. I was so struck by the wonderful commentary on pop culture, and it made me fall in love with different art styles that are showcase in this volume. I love it, and I hope you do too!
(If you haven't read The Wicked + The Divine, I highly recommend it, and here's why you need to read it now.)
Mali and Tessa have lived hundreds of different lives throughout time, caught up in an eternal cycle as they take part in a war so old that neither side remembers what they're fighting for anymore. As Mali wakes up in her newest life, she suddenly becomes self-aware and starts to question everything, especially why she continues to fight. But elsewhere, Tessa is already on the hunt…
Critically-acclaimed series, Welcome Back is a break-neck thriller of reincarnated assassins forever fighting, killing, and loving each other, by Eisner Award-nominated writer Christopher Sebela (Dead Letters, High Crimes) and artists Jonathan Brandon Sawyer (Critical Hit) and Claire Roe.
Collects issues #1-4. — Boom! Studios
Publication date: February 10, 2016 in LCBS (but March 1 for online retailers) by Boom! Studios
Buy: LCBS · Amazon · Barnes & Noble · The Book Depository · Indigo · Comixology
Why I'm excited: Reincarnated assassins. Need I say more?
1602 WITCH HUNTER ANGELA TP
I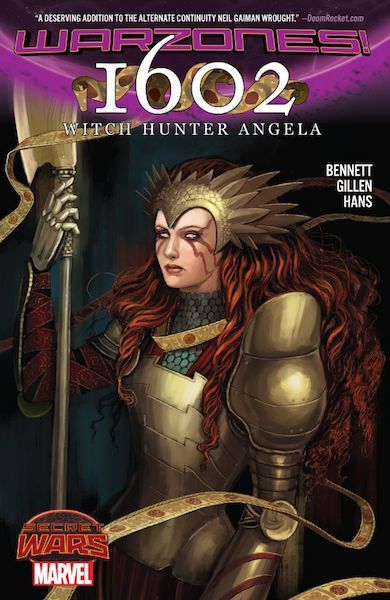 n the altered realms of BATTLEWORLD, Angela and Sera are WITCH HUNTERS, the scourges of King James' England, 1602. In a land beset by magic and monstrosity, they seek a new and seductive evil-not witchbreed, but deal-making FAUSTIANS, who bargain with ancient creatures for unnatural power! Moral ambiguity? Fancy allusions? Marguerite making the most of that English degree? 

Written by Marguerite Bennett and Kieron Gillen, and illustrated by Stephanie Hans.
Collects 1602 Witch Hunter Angela #1-4 + 1602 #1.  — Marvel Comics
Publication date: February 10, 2016 in LCBS (but March 1 for online retailers) by Marvel Comics
Buy: LCBS · Amazon · Barnes & Noble · The Book Depository · Indigo · Comixology
Why I'm excited: Remember Angela? Thor's long-lost sister? Well, in this alternate universe, she and her companion Sera are now witch hunters! That's right! Witch hunters! Also, the wonderful Marguerite Bennett and Kieron Gillen wrote this, and Stephanie Hans did the art, which is super magical! And I could not be anymore excited!
SPECIAL MENTIONS: Sweaterweather And Other Short Stories HC, Batgirl Vol. 2: Family Business, Midnighter Vol 1: Out, Birds of Prey Vol. 2
Do any of these comics interest you? Tell me which ones you're excited about! Have you read any of these?