MAY, MAY, MAYYYYYYYYYY. MY FAVORITE MONTH OF THE YEAR.
I'm only gonna talk about the good things because May is fabulous. I don't want to dampen my birth month with anger.
My birthday is one of the best ones in recent memory! 
IT WAS GLORIOUS.
I don't tend to celebrate my birthday on the day of my birth (because it usually coincides with graduation day or my friends are too preoccupied with work), but this year, BIRTHDAY CELEBRATION ON MY ACTUAL BIRTHDAY. I made plans with my friends to have dinner and mini-golf, and THE BESTTTT EVER.
For dinner, my friends and I had Asian fusion tapas. This dinner was full of firsts. I never had Mentaiko spaghetti, takoyaki, creme brûlée, and soju before. It was all delicious!
So that birthday dinner, voila. 😍 Enoki beef, grilled prawns, Mentaiko spaghetti, takoyaki (lighting is terrible :P) pic.twitter.com/tGptIfZR4N

— Cee ✨🔮 (@tnhcee) May 19, 2016
And TWO desserts (technically 4). Molten chocolate cake + a trio of creme brûlées (expresso, vanilla, & raspberry) 😍 pic.twitter.com/JVNoG1dU5H

— Cee ✨🔮 (@tnhcee) May 19, 2016
After dinner, my friends and I went played mini-golf (I got in for free because birthdayyyyyy), and I won by one point! It was seriously the best birthday ever!
I went to my first Free Comic Book Day!
I never went to Free Comic Book Day in the past because I either forget what day it happens, I already had plans to do something else, or I was just plain lazy. However, this time, I knew I had to go to my LCBS because KATE LETH WOULD BE SIGNING! Y'know, Valkryie founder and writer of Patsy Walker aka Hellcat and Bravest Warriors.
Here she is in all her glory.
The lovely + awesome @kateleth w/her talllll banner! I'm so in awe of her. 😍 @FantasticComics pic.twitter.com/cR0LtHWNM3

— Cee ✨🔮 (@tnhcee) May 7, 2016
She was so sweet. I didn't say anything intelligible to her, but that's okay.
The comic book store was packedddddd. I spent around 40 minutes looking for comics (since there was a sale), but unfortunately, I didn't find what I was looking for. I decided to go to another comic book in town and found what I was looking for (Welcome Back), which was signed! Yeeeee. WORTH.
I saw Captain America: Civil War, and it was the best.
Captain America: Civil War is definitely one of the top Marvel movies (but The Winter Soldier will always remain #1). I decided I need to watch it as soon as it came out because I wanted to avoid what happened with Star Wars: The Force Awakens. I didn't want to get spoiled by Tumblr, so five days after it came out, I went to see it, and blesssssss. I won't talk too much about it, but IT WAS AMAZING. T'Challa is everythinnnnnng. I need a Bucky and Sam buddy movie because they were hilariouuuuussss. I didn't care about Tony. Spiderman was okay, but oh god, so out of place. Mad that there wasn't a lot of screen time for the ladies. The villain was really effective. Now everything is the beginning of the end. I'm not ready. :((((
BOUGHT (TREAT YO SELF PRESENT)
GIFTED
MORE BOOKS · FOR REVIEW + TRADED
FOR REVIEW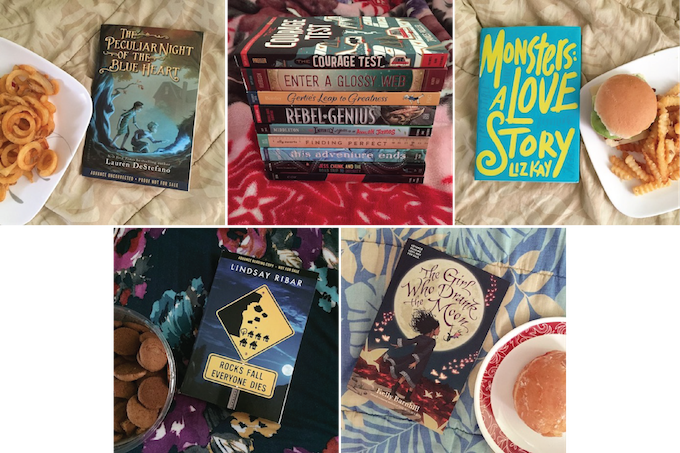 TRADED
YA
The Only Thing Worse Than Me Is You
MG
GENERAL FICTION
REVIEWS
COMICS
DISCUSSIONS
NOTE TO SELF FOR NEXT MONTH
Read, read, read. Write, write, write. Comics, comics, comics. 
As usual.
How was your May? Was it an ultra-fabulous month for you like it was for me? Anything you're looking forward to in June like books or events?