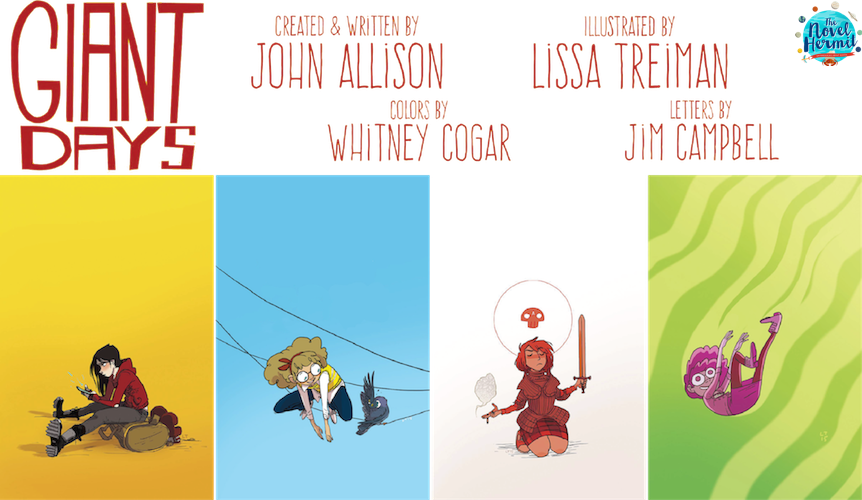 You know what they say about college friendships, "the friends you make in college will last you a lifetime." Nothing bonds people more than being constantly at "war," and "war" in Giant Days is having to help a friend who is prone to attracting drama and disasters.
Written by webcomic creator John Allison and illustrated by Disney artist Lissa Treiman, Giant Days follows three British university students—Susan Ptolemy, Esther de Groot, and Daisy Wooton—who get into some wacky school adventures such as being prone to drama, flu delirium, complicated love lives, lad culture, and so much more that's depicted with clever and funny dialogue and gorgeous art.
WHY DO YOU NEED TO READ GIANT DAYS?
Each character in Giant Days are an absolute delight to read.
You meet:
Daisy

, the sweet and naive girl who's most recognizable by her round glasses and big poofy hair and harbors a girl crush she's trying to figure out;

Susan

, the tough and deadpan tomboy who has more common sense than her friends combined and doesn't like to discuss her past;

Esther

, the palest, goth girl you'd ever meet who is prone to getting into drama constantly and unintentionally;

Ed Gemmell

, a friend of the three girls who has a massive crush on Esther;

McGraw

, a handy and moustached former friend of Susan from their hometown who tries to make amends with Susan.
When you get to know them—through their dialogue and actions—you'll understand why they're a delight.
The friendship between the girls are the type you'd want for yourself.
Only three weeks into university, Susan, Esther, and Daisy are the best of friends. They've bonded due to Esther and her drama, and for them, that's a perfect glue for a solid friendship. These girls have each other's backs no matter what. They tease each other. They're protective. They've seen each other at their absolute worst. Friendships! <3
Giant Days is super funny.
Case in point: exhibit 1, exhibit 2.
Isn't it amazing? You get delicious British humor right there. The dialogue and shenanigans they get into will have you smiling or snickering under your breath. Tell me those examples didn't. I dare you.
These characters get into relatable situations that is depicted hilariously.
Expect episodic stories of these university students where they deal with the impending drama that occurs when Esther is around; deal with the flu and their hallucinations; try to get revenge on disgusting bros with their "lad culture"; love life disasters; and so much more.
This comic showcases so much of the quirks and delightfulness in every situation. You'll go, "yeah, I can see that actually happening in my life." It's just fun!
The art is cute and so perfect for these characters.
Take a look: voillaaaaa. What do you think? The art is more of a cartoony-vibe, and has perfect scenes with exaggerated reactions. The colors are vibrant, which is so perfect for the characters because they pop out more.
Who will love this comic? Readers who like clever British humor and ladies getting into funny university shenanigans. Lumberjanes fans. Cartoon-y art. Characters who you feel like you can really relate to. People who like moustaches.
[note note_color="#DDB349″ text_color="#ffffff"]
Are you convinced?
Add to

your TBR on Goodreads

. Go buy Giant Days: Vol. 1 (collects issues #1-4) from your local comic book store, or these online retailers:

Amazon

·

Barnes & Noble

 ·

The Book Depository

 ·

Indigo

 · Comixology. Or

borrow it from your library

.
 [/note]
What do you think of Giant Days? Did I convince you to read it? Have you read this comic? (You should definitely pick it up.)