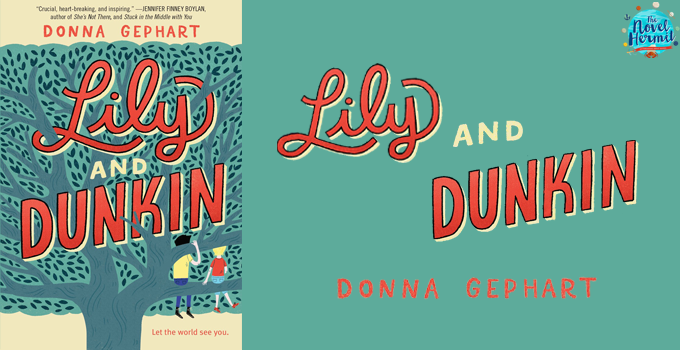 [note note_color="#F1E8C1″ text_color="#000000″]Lily and Dunkin by Donna Gephart • May 3, 2016 • Delacorte Books for Young Readers (Random House)
Website | Twitter | Goodreads | Amazon | Barnes & Noble | The Book Depository | Indigo | Library
Lily Jo McGrother, born Timothy McGrother, is a girl. But being a girl is not so easy when you look like a boy. Especially when you're in the eighth grade.
Dunkin Dorfman, birth name Norbert Dorfman, is dealing with bipolar disorder and has just moved from the New Jersey town he's called home for the past thirteen years. This would be hard enough, but the fact that he is also hiding from a painful secret makes it even worse.
One summer morning, Lily Jo McGrother meets Dunkin Dorfman, and their lives forever change.[/note]
[note note_color="#BFD1D1″ text_color="#ffffff"]I received this book for free from Random House for review consideration. This does not affect my opinion of the book or the content of my review.[/note]
First sentence: "Lily Jo is not my name. Yet."
Meet two eight graders struggling with acceptance and being different:
Lily, a transgender girl, wants to be who she is—a girl, not a boy—and to tell the entire world who she really is. She has a family who is very accepting of her, but her father still isn't able to do so. She has to deal with bullies who call her terrible names. Lily is a tough girl. She has to deal with so much—her gender, bullies, and wanting to come—and you just want her to be happy being who she is.
Dunkin, a boy dealing with bipolar disorder, has moved from New Jersey, and tries to fit in with the kids who befriended him (they also happen to be Lily's bullies) by telling a couple of lies to make him cooler. On the urging of his new friends, he tries out for the basketball and starts cutting back on his medication in order to play better. He harbors a secret that rises to the surface when he stops taking his medication.
Lily and Dunkin shows you two kids who are just trying to fit in, pretending to be somebody they're not, and I think many people will be able to relate to that.
Narration: Readers get a first-person narration that alternates between the two characters. The sections are separated by headers—Lily's with cursive and Dunkin's block capital. I thought it was a cute way of separating each character's narrative instead of using chapters.
Other thoughts:
This Middle Grade portrays a family that is very accepting of Lily, which was great because she has a solid support system, but I would've liked to have seen the before—specifically how her mother, sister, and best friend reacted to Lily's admission that she is a girl. I think it would've been great to show young readers how this girl came out to her family.
Lily and Dunkin isn't inclusive of every experience transgender or bipolar people will face. Not all trans kids/teenagers will relate to Lily's story. Lily's story is a bit more positive in the sense that Lily has people who already accept her, and not every trans individual will have that. It's kind of a picture-perfect portrayal, which may not be that great if readers want something that's extremely heavy in emotions.
Readers get to experience Dunkin's manic moments, and you really feel like you're in his skin, bouncing all over the place.
There aren't as much Lily and Dunkin moments as I was expecting.
Why Lily and Dunkin is important for young readers? It portrays an experience that some transgender or bipolar young readers may relate to. It also educates readers what some transgender and bipolar individuals may be going through. It doesn't get very in-depth, but it gets a starting conversation going.
Should you read Lily and Dunkin? You should.