I love comics and graphic novels, so what do I do with that love? Well, I turn it into a new feature!

From Panel to Panel is a new feature where I talk about the awesome (and perhaps not-so awesome) comic books and graphic novels I've read. Basically, this will be me pushing them onto your laps. You're welcome.
Mayday, mayday, mayday! I am here to talk about the comics that were published on this glorious month of May! You will see Spider-Gwen, a monster summer camp, Twilight Zone-like world, Howard the Duck, and much more!
Get your shopping carts loaded with all these comics!
SPIDER-GWEN • VOL. 1 – GREATER POWER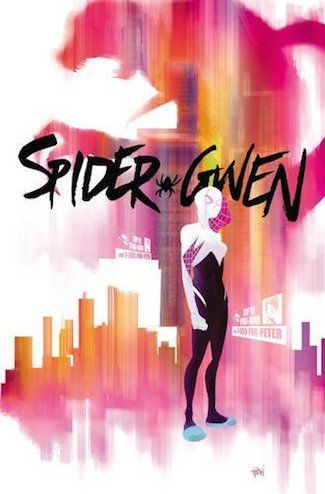 Gwen Stacy is back in the webs and has an all-new, all-different mystery to solve: the reappearance of the Lizard! The Spider-Woman of Earth-65 was convinced that the Lizard died in her arms along with Peter Parker. But a new reptilian rampage leaves her with doubts not only about Peter's life, but his death as well. Troubles begin to mount as the Osborns of Gwen's world make their debut, and she finds herself on S.H.I.E.L.D.'s most wanted list! Perhaps some wise words from a mentor figure could help – how about Jessica Drew, the Spider-Woman of Earth-616? What lessons about power and responsibility will Jess have to share, and what use will they be when Gwen battles the Goblins?
Written by Jason LaTour (Southern Bastards) and art by Robbi Rodriguez, this graphic novel collects issues#1-6. — Marvel Comics
Publication date: May 11, 2016 by Marvel Comics
Buy: LCBS · Amazon · Barnes & Noble · The Book Depository · Indigo · Comixology
Why I'm excited: In this world, it's Gwen Stacy who was bitten by the radioactive spider, not Peter Parker!
In my Comic Firsts post about the first issue, I said I wasn't sure if I would read this series because I'm tired of Spider-stories. Although I'm still hesitant about this I still would definitely want to check out this volume because I liked the art, colors, and the various different Marvel characters that pop into Gwen's life (like Jessica Drew!).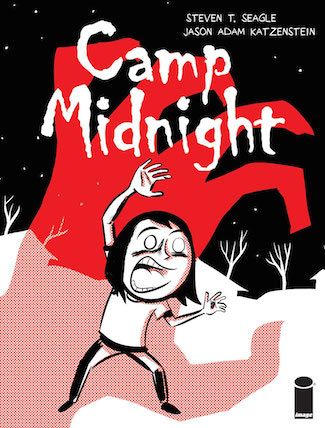 Ben 10 and Big Hero 6 creator STEVEN T. SEAGLE returns to comics with New Yorker cartoonist JASON ADAM KATZENSTEIN for a new graphic novel!
Reluctant Skye is accidentally sent to the wrong summer camp. Not wanting to please her "step monster," Skye is dead-set on not fitting in. That won't be a problem, as everyone at Camp Midnight-with the exception of fellow camper and fast-friend Mia-is a full-fledged monster! The perfect book for fans of Raina Telgemeier's Smile, but wish it had more bowls of gooey eyeballs. — Image Comics
Publication date: May 3, 2016 by Image Comics
Buy: LCBS · Amazon · Barnes & Noble · The Book Depository · Indigo · Comixology
Why I'm excited: Monster camp? So cute!
On Free Comic Book Day, I grabbed an issue of this, and I totally fell in love! Skye is very fearless, and isn't afraid of no monsters. The story seems pretty cute, and I love the way this comic is colored (because it's like one color a panel). I'm excited to see how the monster story plays out especially how it addresses what makes someone a monster.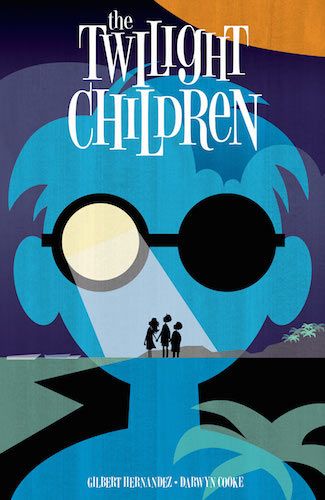 Comics legends Gilbert Hernandez (Love and Rockets), Darwyn Cooke (DC: THE NEW FRONTIER) and Dave Stewart (Hellboy) craft a haunting and unforgettable tale of magical realism with THE TWILIGHT CHILDREN.
No one knows what the mysterious glowing spheres are, or where they come from. The only thing that matters to the residents of the beachside village where the orbs manifest is what they do when they appear.
They blind children and imbue them with psychic abilities. They destroy homes, and make entire families disappear. They attract scientists, government experts and secret agents, each with their own agenda. And they inflame small-town passions—secret lovers, simmering resentments—to a fever pitch.
Now, they've brought Ela. Materializing on the beach just as mysteriously as one of the orbs, this beautiful woman says nothing, but seems to harbor unspeakable power. Will she help to save the town, or destroy it? Or is it Ela herself who is really in danger? — Vertigo
Publication date: May 11, 2016 by Vertigo
Buy: LCBS · Amazon · Barnes & Noble · The Book Depository · Indigo · Comixology
Why I'm excited: Ummm, an glowing orb that blinds children and give them psychic abilities? This is like an episode of the Twilight Zone! Just read the rest of the synopsis! Tell me that's not something you'll see on the show. I'm so excited for this because of the Twilight Zone feel, the sci-fi + magical realism in it, and Darwyn Cooke's art.
ALL-NEW WOLVERINE 
· VOL. 1 – THE FOUR SISTERS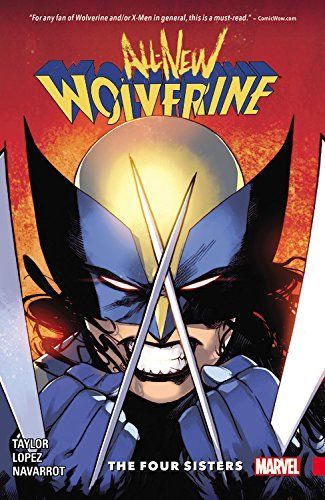 She's the best there is! X-23 was created to be a weapon; for a time, that's all she was. But with the help of her mentor, Logan — the original Wolverine — she escaped that dark past. Now, the man she knew has fallen, but Laura will honor his memory as the All-New Wolverine. But with the famous cowl comes a world of misery and mystery — like the devastating secret of the Sisters. Uncovering it will involve new friends Doctor Strange and the Wasp, and lethal new enemies like the Taskmaster! But after recent events, Laura is growing used to doing everything in her power to save those around her from forces hell-bent on destruction. If anyone can stop them, it's Laura. After all, it's what Wolverine does.
Written by Tom Taylor and art by David Lopez and David Navarrot, this volume collects issues#1-6– Marvel Comics
Publication date: May 11, 2016 by Marvel Comics
Buy: LCBS · Amazon · Barnes & Noble · The Book Depository · Indigo · Comixology
Why I'm excited: Laura Kinney is back! In the newly acquired role of Wolverine! Hells yeah!
ZODIAC STAR FORCE • BY THE POWER OF ASTRA TP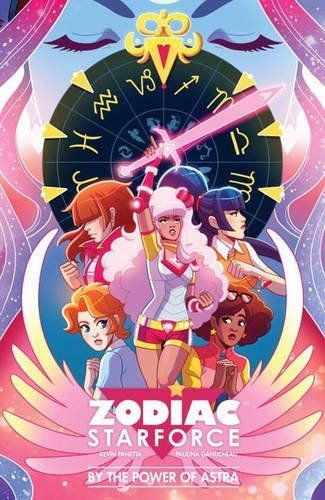 They're an elite group of teenage girls with magical powers who have sworn to protect our planet against dark creatures . . . as long as they can get out of class! Known as the Zodiac Starforce, these high-school girls aren't just combating math tests. They're also battling monsters–not your typical afterschool activity! But when an evil force from another dimension infects team leader Emma, she must work with her team of magically powered friends to save herself–and the world–from the evil Diana and her mean-girl minions!
From Kevin Panetta (Bravest Warriors) and Paulina Ganucheau (TMNT: New Animated Adventures, Bravest Warriors), this super-fun and heartfelt story of growing up and friendship–with plenty of magical-girl fighting action–delivers the most exciting new ensemble cast in comics!
Collects issues #1-4 — Dark Horse
Publication date: May 18, 2016 by Dark Horse
Buy: LCBS · Amazon · Barnes & Noble · The Book Depository · Indigo · Comixology
Why I'm excited: This has been likened to Sailor Moon, so hells yeah I'm excited about Zodaic Starforce! What is not exciting about teenage girls with magical powers who are trying to save the world from evil forces + awesome friendships?
HOWARD THE DUCK 
· VOL. 1 – DUCK HUNT
Trapped in a world he's grown accustomed to! The flightless fowl gets a new beginning, with the exact same superstar creative lineup as before! But this time, the whole entire universe is after Howard — and that includes the would-be new herald of Galactus! As the duck hunt begins, things get totally cosmic with the Silver Surfer, the Collector, the Stranger and the Guardians of the Galaxy! Plus: Brace yourself for the two most sensational, fan-favorite, Internet-breaking Marvel team-ups of the year! She's a little nutty, he's downright quackers — it's Squirrel Girl and Howard! And in a tale that will launch a thousand cosplay double-acts, meet Gwenpool! The Duck is back, and this means "Waugh!"

Written by Chip Zdarsky (Sex Criminals, Jughead) and illustrated by Joe Quinones, this volume collects Howard the Duck #1-6 and Unbeatable Squirrel Girl #6.  — Marvel Comics
Publication date: May 18, 2016 by Marvel Comics
Buy: LCBS · Amazon · Barnes & Noble · The Book Depository · Indigo · Comixology
Why I'm excited: Howard, Howard, that weird anthropomorphized duck!
With Chip Zdarsky at the writing helm, I can expect great humor in this.
SPECIAL MENTIONS: We Stand On Guard Deluxe Edition, Grayson • Vol. 3: Nemesis, ODY-C Volume 2 Sons Of The Wolf TP, The Mighty Thor, Vol. 1: Thunder in Her Veins, Unbeatable Squirrel Girl Volume 3 Squirrel You Really Got Me Now TP
Do any of these comics interest you? Tell me which ones you're excited about! Have you read any of these?