For May, I read consistently good books, and that's all I ever want to do. (There was a bad apple, but the good outweighed the bad!) I got a major head start on June books, which makes me want to do it again for this month! I will say this again to the Book Gods: please continue this reading and reviewing streak.
For those who do not know, Too Much TBR is a way to help me see which books I really need to read and tackle them. Is it effective? Perhaps. It helps a lot seeing a visual of the books on my TBR pile.
Let's discuss what I read last month, and what I'm reading this month!
In May, I had eight priority books.
I LOVED:
Some Kind of Happiness with every fiber of my being! (Finley's sadness and her writing are something I, and other readers, can relate to.) I am gonna push this book onto people to read until the end of time.
Girl Against the Universe. Love seeing how Maguire overcomes her fear and anxiety and the positive portrayal of therapy.
The Only Thing Worse Than You Is Me. Such a cute geeky book that was inspired by Shakespeare's Much Ado About Nothing. The bantering and references are so top!
I enjoyed
American Girls. Although the main character frustrated me, I loved seeing that her cynicism and about how regular people make really bad decisions that makes them seem "terrible" and where those decisions lead them.
Lily and Dunkin. Good to see the experiences of this transgender girl and bipolar reader, but it's not a very indepth exploration. It gets a conversation going though.
I ended up not reading three of the books, but unintentionally replaced it with three other reads. (Does that make sense?) I tried to read Traitor Angels, but it was too slow for my liking so I've put that book on the back burner until I get the desire to read it. I didn't get Summer Days and Summer Nights or Smoke, but I may borrow them from the library. I read three other books in place of the ones I didn't read: Hamilton: The Revolution (which is obviously so frickin' good!), Monsters: A Love Story (ehhh, very shallow + cliche characters), and Rocks Fall, Everybody Dies.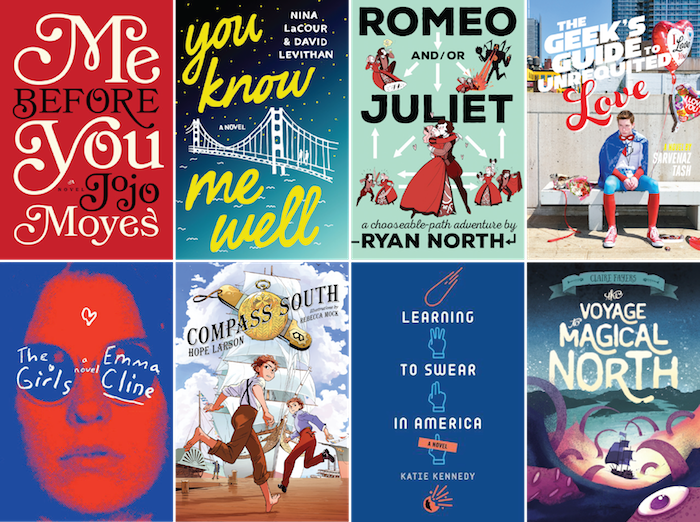 June TBR is actually shorter than the past few months, so I added a backlist book and July books.
Because the Me Before Me movie comes out this week, I thought I should really read the book. I'm not entirely sure if I will get to it because it depends on my mood.
Compass South, a graphic novel, comes out at the end of the month. Middle Grade + Hope Larson + pirates + gangs = awesome.
Note: All these books here do not account for other books that may slip into my TBR list (because mood reading will probably happen) nor of the comics I will be reading. I'm sure I missed other books I want to read this month too, but since I can't remember, it must not be priority, right? Let's hope I make a dent in my TBR books for June!
How was your May? Tell me what's on your June TBR list. 

Have you read any of the books on my lists? Or are you planning to read them?