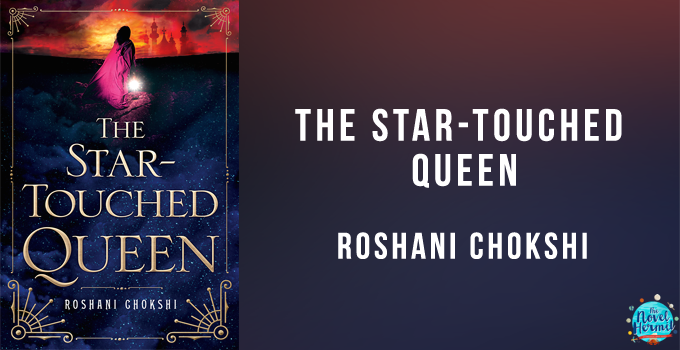 [note note_color="#252740″ text_color="#ffffff"]The Star-Touched Queen by Roshani Chokshi • April 26, 2016 • St. Martin's Griffin
Website | Twitter | Goodreads | Amazon | Barnes & Noble | The Book Depository | Indigo | Library
Fate and fortune. Power and passion. What does it take to be the queen of a kingdom when you're only seventeen?
Maya is cursed. With a horoscope that promises a marriage of Death and Destruction, she has earned only the scorn and fear of her father's kingdom. Content to follow more scholarly pursuits, her whole world is torn apart when her father, the Raja, arranges a wedding of political convenience to quell outside rebellions. Soon Maya becomes the queen of Akaran and wife of Amar. Neither roles are what she expected: As Akaran's queen, she finds her voice and power. As Amar's wife, she finds something else entirely: Compassion. Protection. Desire…
But Akaran has its own secrets — thousands of locked doors, gardens of glass, and a tree that bears memories instead of fruit. Soon, Maya suspects her life is in danger. Yet who, besides her husband, can she trust? With the fate of the human and Otherworldly realms hanging in the balance, Maya must unravel an ancient mystery that spans reincarnated lives to save those she loves the most. . .including herself.
A lush and vivid story that is steeped in Indian folklore and mythology. The Star-Touched Queen is a novel that no reader will soon forget.[/note]
[note note_color="#BFD1D1″ text_color="#ffffff"]I received this book for free from St. Martin's Griffin for review consideration. This does not affect my opinion of the book or the content of my review.[/note]
First sentence: "Staring at the sky in Bharata was like exchanging a secret."
The Star-Touched Queen has put a spell on me. Seduced me with its promise of stars, fates, and mythology. Nobody could save me as soon as I stepped into this gorgeous world. I was a complete goner.
What The Star-Touched Queen brings readers are: a gorgeous story that weaves in Indian folklores and mythology, a girl who's destined to marry death and destruction, stars and fates that shine down on the characters, magical settings that instantly transport you onto another plane, fantastic lush writing that'll have you floating on cloud ten, and so much more that I can't do a justice describing. It'll completely ensnare you into its web, so you better hold on.
Things That Might Happen When You Read
The Star-Touched Queen
Fall in love with the lush writing.
The writing is so lush and magical. I don't know how else to describe it. The writing promises you the stars and fates, and it delivers. Once you get a taste of this writing, you can't get enough of it. There's so much beauty to the writing and the world that's created. Roshani Chokshi is a writer you need to keep on your radar.
Appreciate the folklores and mythologies that's woven into the story.
The Star-Touched Queen is so rich with them. You get tastes of it throughout the book like you'll see Airavata (the white elephant that spins clouds), Savitri + Satyavan (bargaining with Death), and Shakuntula (memory + forgotten loves). Not only do you get to see Indian folklores, you'll see Greek mythologies incorporated like Hades/Persephone and Cupid/Psyche, which is beautifully done. I loved it, especially this rendition of Hades/Persephone story.
All the folklores and mythologies woven into the story feels familiar, but they have a different spin that makes it fun and very much its own.
Close your eyes and imagine all the magical places it speaks of—Akaran, the Night Bazaar, and Bharata.
You'll get lost in these magical places. From Bharata, Maya's homeland, to Akaran, Amar's home that Maya is brought to, you'll want to know every little detail about these worlds. I loved seeing how these places—specifically the Otherworld—are supposed to be fictional and just stories, but they actually exist. The Otherworld has the bustling Night Bazaar where you can find all sorts of strange shops that sells nightmares, new scales for serpent tails, or sleepless nights. In a world between the human realm and the Otherworld lies Akaran, a place that's beautiful yet empty—a big difference from the busy Night Bazaar. The halls are filled with voices, and the walls are aligned with doors and mirrors that open into different places like a barren desert or a glittering port city. The possibilities are endless here. I'm just so mesmerized by every place, and you'll be too.
Become enthralled by the gorgeous romance.
HOLY FEELS GALORE.
I was all for this romance (and you should know I'm never one to get emotional about YA romance). Something about Amar and Maya's love does it for me. Amar is so gentle with Maya, and he doesn't force her to do anything she doesn't want to do, nor does he threaten her. You can feel the love behind his words and every actions. You can feel the quiet pining. My heart! It also plays on a lot of my favorite tropes to perfection (pining dudes, reincarnation), and it caught me off guard in the best way.
Laugh at the friendship between Maya and Kamala.
I won't tell you who Kamala is, but let me just say this was an absolute joy to read. The dialogue between the two made me laugh so much. It's good to see that Maya is not alone—that she has a companion-of sorts in her journey.
Wonder about the fates and the stars.
All the talk about the stars and fates has me sighing in delight. It's so beautiful. Here is Maya, who the fates essentially cursed because her horoscope foretells her marrying death and destruction. She's essentially been defined by the fates, and you see her somehow take charge of it. And the stars with the constellations and nebulas will make you want to lay down and stare into the night sky. (Though, it makes me think of Valentino's Cosmo collection and Nicole Kidman's Alexander McQueen dress for the Met Gala.) It'll make you think.
Should you read The Star-Touched Queen? YES, YES, YES. Have I said yes?
You want Indian and Greek folklores and mythologies? Ultra lush writing? A girl who keeps her head high despite her circumstances? A swoon-worthy romance? Reincarnation? Promises of stars and fates? Pick up The Star-Touched Queen now! Be prepared to fall in love.