I can safely say that April knocked March off its pedestal. I got through majority of the books I needed to read (and also read non-review books in the process). Book Gods, you are too good to me. Please continue this reading and reviewing streak. (Although, I've been feeling a bit burnt out so I think a break may be in the works for me.)
For those who do not know, Too Much TBR is a way to help me see which books I really need to read and tackle them. Is it effective? Perhaps. It helps a lot seeing a visual of the books on my TBR pile.
Let's discuss what I read last month, and what I'm reading this month!
In April, I had ten books that were on my priority list (actually 11 since a finished copy of Sleeping Giants arrived on my doorstep for review), and I got through all but one!
I LOVED Scarlett Epstein Hates It Here (so funny + IRL fanfiction + ~spoke to my past teenage self!), The Star-Touched Queen (magical book that made me cry), Poison Is Not Polite (intriguing poison mystery + great growth of Daisy and Hazel), Wonder Woman at Super Hero High (positive messages, true role model), Sleeping Giants (crazy robot sci-fi mystery).
I was super disappointed with Tell the Wind and Fire (so frickin' slow and just blah) and The Land of 10,000 Madonnas (all the characters were annoying and petty, no friendship ~feels). Burning and A Fierce and Subtle Poison were okay reads, but nothing truly memorable.
Non-priority books I read: Wink Poppy Midnight (such a weird book that confused me), The Year of Shadows (Claire Legrand's Middle Grade books are the best!), and Giant Days • Vol. 1 (super delightful comic that made me laugh).
I decided to DNF Away We Go and This Is My Brain on Boys.
The only book I didn't finish is Lily and Dunkin, which I'm currently reading.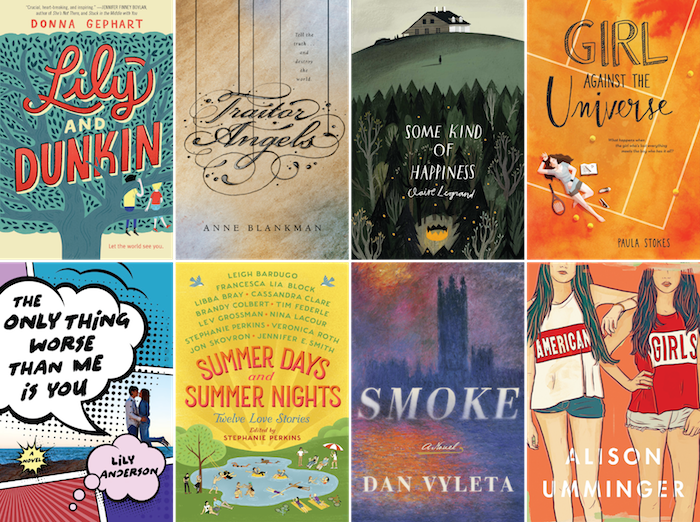 I am gonna try to take my sweeeet time with these books (especially since I'm feeling burnt-out and not really in the mood to read).
I'm very excited Some Kind of Happiness because Claire Legrand is my favoriteeeee. Her Middle Grades are my absolutely favorite reads ever! And I know SKOH will be no different!
Not entirely sure if I'll be getting Smoke this month, but oh boy, friends, it's about an alternate England where smoke comes pouring out of wicked people. I need to know more about this world and what happens.
I want to attempt to get ahead of June books, so I've thrown American Girls into May's TBR. I'm fascinated to see if Anna's life and story parallel the lives of the Manson girls, and what she realizes about herself in a world that seems very lonely.
Note: All these books here do not account for other books that may slip into my TBR list (because mood reading will probably happen) nor of the comics I will be reading. I'm sure I missed other books I want to read this month too, but since I can't remember, it must not be priority, right? Let's hope I make a dent in my TBR books for May!
How was your April? Tell me what's on your May TBR list. 

Have you read any of the books on my lists? Or are you planning to read them?