Another month has gone by, and we are a month away from the end of the year. :o Again, I have to ask: where had the time go?
I GOT MY NETGALLEY RATIO TO 100%!!!! (I was jumping in joy when that happened because that was unexpected.) When I was trying to get it up, I mistakenly read Thousand Words instead of Torn Away (the ARC I requested) because I didn't check which book it was, so that set me back a bit.
Earlier in the month, I became productive-Cee, where I churned out three reviews in one sitting. Very unlike me, but boy, it was so rewarding to get it done.
I RECEIVED A PHYSICAL COPY OF WE ARE PIRATES AKA THE BOOK I WAS DYING TO GET BECAUSE OMFG PIRATES!
My blog hit major milestones. I reached over 500 followers!! HOOORAY!
I did not win NaNoWriMo. *cries* I just got sidetracked by other writing that I never went back to my Spy/Thieves project. I am so disappointed in myself.
Remember my top secret project I talked about months ago? Well, it's almost ready. I'm just prepping posts, and I can't wait to talk about it. I'm aiming for a January debut. ;D
BOOKS GALORE!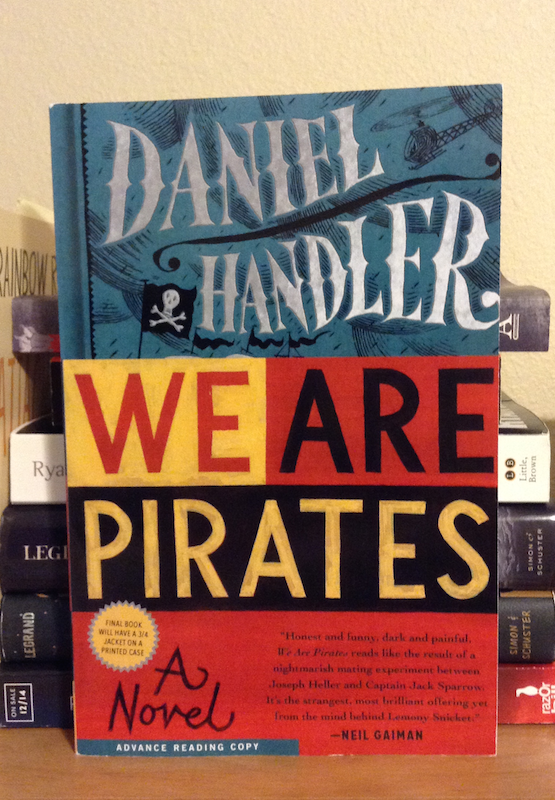 We Are Pirates by Daniel Handler (from Lauren Cerand)
From Edelweiss:
99 Days by Katie Cotugno
None of the Above by I.W. Gregorio
Proof of Forever by Lexa Hillyer
Things We Know By Heart by Jessi Kirby
A Sense of the Infinite by Hilary T. Smith
The Improbable Theory of Ana & Zak by Brian Katcher
Thank you for the books! <3
ON THE BLOG
I participated in the Getting to Know You Blog Hop, where I was giving away More Than This by Patrick Ness and asked people to play two truths and a lie with me.
PLANS FOR DECEMBER 
Prepping for the secret project.
Preparing for blogoversary.
End of the year posts + recaps.
How was your November? Any memorable thing happen? Did you enjoy any of my posts? Are you looking forward to December?