Recognize this?
Or this?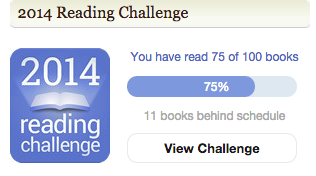 Why do people participate in reading challenges? Well, off the top of my head, I think of these reasons:
to motivate them to read
to get TBR list down to a manageable number.
to read books they wouldn't usually read (I'm talking about specific reading challenges like debut author or series).
to beat others' book count (which I don't see a lot of people doing, so that's good!).
to have fun!
I see people participating in monthly reading challenges, tackling their TBR lists or ARCs or debut authors, and I want to participate, but I'm a mood reader. I read whatever fits my mood and desire.
I only participate in one—the Goodreads one that lets me set a certain amount of books I will read a year—because it's my way of motivating myself to read as well as keeping track of how many books I've read. I have a love-hate relationship with this challenge. It's awesome when I have my book count up, but when it's not…well, it's essentially the bane of my reading existence. I'm pretty sure it'll dislike me if it was a person as much as I loathe its guts (if it had any).
Can we just talk about how annoying seeing that you're "11 books behind schedule"?
It's almost like an alarm clock that continues to ring over and over again even though I turned it off, never letting me forgot that I'm late. I GET IT. I'M BEHIND. PLEASE STOP SHOUTING AT ME. YOU'RE PUTTING TOO MUCH PRESSURE ON ME.
It never fails to get my heartbeat up and my brain hurting. I feel the pressure! Can I even reach 100 books before the end of the year? I DON'T KNOW. I start to second guess myself. My brain likes to imagine that I actually don't have enough time to get back on this schedule Goodreads has me on, and proceeds to weep out of its pores. I panic. And I hate it.It's not a great motivator, telling me that I'm x books behind. It's unneeded pressure and stress, so I avoid it.
I dread going to the front page of Goodreads because I'll be reminded how many books I'm behind. I AM AVOIDING YOU FOR A REASON, WEBSITE. STOP PLEASE, IF YOU KNOW WHAT'S GOOD FOR YOU.
I know you're asking, "but Cee, if you hate it so much, why do you continue to participate? Why not change the amount of books you read?" My answer? I feel obligated, and I'm fucking stubborn. I've done this challenge for the past two or so years; it's almost like tradition, or a New Year's resolution—a promise I make to myself. I've always read over 100 books, hence the reason why my minimum is that amount. It was always easy for me, but this year, it wasn't. (I've had a lottttttt of reading slumps.) I'm just too stubborn to change the book amount. I follow through, no matter how pressured or in pain I feel.
But is it worth it if I feel pressured by it? Not at all, but I think it really depends. Everybody has different ways of dealing with pressure. For some people, pressure is a motivator that helps them reach their challenges/goals faster, but for others, not so much. They might find that the pressure has harmful effects to their physical body or mental health like headaches and such. And when people feel the latter, it's really not worth it.
If a person wants to continue participating in a challenge even though it causes them ill health, I think it's important that they adjust their attitude or mindset towards their reading challenges, so there's less pressure on them. Here are two ways:
Lower the number of books you read for a challenge and decide to be happy that you're reading.
Set the bar to something incredibly low—one that you know you will zoom past like 25 books (or perhaps lower). And remember, the important thing is that you're reading! Who cares about how many books you've read? You're reading! And that's awesome!
For me, if I'm behind schedule with my reading challenge, I usually think, "OH GOD NO. 25 BOOKS? I AM NEVER GOING TO REACH MY GOAL. TOO LITTLE TIME", and imagine throwing myself on my bed, but I learned to be positive about it. Instead, I think, "Only 25 books before the end of the year? I've got this. I just need to read a book a day, and I'm golden." Just saying, "I got this" continuously makes me believe that I can achieve my challenge.
I don't think I'll be giving up on participating in this challenge (even though I want to). I just need to reach my challenge, or I will be mad at myself. I know I can do this. I'm going to stomp all over this challenge, and it's going to feel so good.
Reading challenges can be a hit or miss with some people. Do you participate in reading challenges? Why do you participate? Do you actually find it helpful? Do you stress about it at all? How do you deal with it?