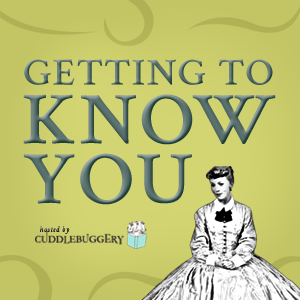 Oh hey! I promise you have not made the wrong left turn into my blog, The Novel Hermit. I'd say it was fate that brought you here, or the fairy godmothers over at Cuddlebuggery, who are the ones hosting this awesome blog hop.
WELCOME!
I am Cee, and this beautiful blog is almost two years old (in December)! What you'll find on here are: bookish talkings, cover ogling (also known as "Holy, Mother Cover"), typography love (aka "You're Just My Type"), and soon-to-be comic books squealing. I started this blog because I wanted an outlet to write about what I love and find people who shared that love. And voila! Here, the Novel Hermit, stands.
My favorite book tropes consist of found families, heist, thieves, outer space, high society, female friendships, siblings, parallel universes, and more that I can't think of at this moment. I will literally run to any books that have these things in it.
My favorite books are by these authors: Patrick Ness, Victoria Schwab, Daniel Handler/Lemony Snicket, Jandy Nelson, Claire Legrand, Rachel Hawkins, Nina LaCour, and Marissa Meyer.
I'm really excited for these 2015 books: We Are Pirates by Daniel Handler, A Darker Shade of Magic by V.E. Schwab, Simon vs. The Homo Sapien Agenda by Becky Albertalli, and Radiance by Catherynne M. Valente.
Currently, I'm listening to Leighton Meester's album Heartstrings (which is fucking fabulous and lyrical), Jessie Ware's album Tough Love, and Raleigh Ritchie (who plays Grey Worm in Game of Thrones). I recommend all three artists, especially Leighton and Jessie because their albums are sooo beautiful. Besides these three, I regularly listen to Arctic Monkeys's AM, Bastille's everything, Foxes's Glorious, Goldroom's Embrace, The Neighbourhood, Lorde, and The National.
Off the top of my head, my favorite movies are Captain America: The Winter Soldier and Atonement. Those two movies never fails to make me cry from the emotions emerging from my pores. I watch a lot of reruns, and on a regular basis, I'm watching Elementary, Brooklyn Nine-Nine, and How To Get Away With Murder.
It makes me so proud to see how much this blog has grown to what it is today. I have met so many awesome people, who I consider my friends, and that just brightens my day knowing they are in my life. You guys are awesomeeeee.
I'm excited to meet even more people. Let's be friends, okay?
I'll be giving a paperback copy of More Than This by Patrick Ness. It's one of my absolutely favorite books that never fails to get sooo goddamn emotional when I think about it. FRIENDSHIPS, PEOPLE. THE FOUND FAMILY IN THIS BOOK. I JUST—ALL MY TEARS AND EMOTIONS AND EVERYTHING. After I read this book, I couldn't help but reflect on all my friendships and how lucky I am to have amazing friends in my life. AND DUDES, CREEPY SCI-FI STUFF. Half the time, you'll be going WTF and shaking under your covers. You can read more my five reasons why you need to read this beautiful and awesome book.
THE RULES
This giveaway is opened internationally (but only if The Book Depository ships to you).
It will run from November 15 to November 29, 2014.
You must be 13 years (with your parent's permission) or older.
You will be disqualified if you pick up entries you haven't done.
If the winner does not respond to my e-mail within 48 hours, I will have to choose another winner.
I am not responsible for any items lost in the mail.
You know you want to win More Than This by Patrick Ness!

Tell me something about yourself. Let's see…tell me two truths and a lie, and I'll try to guess which ones the lie! Be creative with it! I can't promise I'll get it right. ;D
Here are mines:
I twisted my index finger while playing volleyball.
I believed that leprechauns would eat my ears if it was exposed when I was sleeping.
I have no sense of smell.
Can you guess which one's the lie?
P.S. If you want to get to know other bloggers, you can find them over here.