Inspired by What She Reads, Pure Imagination Blog, and Stacked.

I admit I'm a book cover snob. Who isn't though?

Book covers are the first thing that attracts readers to a book. A good cover can draw someone is, just as a bad cover can easily draw someone away. It can essentially make or break a book. Holy, Mother Cover! is where I showcase the book covers that stand out (or make me cringe), and discuss cover changes.

(A big special thanks to Georgie at What She Reads for bestowing me this fabulous name and to Charlotte at Gypsy Reviews for creating the beautiful feature banner you see before you.)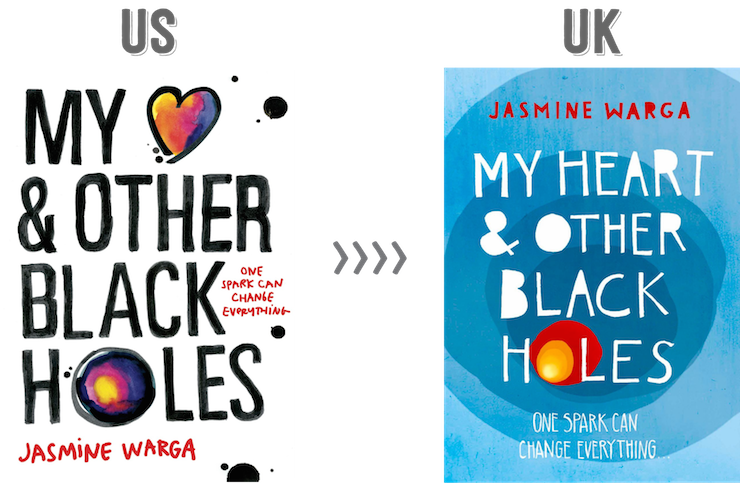 What do I think about the cover design?
 I am into it.
The marker-esque lettering of the title, the personal handwriting, and the colors used for the heart and blackhole, yes! I actually really like how the heart is an actual heart (instead of just the words), but I know it can be a bit confusing for some people who may not get that the heart is part of the title. I think it's a bit clever.
I guess my only complaint is that it's a bit too plain? All that white space…the typography of this cover has to stand out, which it does, but not as strong as it should be.
Would I buy this book based on the cover? Most likely.
What do I think about the cover design?
 Ooooh, I like!
I love the various shades of blue that looks like a whirlpool (or y'know, a blackhole) spiraling down. The design of the letters remind me of cutting letters out of construction paper during arts and craft. I like that. In this cover, the "heart" is spelled out. I kind of miss the image, but it's not necessary here. I love that the cover looks like art I can do. It's very simple.
The 'O' in "Holes" remind me of an egg yolk, which kind of annoys me because it's quite distracting. Do eggs have something to do with this book?
Would I buy this book based on the cover? Sure.
Which cover design do you prefer? Would you buy the US or the UK one?