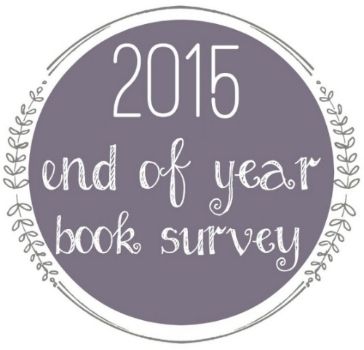 At the end of the year, the End of the Year Book Survey (by Jamie @ The Perpetual Page-Turner) pops up onto my feed, and it always gets me giddy to do it.
Last year, I took a different approach because all my reads were subpar, and I didn't want to put them into book survey categories when I was feeling lackluster about it. However, this year? I am all aboard, ready to complete every category (or most of it) because 2015 was a great reading year for me!
Reading Stats | Best In Books | My Blogging/Bookish Life | Looking Ahead
2015 READING STATS
Number Of Books You Read: 109+
Number of Re-Reads: 14
Genre You Read The Most From: Contemporary
(Not completely accurate since I forgot to count a lot of books I've reread nor did I count all the individual comic issues I've read.)
BEST IN BOOKS
BEST BOOKS I READ IN 2015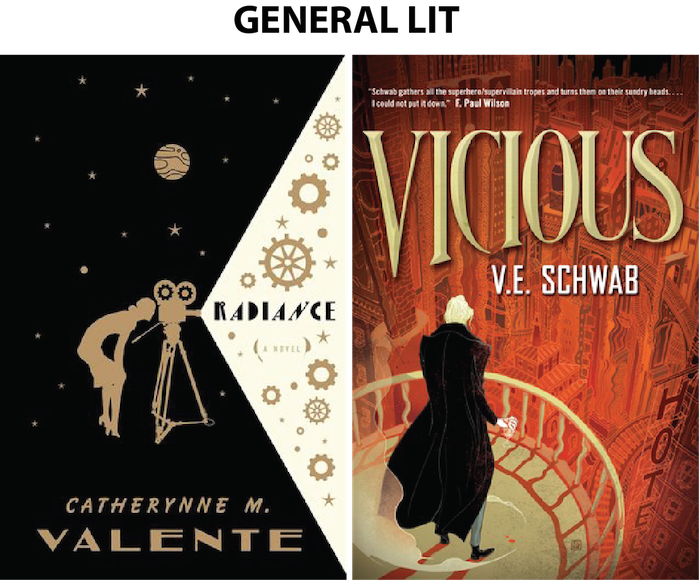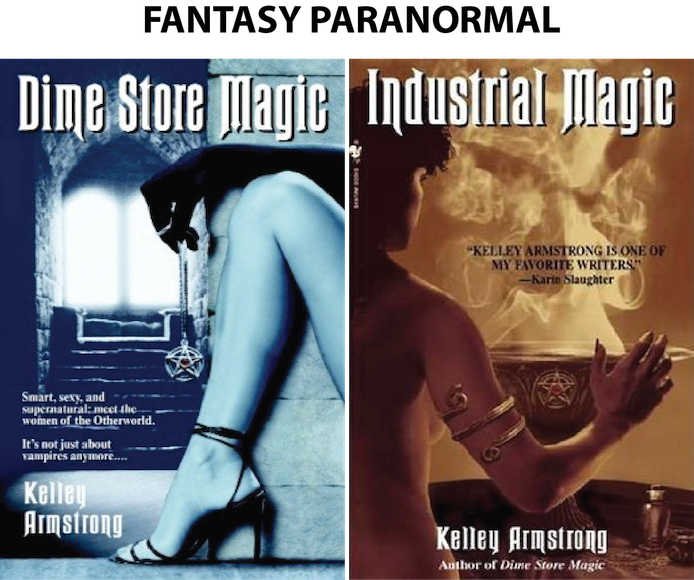 BOOKS I WAS EXCITED ABOUT & THOUGHT I WAS GONNA LOVE MORE BUT DIDN'T
MOST SURPRISING (IN A BAD WAY) BOOK I READ
For a book that's supposed to be about bisexuality, it does a terrible job portraying it.
BOOK I "PUSHED" THE MOST PEOPLE TO READ (AND THEY DID)
Go read this comic series. Do it!
A great sci-fi Western comic series "set in dystopian United States whose fate rests with the Four Horsemen of the Apocalypse."
FAVORITE NEW AUTHOR I DISCOVERED
MOST ACTION-PACKED/THRILLING/UNPUTDOWNABLE BOOK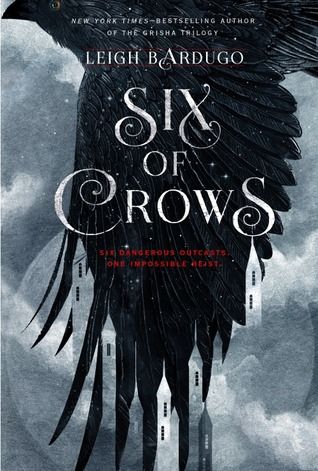 BOOKS I READ IN 2015 THAT I WILL PROBABLY RE-READ IN 2016
The Rest of Us Just Live Here, Six of Crows, East of West,
Vicious, Dime Store Magic, Industrial Magic
FAVORITE COVERS OF A BOOK I READ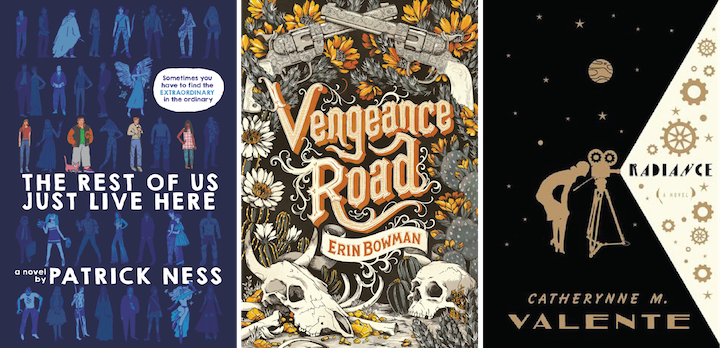 MOST MEMORABLE CHARACTER OF 2015
Severin Unck (Radiance), Kaz Brekker (Six of Crows), Tara (The Wicked + The Divine)
MOST BEAUTIFULLY WRITTEN BOOK READ
MOST THOUGHT-PROVOKING/LIFE-CHANGING BOOK
This isn't a book, but a comic issue (that will be in the Volume 3 collection of WICDIV which will be out in February 2016). It was quite an eye-opening read because what Tara faces is what ladies on the Internet are constantly dealing with, and it's just absolutely heartbreaking.
Women, who are deemed non-compliant (not following the rules of the terrible patriarchal world), are sent to a place called Bitch Planet. Like WICDIV #13, this comic speaks so much truth about the treatment of women. It doesn't sugar-coat anything. You have these women being punished and made for sport by men for not being compliant with their bullshit rules.
These two comics does a beautiful job at making you think about what women face everyday.
BOOK YOU CAN'T BELIEVE YOU WAITED UNTIL 2015 TO READ
FAVORITE PASSAGE/QUOTES FROM A BOOK YOU READ
[lightbox type="image" src="http://www.thenovelhermit.com/wp-content/uploads/2015/11/TROUJLH1-1280×800.png"]
[/lightbox][lightbox type="image" src="http://www.thenovelhermit.com/wp-content/uploads/2015/11/six-of-crows-1280×800.png"]
[/lightbox]
BOOK THAT SHOCKED YOU THE MOST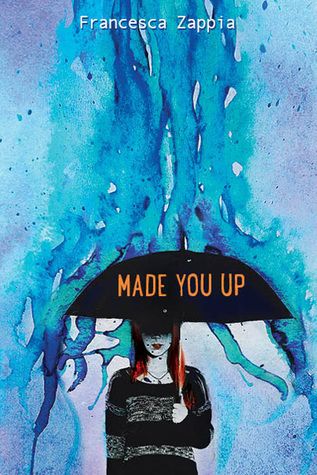 My jaw dropped to the floor with Made You Up. I'm still at a lost about what happened because I was not expecting that at all.
OTPS OF THE YEAR (I WILL GO DOWN WITH THIS SHIP!)
KAZ + INEJ! (from Six of Crows)
LUCAS CORTEZ + PAIGE WINTERBOURNE (from Dime Store Magic/Industrial Magic)
FAVORITE NON-ROMANTIC RELATIONSHIP OF THE YEAR
Mikey, Mel and Meredith (in The Rest of Us Just Live Here)
These siblings made me emotional because you can tell how much they love each other.
FAVORITE BOOK YOU READ IN 2015 FROM AN AUTHOR YOU'VE READ PREVIOUSLY
BEST BOOK YOU READ THAT YOU READ BASED SOLEY ON A REC FROM SOMEBODY ELSE
I read this because a Penguin rep and Elena rec-ed it, and oh boy, what a fascinating book Fates & Furies. A very interesting look at a marriage that seems perfect on the outside, but behind closed doors is a mess. It did give me a bit of Gone Girl vibes (minus the murder or the thriller aspect).
NEWEST FICTIONAL CRUSH FROM A BOOK YOU READ
Lucas Cortez (from Dime Store Magic/Industrial Magic)
BEST 2015 DEBUTS YOU READ
Made You Up & This Monstrous Thing!
BOOKS THAT PUT A SMILE ON YOUR FACE/WAS THE MOST FUN TO READ
Six of Crows, The Rest of Us Just Live Here
Both books were just so fun to read because of the way the characters interacted with each other and because of the awesome writing by Leigh Bardugo and Patrick Ness. Wonderful wordsmiths!
BOOK THAT MADE YOU CRY OR NEARLY CRY
THE FRIENDSHIPS! I was near tears at seeing how much these girls cherish their friendships. That's how it's supposed to be! None of the pettiness! Just the sweetness of friendships! So much love!
BOOK THAT CRUSHED YOUR SOUL
The Wicked + The Divine: Vol. 2 – Fandemonium
This comic series always tears my soul apart. It's just soooo good. Volume 2 is no different. Kieron Gillen and Jamie McKelvie are masters at what they do. They have a real talent for it.
MOST UNIQUE BOOK YOU READ
BOOK THAT MADE ME THE MOST MAD
Hello, I Love You was a frustrating and anger-inducing read because of the main character and her close-minded judgmental white savior complex. Bitch Planet was my favorite comic read of 2015, but it sure did get me angry (in a good way) at the damn patriarchy. JUSTICE FOR THESE WOMEN. #noncompliant
(I also should say Everything Everything and Tiny Pretty Things also made me angry because they were terrible.)
YOUR BLOGGING/BOOKISH LIFE 
NEW FAVORITE BOOK BLOG I DISCOVERED
Aentee is one of favorite people I've found this year. She is absolutely fabulous. She was a great person to have for fangirling over Kaz/Inej in Six of Crows, and she's a Catherynne M. Valente fan! Yeeeee.
FAVORITE REVIEWS I WROTE IN 2015
I finally was able to put my love for Radiance into intelligible words, and oh boy, what an essay I wrote. It's essentially a love essay of me singing its praises! ;) I disliked Black Widow: Forever Red and Cut Both Ways, but the reviews I wrote for them are some of my best works.
BEST DISCUSSION/NON-REVIEW POSTS I HAD ON MY BLOG
Why You Need To Read The Wicked + The Divine
I Love You So Much That I Can't Write A Review
BEST EVENST I PARTICIPATED IN
Oh boy, the list is endless:
ALA

Leigh Bardugo signing
BEST MOMENT OF BOOKISH/BLOGGING LIFE IN 2015
MOST CHALLENGING THING ABOUT BLOGGING OR MY READING LIFE
Being inspired to come up with creative new posts. 
MOST POPULAR POST THIS YEAR ON MY BLOG
DID I COMPLETE ANY READING CHALLENGES OR GOALS I SET FOR MYSELF AT THE BEGINNING OF THE YEAR?
I only participated in the Goodreads challenge, and I read over 100 books! Yeeeee. For my 2015 goals, I did a terrible job completing it. It's very embarrassing to look at it, and see how I haven't really achieved any of it.
LOOKING AHEAD
BOOKS I DIDN'T GET TO IN 2015 BUT WILL BE MY #1 PRIORITY IN 2016
All the Middle Grade books!
One of my goals for 2016 is to read a lot more Middle Grade books. I've read many synopses that just sounds so darn cute and awesome. (Plus, no romance, which is always a plus because the one thing I dislike about YA is that it's usually so romance focused.)
BOOK I AM MOST ANTICIPATING FOR 2016 (NON-DEBUT)
Some Kind of Happiness by Claire Legrand
I love Claire Legrand's books. <3 Her Middle Grades are always so on point.
2016 DEBUT I AM MOST ANTICIPATING
The Serpent King by Jeff Zentner
ONE THING I HOPE TO ACCOMPLISH IN MY READING/BLOGGING LIFE IN 2016
Start reading the unread books on my bookshelves.
Did you see any books in my survey that is on yours too?