Bless the Weather gods for finally calming down… It was soo hot for the first half of the month, which was the worst thing ever because hotness is gross and not appreciated. I wanted the coolness of Fall, and now it's here! Time to take out my sweaters and scarves! Yeeeeee.
Not a lot of exciting things happened, except lots of book mail + complaints about how hot the weather was.
I went to the annual September big book sale.
The venue was a bit smaller since it was in a different warehouse. I hoped that there would be a lot of comic books and graphic novels, and luckily, I found a few (like the classic Calvin & Hobbes). I got myself a copy of Harry Potter and the Prisoner of Azkaban because my original copy had been broken in two due to lots of reads when I was a teenager. (I loved that book so much. Can you tell?)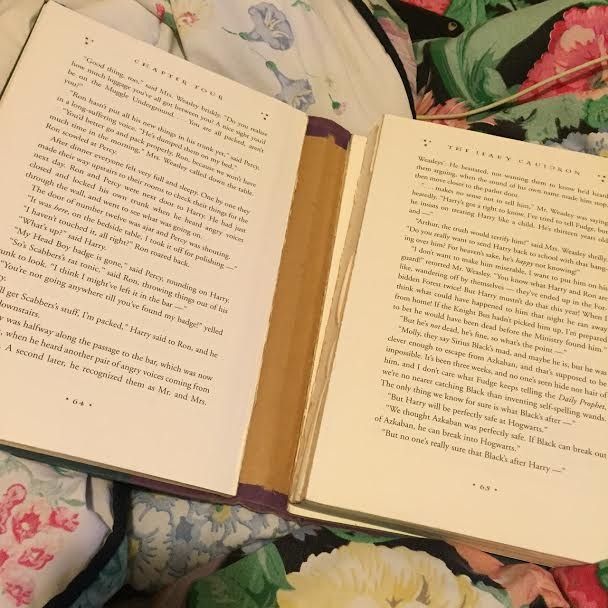 (There wasn't a jacket for the copy I got, which sucks because the jacket for my book had been lost years ago.)
I've been listening to lots of awesome music. 
On top of Halsey, I've been listening to Queen and Hamilton the Musical. It's pure awesomeness. (Scroll down for more in my obsession section. ;D)
I changed my Twitter icon, and now it's frickin' perfect.
I just love it a lot okay? It's of Bo Maeve from the Black Canary comics, drawn by Pia Guerra. It's ridiculous how much I love that icon I made. I don't think I'll be changing it any time soon (hopefully not until Captain America: Civil War is about to come out, in which I will revert to Seb Stan's face like with CA2). ;D
Lots of books this month. Maybe it's my way of making up for the lack of books in August? Who knows. ;)
BOUGHT
FOR REVIEW
Thank you for the books, St. Martin's Press, Harpercollins, + Bloomsbury!
REVIEWS
BOOK COVERS
COMICS
DISCUSSIONS
FONTS
Music consumed me, and I was very okay with it. 
I've been obsessed with certain artists and albums this month, and I just want to gush about them.
Earlier in the month, I started listening to Queen again, and they consumed by every waking moment. There was not a moment when I didn't blast their songs on my iPod, and screeching at the top of my lungs along with Freddie Mercury's gorgeous voice. And then, I fell into a hole of watching Freddie Mercury perform. He was such a wonderful performer. I was very obsessed (and still am) with Love of My Life.
Ugh, so beautiful.
And then this past week, I started listening to Hamilton the Musical, and I fell head over head in loveeeeeeeee. I watched Lin-Manuel Miranda perform the Hamilton Mixtape at the White House two or three years, and loved his retelling of Alexander Hamilton's life.
I've been playing it non-stop, and singing along. Listening to it, I can see the entire musical in my head without even having to go to New York (which I really do want to go to see it). The songs are so informative, funny, and amazing. My favorite songs are any with the Schuyler sisters (like Satisfied and Burn), Wait for It, Guns and Ships, Dear Theodosia, Non-Stop, Cabinet Battle #1, The Reynolds Affair, The Election of 1800, Who Lives Who Dies Who Tells Your Story, and the songs sung my Jonathan Gross because the songs are hilarious break-up songs. Essentially, I love all the songs. ;P
When you listen to this musical, you can see why it's so popular. Lin-Manuel is so frickin' talented and passionate, and I hope he wins all the awards for this musical. I highly recommend you listen to Hamilton the Musical. Listen it in the order it is in. It will be the best decision you make.
NOTE TO SELF FOR NEXT MONTH
It's the season of awesome book events! 
I'll be seeing Leigh Bardugo on Saturday! (Yeeeeeeeeeeee.) And then I will see Patrick Ness on the 8th, and I will finally bellow at the top of my lungs to him about my love for More Than This. I am still deciding whether or not to go to the Welcome to Night Vale event. Maybe?
Read, read, read. Write, write, write. Comics, comics, comics. 
I'm gonna take another page from last three months because I was incredibly productive. I'm gonna kick ass.
How was your September? Was it a great month for you? Anything you're looking forward to in October like books or events?