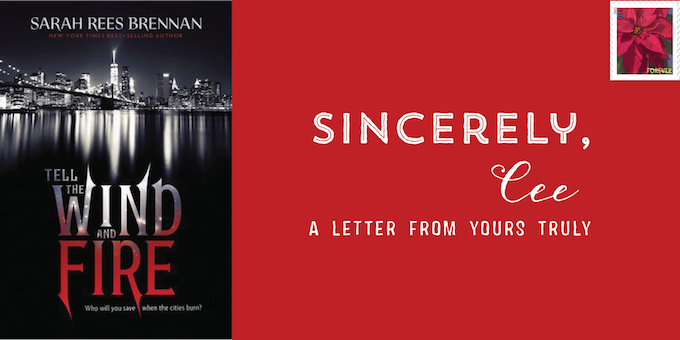 Would you or somebody please send me this book right now?
[quote cite="Goodreads" url="http://www.goodreads.com/book/show/16221851-tell-the-wind-and-fire"]
Tell the Wind and Fire is about a young girl called Lucie who lives in a New York very different from the New York we know: the city is torn between two very different kinds of magic, and Lucie's own family was torn apart years ago by that conflict. Lucie wears magic rings and carries a burden of guilt she can't share with anyone.
The light in her life is her sweetheart boyfriend Ethan, but it turns out Ethan has a secret too: a soulless doppelganger created by dark magic, who has to conceal the face identical to Ethan's with a hood fastened by a collar nobody but a Light magician with magical rings can take off… and who introduces himself to both of them by, for reasons nobody can understand, saving Ethan's life… [/quote]
Here are my reasons why I want to read this book:
Sarah Rees Brennan's writing is the best ever. Have you read the books she's written? Because oh boy, her books can destroy a person. Case in point: The Lynburn Legacy. (You should read this series.) Sarah is a master of giving readers so much ~feeeels; she'll throw us into a rollercoaster of emotions to satisfy her evil cravings. ;D She always creates amazing characters who you want to protect from all the bad things in the world.

It has doppelgängers! When was the last time I read a book with doppelgängers? Let me think…Never! (This is probably a lie, but I can't remember any books with that). Doppelgängers can be cool yet scary because what do you do when you're faced with somebody who looks exactly like you (and who isn't related to you)? And add in dark magic? I need to know what's up!
Who doesn't love magic? I can never say no to books with magic (and especially if Sarah is writing it). I have so many questions about what kinds of magic are in this world, and what the magic rings do. I NEED TO KNOW ALL OF IT.

It's a retelling of A Tale of Two Cities. Granted, it's been ages since I've read that book, so I'm pretty sure I don't remember what happened at all, but I can't say no to it (much like magic)! It'll be interesting to see where the similarities start and end.
I really need another Sarah Rees Brennan book in my life again. I need all the emotions and the banter. GIVE ME.
Who else is excited about this book?
Sincerely,