Bay Area Book Festival + Sebastian Stan at Wizard World Comic Con? WHAT A MONTH. IT WAS THE BEST ONE OF THE YEAR! (Last June was crazy amazing, and this June is super crazy amazing. June is really looking to be my best month full of awesome events and people!)
I met Tim Federle, Jason Reynolds, Lauren Myracle, Stacey Lee, and Stephanie Kuehn at the Bay Area Book Festival! 
Last year, I didn't get to attend panels, but this time around, I managed to get off my butt and actually attend go to a couple at the Bay Area Book Festival. It was amazing! I loved seeing so many people out and about because of books. I went to two panels—one about writing for tweens and teens with Tim Federle, Lauren Myracle, and Jason Reynolds, and one about writing where you live with Stacey Lee, Stephanie Kuehn, and Elizabeth Percer. It was fantastic hearing them talk. I wrote a post about what happened, so check that out.
I MET SEBASTIAN STAN AT WIZARD WORLD COMIC CON, AND I'M STILL SCREAMING.
STILL FOREVER SCREAMING IN JOY.
I MET THIS DORK. I'M JUST—I CAN'T BELIEVE I MET HIM. IT FEELS LIKE A DREAM. I've been in love with Sebastian Stan since before Gossip Girls (LMAO), and oh my god. WORTH EVERY PENNY I SPENT. IT WAS MAGICAL. MY FIRST COMIC CON, AND I MET SEBASTIAN STAN. I WAS IN HIS PRESENCE. I LOOKED INTO HIS EYES. HE SMILED AT ME. I GOT TO HUG HIM. HE SAID THINGS TO ME. I SAID THINGS TO HIM, AND I TOLD HIM I LOVED HIM. EVERY TIME I LOOK AT THE THINGS HE SIGNED, I HAVE A GOOFY GRIN ON MY FACE.
I also saw Hayley Atwell (!!!!!!!), Evan Peters, Denis O'Hare, Billy Boyd, and Ray Park. (I somehow missed seeing Jewel Staite which I'm bummed about.)
I wish I can recount every single detail that happened right now, but I'm hoping to write a recap about it because it deserves it's own post. (Y'know if I'm ever able to process that I went to my first Comic Con and met Sebastian Stan. Like holy shit!) Be on the lookout for that.
I finally received my ticket to see Brand New and Modest Mouse at the end of July!
YEEEEEEEE. Having the ticket makes it real. I WILL SEE MY FAVE BAND, AND IT WILL BE AMAZING. PLEASE.
BOUGHT
GIFTED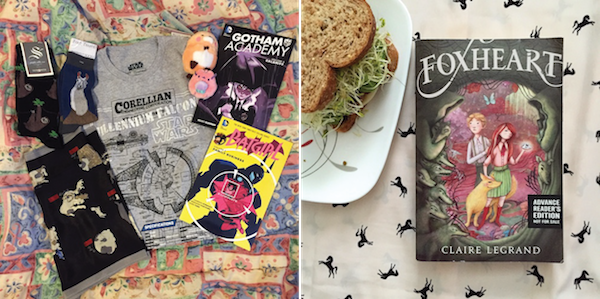 FOR REVIEW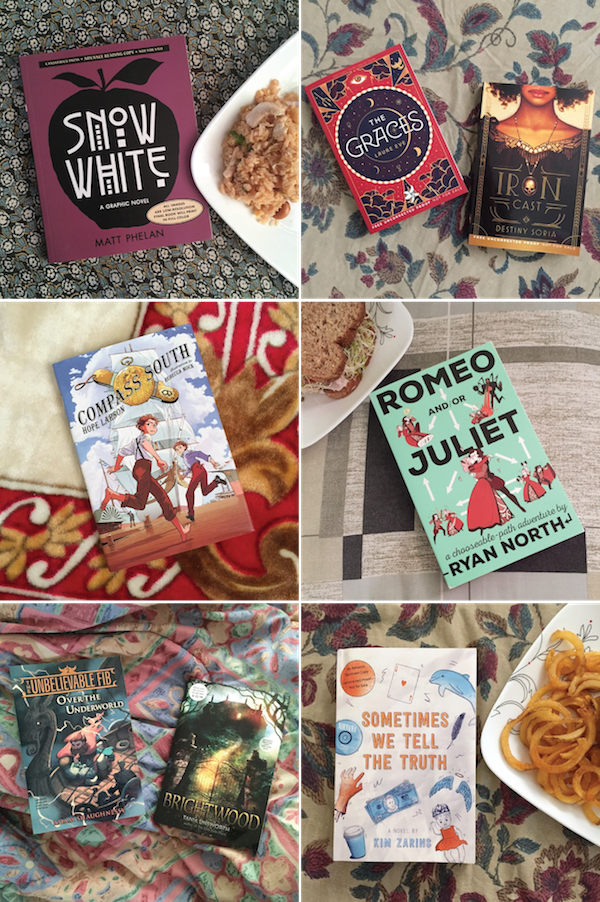 Thank you for the books, Candlewick Press, Amulet Books, Macmillan, Riverhead Books, Algonquin, and Simon & Schuster.
TRADED
Thank you to Leah and Lisa for the trades!
YA
MG
The Voyage of the Magical North
GRAPHIC NOVEL
GENERAL FICTION
Romeo and/Or Juliet: A Chooseable-Path Adventure
REVIEWS
COMICS
DISCUSSIONS
EVENT
NOTE TO SELF FOR NEXT MONTH
Read, read, read. Write, write, write. Comics, comics, comics. 
As usual.
Have a blast at the Brand New/Modest Mouse concert. 
YES.
How was your June? Was it an ultra-fabulous month for you like it was for me? Anything you're looking forward to in June like books or events?