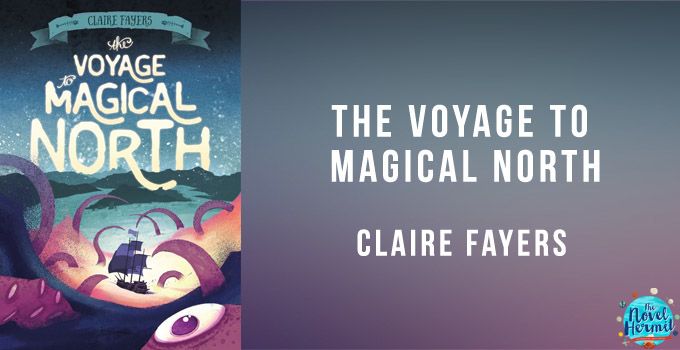 [note note_color="#654d67″ text_color="#ffffff"]The Voyage of Magical North by Claire Fayers • July 5, 2016 • Henry Holt and Co. BYR (Macmillan)
Website | Twitter | Goodreads | Amazon | Barnes & Noble | The Book Depository | Indigo | Library
Twelve-year-old Brine Seaborne is a girl with a past–if only she could remember what it is. Found alone in a rowboat as a child, clutching a shard of the rare starshell needed for spell-casting, she's spent the past years keeping house for an irritable magician and his obnoxious apprentice, Peter.
When Brine and Peter get themselves into a load of trouble and flee, they blunder into the path of the legendary pirate ship the Onion. Before you can say "pieces of eight," they're up to their necks in the pirates' quest to find Magical North, a place so shrouded in secrets and myth that most people don't even think it exists. If Brine is lucky, she may find out who her parents are. And if she's unlucky, everyone on the ship will be eaten by sea monsters. It could really go either way.[/note]
[note note_color="#BFD1D1″ text_color="#ffffff"]I received this book for free from Macmillan for review consideration. This does not affect my opinion of the book or the content of my review.[/note]
First sentence: "Brine sat at the driftwood table in Tallis Magus's library, her chin propped on one hand as she read. "
The open sea always takes people on magical adventures, and that's exactly where it takes the characters in The Voyage to Magical North.
On this voyage, Brine Seaborne, a girl with no memory of her past or her name and is allergic to magic, and Peter, a magician's apprentice, find themselves on the run after stealing a rare starshell, a source that pulls magic, from the magician they work for. They are saved by the legendary pirates of the Onion, and are roped into a quest to find the Magical North, a supposedly mythological place that holds many secrets. On the way, they encounter magic, an evil magician, sea creatures, new lands, and an awesome adventure you'll want all hands on deck for!
When you're onboard the Onion in The Voyage to Magical North, these are the things you must do:
First, become part of the Onion crew. 
And by the Onion crew, I mean the friendliest and funniest pirates you'll ever meet in your life! They aren't the villainous pirates you hear about who loves to drink and fight. No, the pirates on the Onion are wicked fun and loves to tell ridiculous stories that are never consistent. They're the heroes of the story even if their first inclination is to sell people for their personal gains. (They totally make up for that. I promise!)
You'll meet the fearless pirate captain, Cassie O'Pia, who is a hero in her own rights (having defeated the villainous Marfak West); Ewan Hughes, her righthand man; Trudi Storme, the cook/pirate; and many other pirates who are such a hoot to read about. They'll teach you the ways of the sea and the rules to not live by.
Make friends with the people you're with.
When you're on a ship, you have nothing but the people around you. They are the people you have to rely on. Brine and Peter never saw eye to eye when they were living in their island of Minutes, but when you have to survive, you have to force yourself to become allies. The two kids use their wits and skills to aid the Onion on their voyage to the North. With the pirates, the pair become welcomed into their ranks (but not without jealousy involved).
Learn about magic and the world from the great Alderbran Boswell's journals.
Everything you want to learn about the world or magic is in Alderbran Boswell's journals. He writes about the eight oceans and lands that populate their world like the Columba Ocean with its many large islands like Morning or the Western Ocean, where nobody has ever said to venture into, or the Sea of Sighs where dangerous sea creatures live. He writes about magic—how it's all shaping spells into shapes and how the rare starshells is a source of magic and can pull it to be used. All the stuff readers will learn from the journals and the things that the characters experience will have you invested.
Visit Barnard's Reach, where stories are written.
When you're living in a world like The Voyage of Magical North, stories are apart of your life. They teach readers or listeners about the world and about the people who lived in it. Characters like the pirates have to rely on them to tell their stories because how else will people know what happened to them? The stories are sometimes hugely embellished and not totally true for the sake of entertainment or distraction, but there is always a kernel of truth in them. That's why Barnard's Reach exists—to keep a record of the stories, to spread it around, for it to live on. It is one of the magical places you can visit if you're Brine or a massive book lover.
Sure, pirates and evil magicians should not be trusted, but when you're on the open sea sailing to a seemingly unattainable goal or place, you gotta put your trust in the people you're with and in the idea that it'll be true. Brine and Peter do that. They're very self-aware of what they need to do, and very level-headed despite their initial antagonistic relationship and their circumstances. The two kids know they have to trust each other to survive because they know how the world and people work, and to learn anything substantial, they have to trust a little even if it's to pirates or a well-known evil magician named Marfak West. They will learn from the information they gather and from their experiences.
Are the myths true? Is the Magical North a place that truly exists in this world? All I will say is prepare yourself!
Should you read The Voyage to Magical North? Yes, yes, yes! Join the Voyage to the Magical North! You'll encounter runaway kids who just want to escape, a mythological place called the Magical North, fantastic pirates who you'd want to sail the open seas with, an evil magician who wants revenge, and sea creatures and twists and turns and awesomeness.