What a shit month, right?
Earlier this month, I woke up to an entirely new world, where people—women, POC, LGBTQIA+, disabled—fear for their future. That makes me so sad and angry and so fearful. I spent the first few weeks depressed, bursting into tears any time I thought about what's going to happen. The first half of the month was absolutely shit. However the latter half? I guess it was good. (FYI, I'm absolutely not gonna talk about the bad here because it'll pull me into a pit of despair.)
KEVIN WADA SAID HE LOVED ME!
Kevin Wada is AHMAZING. For those who do not know who he is, he is a fabulous + talented artist who does a lot of cover work for comics. (Just check out his gorgeous work here. He also did the art for the Six of Crow posters.) He and Ezekiel Kweku was doing a Q&A and signing at my local comic book store, so I made sure that day was free for me and my BFF. When Kevin appeared, he glowed, and I was in awe. One of these days I will write what happened—all the stories and anecdotes and awesome—but trust me, I fell more in love with WICDIV, my LCBS, + Kevin Wada.
During the signing, I brought the WICDIV #23 he contributed to, the Six of Crows poster (which he was surprised to see and asked if I got it from SDCC), and a autograph book. I bought two of the Morrigan prints + an Ororo postcard, and when I gave him exact change, he was thrilled! And he, word-for-word, said, "You brought exact change! I love you. I miss you already." ?
I bought WICDIV prints.

Somebody stop me! Okay, so it was just only two prints, but look at the gorgeousness! The Morrigan (by Kevin Wada) and fucking Tara (by Tula Lotay). HEART EYES, MY FRIENDS. HEART EYES. ?
My little sister visited for our dad's birthday.
My dad's birthday is November 18th, so my little sister came to visit for a week. It was a somber occasion. My sister spent most of the time here out with friends. I'm kind of bummed she and I didn't hang out but alas.
2016 YA Book Cover Choice Awards kicked off! 
For those who do not know what the YA Cover Choice Awards is, it's an annual awards that I created because I wanted to show appreciation for the book covers that had been published. It's my baby, and it's the third year!
The YA Cover Choice Awards have been better this year because I've organized everything up until the semi-finals round. Worried that finals round may be postponed a while because of unforeseen changes in my life. Never fear though! The finals round will be up! I'm extremely thankful to everybody who commented, nominated, and voted. It means a lot to me that you are excited about this Awards like I am!
BOUGHT
FOR REVIEW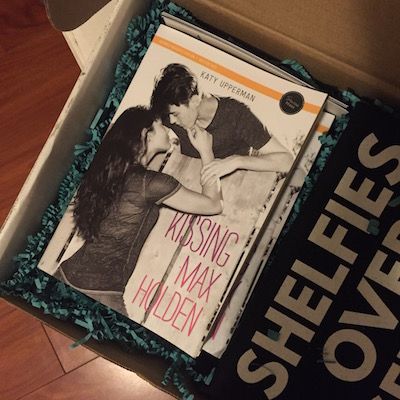 Thank you for the books, Swoon Reads.
TRADED
Thank you, ladies!
MIDDLE GRADE
The Secret Life of Lincoln Jones
YOUNG ADULT
REVIEWS
DISCUSSIONS
YA BOOK COVER CHOICE AWARDS
NOTE TO SELF FOR NEXT MONTH
Read, read, read. Write, write, write. Comics, comics, comics. 
As usual.
How was your November? Anything you're looking forward to in December like books or events?