MAY IS THE BEST MONTH OF THE YEAR. WHY? BECAUSE IT'S JUST FABULOUS. And no, I'm totally not biased because it's also the month I was born in. Not at all. ;D
My birthday is the best. 
IT WAS GLORIOUS.
It was really chill, which is how I prefer to spend my birthday. I didn't really do anything special; I just hung out with a couple of friends, and it was the best! (I don't usually get to see my friends on my birthday in the previous years because my birthday always fell on graduation weekend, so I was incredibly excited to have actually seen them this year.) I got a few presents from friends—graphic novels (YESSSSSSSSSSSSS), romance books, gift cards, and gag gifts about my age—y'know, the usual.
My blog design got a face-lift.
I unveiled my blog design's "new" look on my birthday. You can tell I'm getting read for SUMMERRRRR. No more teal or the crab. Bright colors, planets, and stars. Different and fabulous social media. You can read more about the changes over here! 😍
I got the business cards I ordered last month! 
WHEEEEEEEE.
Isn't it frickin' gorgeous? Look at those topographical lines + the hermit crab + the coords. 😍🙌 (I do wish my current blog coloring is on the business cards to match, but it's okay since my blog design's changes were created after I ordered it.)
Warby Parker glasses are the best, and being at a retinal specialist's office sucks. 
I had my eyes checked in April, and needed to get new glasses because my eyes got worse, which was the most terrible news ever. But voila! Here are my new glasses! AREN'T THEY AWESOME? I got browline glasses because I look fucking amazing in it, which I know you can't see, but take my word for it. ;)
On Wednesday, I went to a retinal specialist to make sure there wasn't any retinal tears in my eyes (my optometrist wasn't sure so he referred me to the specialist). Good news: I don't! The whole exam—with the eye drops + getting the pressure inside my eyes tested (where I flinched sooo many times) + doing scans of my eyes (which was bright and neon)—was an experience. Ha. I learned four things: 1. my eyelashes are really long and I really need to start curling them (because it was such a hindrance when I had my scans taken + when the specialist looked at my eye); 2. the reason why my optometrist couldn't rule out if I had retinal tears when I saw him April was probably because of my long eyelashes being in the way; 3. the scans of my retinas made them look like grapes; and 4. my retinas are extremely thin, which is normal for people are are extremely nearsighted. Gahhhh.
#booksfortrade happened.
I didn't intend to trade books when I ventured into #booksfortrade on Twitter; it just happened, and blesssssssss! Because of it, I traded to get three books I'm extremely excited to get in my grubby hands! Two of the books I'm waiting impatiently by my mailbox for are Ms. Marvel Vol. 1 from Tamara and the Untold (The Lynburn Legacy #2) arc by Sarah Rees Brennan from Kierra. And the third book I actually received the other day! I had successfully traded for an arc of Mr. Penumbra's 24-Hour Bookstore with Nancy! I AM REALLY EXCITED ABOUT THIS BECAUSE 1. IT'S ONE OF MY FAVORITE BOOKS AND 2. I DIDN'T KNOW ARCS OF IT EXISTED. The ARC cover is so frickin' gorgeous. Gaaaaahhhhh.
Also, I'm still looking for ARCs of Unspoken (The Lynburn Legacy #1) by Sarah Rees Brennan and A Darker Shade of Magic by V.E. Schwab! If you know anybody or see it, direct me to that person please! ;D
BOUGHT (TREAT YO SELF PRESENT)
Bandette: Vol. 1 – Presto by Paul Tobin & Colleen Coover
GIFTED + WON
[column size="1/2″]
Thank you Penguin Teen for the books! [/column][/row]
MORE BOOKS · FOR REVIEW + TRADED
FOR REVIEW
A Curious Tale of the In-Between by Lauren DeStefano (Thank you, Bloomsbury!)
Beastly Bones (Jackaby #2) by William Ritter (Thank you, Algonquin Young Readers!)
Brutal Youth by Anthony Breznican (Thank you, St. Martin's Press!)
Hello, I Love You by Katie M. Stout (Thank you, St. Martin's Press!)
TRADED
Mr. Penumbra's 24-Hour Bookstore ARC by Robin Sloan (Thank you, Nancy!)
REVIEWS
BOOK COVERS
DISCUSSIONS
FONTS
Ex-Girlfriend Club is totally killing me with all the feels!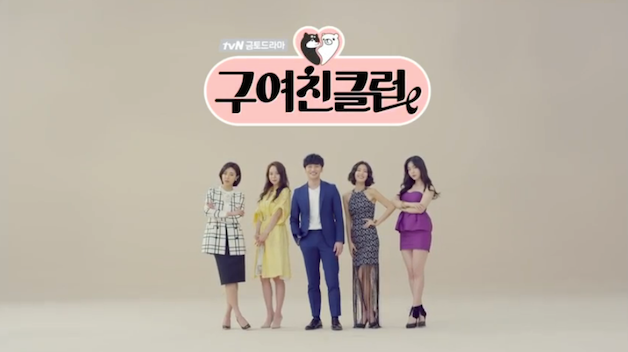 When I say I'm obsessed, I'm OBSESSED. Ex-Girlfriend Club, a Korean drama, started airing this month, and every week since, I've been looking forward to devouring more episodes. Why? IT'S FRICKIN' AWESOME AND HITS ALL THE RIGHT FEELS DEPARTMENT. It's about Soo Jin, a film producer, who's company decides to make a film of a web comic by Myeong Soo, Soo Jin's ex, to stay afloat. Because of the film, they meet up again, and Soo Jin meets three other of his exes (because Myeong Soo's web comic is about his exes—Ji-Ah (the cat), Hwayoung (the lioness), and Rara (the fox)), and craziness ensues.
It has wonderful friendships, wonderful OTP, lots of crazy ex-antics (hair pulling and nosiness), fabulous characters (I don't hate any of them), great humor, and so much more. It's just so fun! AND THE FEELS I HAVE FOR THE MAIN CHARACTERS MAKES MY HEART WANT TO BURST. YOU'VE GOT TO WATCH IT.
NOTE TO SELF FOR NEXT MONTH
 I'm planning to go to ALA! 
What better time to go to ALA than when it's right in my backyard! ALA will be in San Francisco, and I'm planning to go! I'm kind of anxious about it because I've never gone. I DON'T KNOW WHAT TO DO. HELP. If you're going as well, tell me! I'd love to see my blogger buddies!
How was your May? Was it an ultra-fabulous month for you like it was for me? Anything you're looking forward to in June like books or events?