[quote]BookExpo America (BEA) is the big book convention held in New York where authors, bloggers, and publishers get together and makes every book lover cry – either in joy (because they were able to attend and get to meet authors and get ARCs) or in sadness (because those who are unable to attend have prior engagements).
Since I get go to BEA, I've decided to take part in Armchair BEA, which is basically a virtual conference for people who cannot attend the actual convention. Let's get this started, shall we?[/quote]
DAY TWO: VISUAL EXPRESSIONS
My First-ish Comic Books!
Okay, I have to confess: I don't quite remember my first comic book. You know what I do remember? The re-introductory to that genre.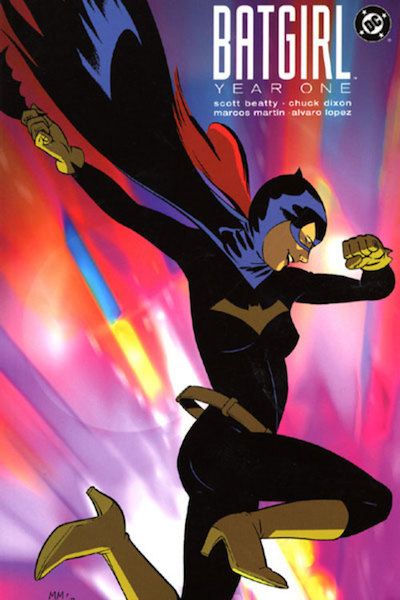 These were the first comics I ever read during my re-introductory. Robin/Batgirl: Year One.
It was approximately three years ago, and a friend had gushed about the awesomeness of the BatFam and enabled me into reading about them. And bless her! I fell madly in love with those characters. (HOW CAN I NOT WITH BOY WONDER AND BADASS ROLE MODEL BABS?)
All I read for months were the Batkids—specifically the Batgirls (Barbara Gordon, Cassandra Cain, Stephanie Brown) and Robins (Dick Grayson, Jason Todd, Tim Drake, Damian Wayne), in that order because always LADIIIIIESSSSS FIRST! I was high with emotions, reading all these comics, and I still am thinking back on it. (Let's be honest, who cares about Batman when you have these amazing bbs?)
Why do I love BatFam? FOUND FAMILIES. All these kids coming together and forming a family? Are you kidding me? These comics series are what made me fall in love with that trope in the first place! ALSO, BADASSERY. YES. ALL OF THEM. ALWAYS. THIS FAM HAS A SPECIAL PLACE IN MY HEART. THEY ARE MY PRECIOUS BBS.
If you want to start reading about those amazing BatFam, I suggest you read Robin/Batgirl: Year One. Lots of snark and action, Boy Wonder + Babs badassery, and all the awesome! (Forget about Batman—I'm totally not here for his man-pain and dramatic identity crises because of JUSTICEEEEEEEEE.) There's no better place to start than with Robin/Batgirl: Year One!
Have you read Robin/Batgirl: Year One? What was your first comic book/graphic novel?