I love comics and graphic novels, so what do I do with that love? Well, I turn it into a new feature!

From Panel to Panel is a new feature where I talk about the awesome (and perhaps not-so awesome) comic books and graphic novels I've read. Basically, this will be me pushing them onto your laps. You're welcome.
In February, the comics I'm gravitating towards have heroines kicking ass in the form of Wonder Woman and a princess, a glamorous green haired fashion blogger, and the awesome Jughead Jones. My hands are itching for these comics in my life.
Get your shopping carts loaded with all these comics!
WONDER WOMAN • VOL. 1: THE LIES
Heroic. Iconic. Unstoppable. Armed with her Lasso of Truth and imbued with the power of the gods themselves, Princess Diana of Themyscira-known to the world as Wonder Woman-is one of the greatest superheroes in history.
But who is she…really? Not even Wonder Woman herself knows for sure. Diana's links to both the Amazons and the Gods of Olympus have been severed. Her memories are a tangle of contradictions that even her lie-detecting lasso cannot untangle.
To solve the riddle of her origin, she must embark on her greatest quest of all: finding a way back to her vanished home. To get there, she must team up with her greatest enemy, the feral beast-woman, Cheetah. Will this unlikely alliance shine the light of truth on Diana's darkest secrets, or bury them-and her-forever?
Find out in WONDER WOMAN VOL. 1: THE LIES-exploding from the blockbuster DC Rebirth event! Legendary Wonder Woman writer Greg Rucka (BATWOMAN: ELEGY) makes his triumphant return to the character for the first time in years and joins renowned fantasy artist Liam Sharp (2000 AD) for one of the most momentous stories in Diana's history! Collects WONDER WOMAN #1, #3, #5, #7, #9, #11 and the WONDER WOMAN: REBIRTH one-shot. — DC Comics
Publication date: February 22, 2017 by DC Comics
Buy: LCBS · Amazon · Barnes & Noble · The Book Depository · Indigo · Comixology
Why I'm excited: I FEEL LIKE I'VE BEEN WAITING FOREVER FOR THIS WONDER WOMAN COMIC TO BE OUT! After my disappointment with the series written by Brian Azzarello, I wanted a Wonder Woman series that will make me fall in love with it. This Wonder Woman Rebirth series by Greg Rucka has gotten a ton of raves (especially from the Valkyries at my local comic book store), and you know what? I'm so frickin' excited.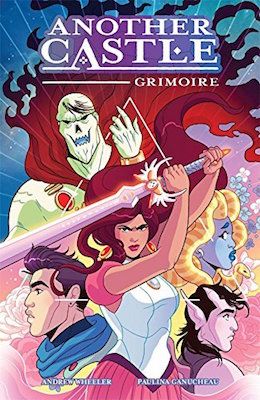 We are thrilled to invite you on a journey of courage, friendship, and rebellion—Another Castle: Grimoire! This volume gathers all the issues from the hit comic book series centered on the adventures of Princess Misty of Beldora, whose courageous spirit leads to her capture, and ultimately, to a heroic adventure that spans two kingdoms.
Our tale begins when Princess Misty of Beldora, who longs for a more exciting life, gets more than she bargained for when she is captured by Lord Badlug, the ruler of the neighboring kingdom of Grimoire. He intends to marry her and conquer Beldora, leading the land into ruin and chaos. The people of Grimoire already suffer under his rule and desperately need a hero… luckily, Badlug has just kidnapped one! Together with the citizens of Grimoire and a certain bumbling prince, Misty must fight to protect her kingdom and free both realms from Badlug's tyrannical rule. Misty is determined not to be another damsel in distress; and with her new friends to protect, she'll discover just what it takes to be the hero of the story.
Story by Andrew Wheeler and art by Paulina Ganucheau. — Oni Press
Publication date: February 15, 2017 by Oni Press
Buy: LCBS · Amazon · Barnes & Noble · The Book Depository · Indigo · Comixology
Why I'm excited: A princess taking it upon herself to be the hero that the people of Grimoire needs? Oh yes I need this comic in my life.
SNOTGIRL • VOL. 1: GREEN HAIR DON'T CARE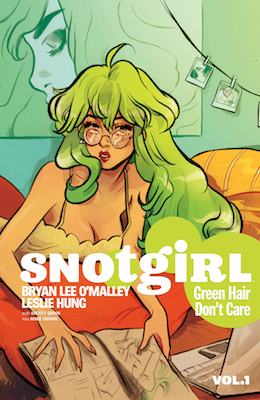 Lottie Person is a glamorous fashion blogger living her best life—at least that's what she wants you to think. The truth is, her friends are terrible people, her boyfriend traded her up for someone younger, her allergies are out of control, and she may or may not have killed somebody! 
Story by Bryan Lee O'Malley and Leslie Hung, art by Leslie Hung, Snotgirl Vol. 1 collects issues #1-5. — Image Comics
Publication date: February 22, 2017 by Image Comics
Buy: LCBS · Amazon · Barnes & Noble · The Book Depository · Indigo · Comixology
Why I'm excited: God, I am so in love with the art in Snotgirl. The premise may not be as appealing, but I'm a sucker for the art.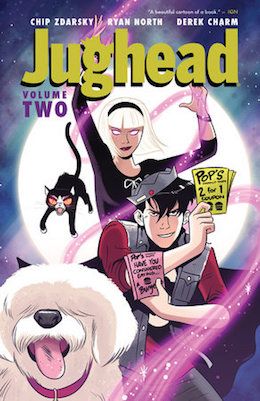 JUGHEAD VOL. 2 is the second collection of the historic JUGHEAD series relaunch, featuring the talents of comics superstars Chip Zdarsky, Ryan North and Derek Charm. This series is true to the spirit and characters that all Jughead and Archie fans know and love while reinvigorating its essence and humor through the talents of some of the most popular creators in the comic book industry.
In the grand tradition of comic book reboots like ARCHIE VOL. 1, Archie Comics proudly presents… JUGHEAD VOL. 2–from the super team of Chip Zdarsky (HOWARD THE DUCK), Ryan North (THE UNBEATABLE SQUIRREL GIRL) and Derek Charm (REGULAR SHOW)!
New story! New arc! New creative team! Let's not compare them too harshly with the old creative team though–they were awesome. This new team is pretty good too though, lots of talent and they really do try their best. – Archie Comics
Publication date: February 22, 2017, 2017 by Archie Comics
Buy: LCBS · Amazon · Barnes & Noble · The Book Depository · Indigo · Comixology
Why I'm excited: Eeeep, another installment of Jughead by Chip Zdarsky and Ryan North? Yes and yes. Ryan North is taking over the writing for Chip Zdarsky, and I'm so excited to see where he takes Jughead.
SPECIAL MENTIONS: Black History In Its Own Words, Batman Detective Comics Vol. 1: Rise of the Batmen, Chester 5000: Isabelle & George, Star Wars Darth Vader HC Vol. 2, Robin War HC, Seven to Eternity Vol. 1: The God of Whispers
Do any of these comics interest you? Tell me which ones you're excited about! Have you read any of these?