I love comics and graphic novels, so what do I do with that love? Well, I turn it into a new feature!

From Panel to Panel is a new feature where I talk about the awesome (and perhaps not-so awesome) comic books and graphic novels I've read. Basically, this will be me pushing them onto your laps. You're welcome.
Prepare yourself because November has tons of first volumes that should really be on your to-buy list (or your Christmas wishlist).
Now, onto those November graphic novels I'm excited about (and you should too!). You'll see ones about the infamous Birds of Prey, Princess Leia kicking ass, paranormal detectives, time paradoxes, and so much more!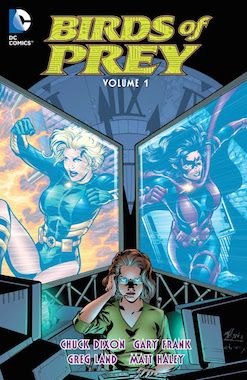 Alone, they are driven vigilantes. Together they are a force to be reckoned with.
Witness the beginnings of the Birds of Prey team, as Oracle (the former Batgirl, Barbara Gordon) teams up with ex-Justice Leaguer Black Canary and other female heroes of the DC Universe in globetrotting adventures in espionage.
Black Canary goes undercover to expose the truth behind a corporate conspiracy. Oracle must send in reinforcements, but will this save Black Canary or doom her? Plus, the Birds of Prey invade Santa Prisca to stop a slavery ring while helping to overthrow the local government.
Collected for the first time in chronological order: BLACK CANARY/ORACLE: BIRDS OF PREY #1, SHOWCASE '96 #3, BIRDS OF PREY: MANHUNT #1-4, BIRDS OF PREY: REVOLUTION #1, BIRDS OF PREY: WOLVES #1 and BIRDS OF PREY: BATGIRL #1
Written and created by Chuck Dixon, and illustrated by Matt Haley. — DC Comics
Publication date: November 4, 2015 by DC Comics
Buy: LCBS · Amazon · Barnes & Noble · The Book Depository · Indigo · Comixology
Why I'm excited: This is the one that kicks off the partnership of the infamous Birds of Prey! And boy, am I excited!
I love the ladies that make up Birds of Prey—Oracle (Barbara Gordon), Black Canary (Dinah Lance), and various other DC female superheroes! (By now, I'm sure you know how I'm a massive fan of Barbara Gordon and Dinah Lance.) I haven't gotten around to actually read the Birds of Prey comic even though I really should, and why not start with this volume which collects their beginnings chronologically?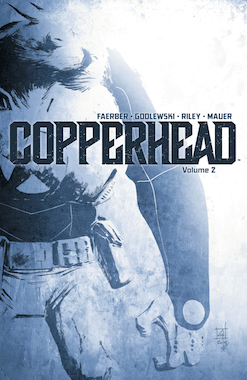 What starts out as just another Friday night in Copperhead quickly escalates into a rip-roaring adventure featuring a botched date, a band of outlaws, and a desperate chase across the desert.
Clara Bronson is starting to settle in as the new Sheriff of Copperhead, a gritty mining town on a backwater planet. But her simple date with the local schoolteacher quickly turns into a violent confrontation with a gang of outlaws looking for revenge.
Collects issues #6-10. Written by Jay Faerber and illustrated by Scott Godlewski and Ron Riley. — Image Comics
Publication date: November 4, 2015 by Image Comics
Buy: LCBS · Amazon · Barnes & Noble · The Book Depository · Indigo · Comixology
Why I'm excited: The time has come for the second volume of the no-nonsense Sheriff of a mining town in space to come out, and if you're like me who read the first volume, I was itching to see what the second volume will bring, especially after that ending with the ominous character.
From the synopsis of this volume, you can expect Clara's world to become chaotic yet again. Any sheriff knows, there's no rest for outlaws. Everybody's out to get something. But what for in this?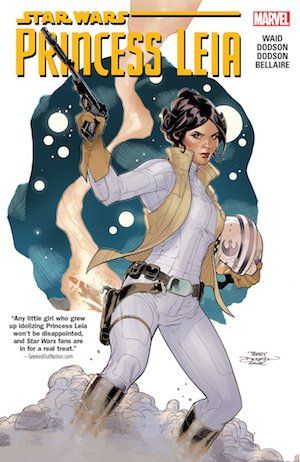 When Princess Leia Organa was captured by the Empire, she never betrayed her convictions – even after the complete destruction of her home world, Alderaan. When her rescue came, Leia grabbed a blaster and joined the fight, escaping back to the Rebel Alliance and helping strike the biggest blow against the Empire – the destruction of the Death Star! But in the aftermath of that victory, the question remains…what is a princess without a world? As Leia comes to grips with her loss, a new mission leads her to the underground world of Sullust. The Empire is rounding up fugitive Alderaanians, and that doesn't sit well with their Princess! But what can one woman do against the Galactic Empire? They're about to find out! Join the galaxy's toughest Princess on a quest to save her people and rebuild her life!
Collects issues #1-5. Written by Mark Waid and illustrated by Terry Dodson. — Marvel Comics
Publication date: November 4, 2015 by Marvel Comics
Buy: LCBS · Amazon · Barnes & Noble · The Book Depository · Indigo · Comixology
Why I'm excited: Last month, I was excited about Darth Vader and Star Wars. This month? Princess Leia has arrived. What can Princess Leia do, you ask? Well, this comic will show you! She's not gonna sit around and ignore the shitty practices of The Empire. You best believe she will do something about it!
HAWKEYE · VOL. 5: ALL-NEW HAWKEYE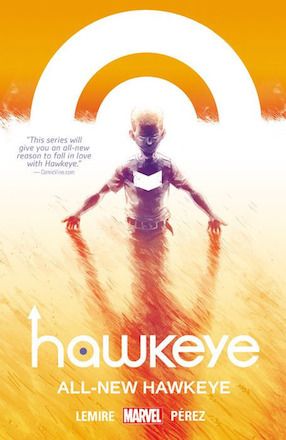 With Kate Bishop, his trusted ward and protégé (not titles she would use) back at his side, Team Hawkeye is thrown into an all new adventure spanning two generations of avenging archers. Past and present lives collide as Kate and Clint face a threat that will challenge everything they know about what it means to be Hawkeye.
Collects issues #1-5 of All-New Hawkeye. Written by Jeff Lemire ( Sweet Tooth and Descender) and illustrated by Ramon Perez. — Marvel Comics
Publication date: November 4, 2015 by Marvel Comics
Buy: LCBS · Amazon · Barnes & Noble · The Book Depository · Indigo · Comixology
Why I'm excited: Hawkeye has been on my TBR list for ages. I have read the first two issue of Matt Fraction and David Aja's run, and I loved what I saw. (I hope that I'll their entire run for Christmas, so cross our fingers, friends!)
What's not to like about Clint Barton and his awesome protege, Kate Bishop? Hawkeye rules! This duo is a force to be reckon with. I love reading about Clint and Kate's relationship. The way they have to rely each other brings so much ~feels to my heart. I want to see how Jeff Lemire and Ramon Perez's run differs from Fraction and Aja's because everybody has different ways of portraying the same character. How will it be for this volume? What will Clint Barton and Kate Bishop be like?
WOLF · VOL. 1 – Blood and Magic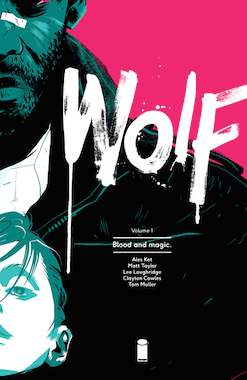 Los Angeles, California: Antoine Wolfe, a hard-boiled paranormal detective with a death wish, has to cope with sudden responsibility for an orphaned teenage girl who might be the key to the impending apocalypse. The road to hell and back begins.
Collects #1-4. Written by Ales Kot and art by Matt Taylor and Lee Loughridge. — Image Comics
Publication date: November 11, 2015 by Image Comics
Buy: LCBS · Amazon · Barnes & Noble · The Book Depository · Indigo · Comixology
Why I'm excited: I admit, I was initially interested in Wolf because the cover is gorgeous! (Look at the solid coloring. ?)
When I looked past the cover to the synopsis, I was instantly on board. Paranormal detectives? Yes please! Can you imagine what kind of weird paranormal things Antoine Wolfe has to deal with? I can't, but I am so excited, especially since this orphaned teenage girl is said to be the key to the apocalypse? Oh boy.
DARE TO DISAPPOINT: GROWING UP IN TURKEY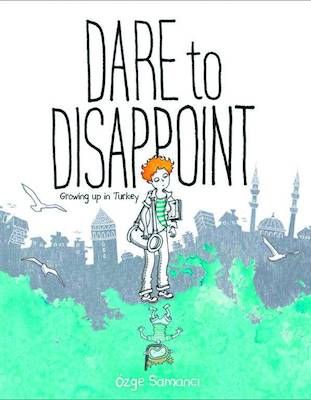 Growing up on the Aegean Coast, Ozge loved the sea and imagined a life of adventure while her parents and society demanded predictability. Her dad expected Ozge, like her sister, to become an engineer. She tried to hear her own voice over his and the religious and militaristic tensions of Turkey and the conflicts between secularism and fundamentalism. Could she be a scuba diver like Jacques Cousteau? A stage actress? Would it be possible to please everyone including herself?
In her unpredictable and funny graphic memoir, Ozge recounts her story using inventive collages, weaving together images of the sea, politics, science, and friendship. — Farrar, Straus and Giroux (BYR)
Publication date: November 17, 2015 by Farrar, Straus and Giroux (BYR)
Buy: LCBS ·  Amazon · Barnes & Noble · The Book Depository · Indigo
Why I'm excited: I've been seeing a blog tour going around for this book, and the art has colored me intrigued! From the previews I've seen, I love how this graphic novel isn't constrained by panels. I'm interested to see how Ozge portrays the events that affected her life as well as how she weaves all the conflicts together.
LUMBERJANES TO THE MAX EDITION · VOL. 1 HC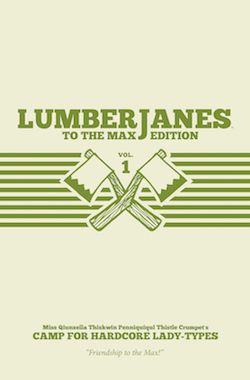 The officially awesome edition for ladies who love Lumberjanes To The Max!
Overwhelmed by the love, support, and enthusiasm from Lumberjumbies all over the world for this Eisner Award-winning series, we're thrilled to present the original eight-issue story arc in a deluxe hardcover for the first time.
Shannon Watters, Grace Ellis, Noelle Stevenson, and Brooke Allen have crafted a heartfelt series built on the power of friendship and positivity!
At Miss Qiunzella Thiskwin Penniquiqul Thistle Crumpet's Camp for Hardcore Lady-Types, things are not what they seem. Three-eyed foxes. Secret caves. Anagrams! Luckily, Jo, April, Mal, Molly, and Ripley are five rad, butt-kicking best pals determined to have an awesome summer together…and they're not gonna let a magical quest or an array of supernatural critters get in their way! The mystery keeps getting bigger, and it all begins here.
The to the Max Edition include Volumes 1 & 2, a foreword by Raina Telgemeier (Smile, Sisters), the never-before collected Lumberjanes short from BOOM! Box 2014 Mix Tape, all of the Rad Mix Playlists, and more! — BOOM! Box
Publication date: November 18, 2015 for in LCBS (December 8 for online retailers) by BOOM! Box 
Buy: LCBS ·  Amazon · Barnes & Noble · The Book Depository · Indigo · Comixology
Why I'm excited: All the praise for Lumberjanes has made me excited, yet hesitant to get my hands on it. Excited: Holy female friendships, creepy supernatural happenings at Camp, and so much more! Hesitant: What if it doesn't live up to the hype? What if I don't like it??? No matter, I will get my hands on this book sooner or later, or maybe you will and tell me all about it.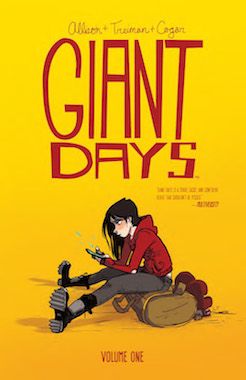 Susan, Esther, and Daisy started at university three weeks ago and became fast friends. Now, away from home for the first time, all three want to reinvent themselves. But in the face of hand-wringing boys, "personal experimentation," influenza, mystery-mold, nu-chauvinism, and the willful, unwanted intrusion of "academia," they may be lucky just to make it to spring alive. Going off to university is always a time of change and growth, but for Esther, Susan, and Daisy, things are about to get a little weird.
Giant Days Volume 1, created and written by longtime webcomic creator John Allison (Bad Machinery, Scary Go Round) and Disney artist Lissa Treiman collects the first four issues of the critically-acclaimed series from BOOM! Box. — BOOM! Box
Publication date:November 18, 2015 for LCBS (December 1 for online retailers) by BOOM! Box 
Buy: LCBS ·  Amazon · Barnes & Noble · The Book Depository · Indigo · Comixology
Why I'm excited: Friendships. University. Cute art + coloring.
Giant Days is a comic I think Young Adult readers would really love reading because it's reminiscent of a time most of us are all familiar with—starting university, meeting new people, and growing. Is this comic strictly a contemporary or is there something more to it? You gotta read it to see.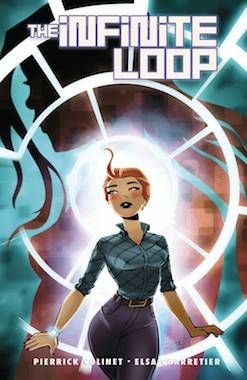 A science-fiction series that asks the age-old question, "What would you risk for a chance at true love?"
Meet Teddy, a young woman who lives in a faraway future where time traveling is a common practice and her job is to maintain the status quo by correcting time paradoxes. But when she meets Ano, "a time paradox" and the girl of her dreams, Teddy must decide between fixing the time stream or the love of her life, both of which have unique consequences.
A dynamically graphic, science-fictiony, poetical, paradoxical wunderkind of a sexy, time-traveling, adventure-packed comic. 
Written by Pierrick Colinet and illustrated by Elsa Charretier. — IDW Publishing
Publication date: November 18, 2015 for LCBS (December 3 for online retailers) by IDW Publishing
Buy: LCBS ·  Amazon · Barnes & Noble · The Book Depository · Indigo · Comixology
Why I'm excited: You want a time travel and romance comic? Here is The Infinite Loop! 
Time travel and romance is a mix of tropes I always love to read about. You have Teddy, a young woman who's job is to correct time paradoxes. Tell me you are not intrigued by that. Also, it focuses on a LGBT couple! Teddy in an epic love with a lady who is a "time paradox"? Why isn't this comic in my hands right now?
Do any of these comics interest you? Tell me which ones you're excited about! Have you read any of these?