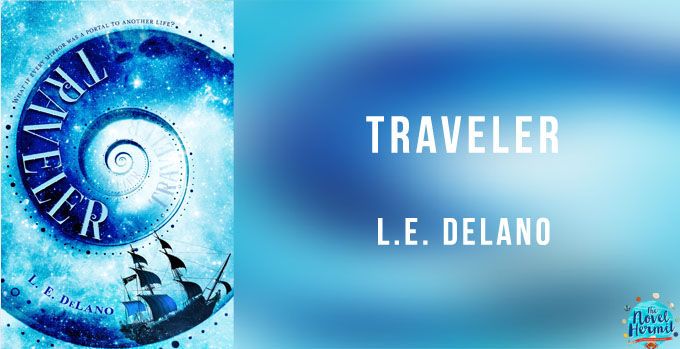 [note note_color="#42a4c9″ text_color="#ffffff"]Traveler by L.E. Delano • February 7, 2017 • Swoon Reads (Macmillan)
Website | Twitter | Goodreads | Amazon | Barnes & Noble | The Book Depository | Indigo | Library
Jessa has spent her life dreaming of other worlds and writing down stories more interesting than her own, until the day her favorite character, Finn, suddenly shows up and invites her out for coffee. After the requisite nervous breakdown, Jessa learns that she and Finn are Travelers, born with the ability to slide through reflections and dreams into alternate realities. But it's not all cupcakes, pirates, and fantasy lifestyles – Jessa is dying over and over again in every reality, and Finn is determined that this time, he's going to stop it… This Jessa is going to live.[/note]
[note note_color="#BFD1D1″ text_color="#ffffff"]I received this book for free from Swoon Reads (Macmillan) for review consideration. This does not affect my opinion of the book or the content of my review.[/note]
First sentence: "There are few things in the world that I find more painful than being forced to sit on a cold metal folding chair in front of a home improvement store selling candy for the Spanish Club."
DNF AT CHAPTER 14
If I had read Traveler a few years ago, I may have liked it. (Though, probably not.)
Like The Edge of Everything, Traveler promised me something I loved reading about—alternate realities—but it failed to wow me. You'd think people who can "slide through reflections and dreams into alternate realities" to be exciting, but it just isn't here.
The start of Traveler didn't suck me in (it starts with Jessa being bored out of her mind waiting on the candy to arrive for her school's Spanish club and writing stories about a mysterious dude who she can't get out of her mind); the characters were bland (nothing truly memorable about them that I remember); it played on typical plots and tropes I see a lot in Young Adult (instalove, love triangles, Chosen One), and you know what? I find that so boring to read. I felt like I read this book already in All Our Yesterdays.
Should you read Traveler? Nah, go read All Our Yesterdays for something that's similar but better.