I love fonts. You can say I'm obsessed with collecting them all. It's no secret to those who know me. You're Just My Type is a new feature where I showcase the fonts I absolutely adore and use. And hopefully, you will love the fonts I pick. Add all of them to your font collection! Let it grow!
Another Friday, another font post. Let's do this! (I'm amused that my last font post was Friday as well. I didn't intend that.)
Go forth and add these fonts to your font book!
(Remember, when you download the fonts, look at the license to see what you can and cannot do with it. Majority of these will have Dropbox download links, so if it doesn't download at first click, click it again.)
Poniente is designed by Benito Ruiz.
Luna is designed Amanda Leeson.
Gagalin is designed by Iordanis Passas.
Ikaros is designed by Matt Ellis.
Minna Drop is designed by Vanessa Bisky & Romy Fey.
Bomb is designed by Iordanis Passas.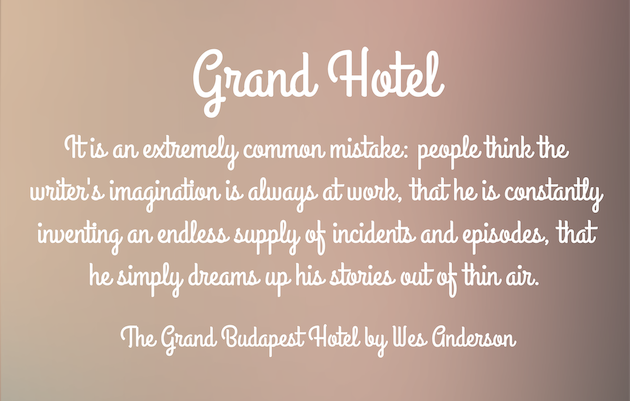 Grand Hotel is designed by Brian J. Bonislawsky and Jim Lyles for Astigmatic (AOETI).  
[quote]Grand Hotel finds its inspiration from the title screen of the 1937 film "Cafe Metropole" starring Tyrone Power. This condensed upright connecting script has a classic vibe to it.[/quote]
Passeros is designed by Viktoriya Grabowska.
Which font is your favorite? If you missed previous font post, voila!