I love comics and graphic novels, so what do I do with that love? Well, I turn it into a new feature!

From Panel to Panel is a new feature where I talk about the awesome (and perhaps not-so awesome) comic books and graphic novels I've read. Basically, this will be me pushing them onto your laps. You're welcome.
What an extremely belated post about the June graphic novels I'm excited about! I had been caught up in the beautiful whirlwind of May that I forget to make this post! But you know what they say, better late than never.
This month, a couple of awesome graphic novels have been published! And it is my job to alert you to the awesomeness of it all! I have my eye on three particular ones—one dealing with murders in four time periods; one revisiting Barbara Gordon as Batgirl; and one dealing with mysteries + a Gotham City school!
Here are the June graphic novels I'm excited about!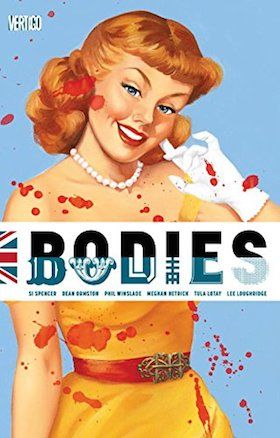 LONDON, 1890. As Jack the Ripper stalks the streets, Inspector Edmond Hillinghead-the city's most diligent detective-applies his skills to an even harder case. The victim is an unidentified male. The killer may have powerful allies. And Edmond's darkest secret may be exposed if he gets too close to the truth…
LONDON, 1940. As the Blitz rains bombs down on the city, Inspector Charles Whiteman reigns over its streets. He escaped the Nazis in Poland only to run the very rackets he's supposed to shut down. But when he discovers a mysterious murder victim, his double life may be destroyed…
LONDON, 2014. As racist rioters wreak havoc in the name of their prejudiced patriotism, Detective Sergeant Shahara Hasan leads the fight against them. As a Muslim cop, she's English to the core. But the corpse she's uncovered may reveal something rotten deep below the surface…
LONDON, 2050. As the mind-scrambling pulsewave plagues the last survivors of a terrifying techno-apocalypse, the amnesiac young woman known only as Maplewood can barely understand the body she's discovered. But this ritual killing is identical to those from decades past-and the link between them all is stronger, and stranger, than anyone could dream…
In BODIES, writer Si Spencer teams up with Meghan Hetrick, Dean Ormston, Tula Lotay and Phil Winslade-four incredible artists, one for each era-to slice open the modern murder mystery and uncover the strange secret heart within! Collects issues #1-8. — Goodreads
Publication date: June 16th 2015 by Vertigo
Pre-order: Amazon · Barnes & Noble · The Book Depository
Why I'm excited: Murders? Different time periods that are somehow linked together in London? Same murder victim? What's not to be excited about that? I was instantly intrigued by the premise, and wanted to see how this comic will execute it.
BATGIRL · Vol. 1: The Batgirl of Burnside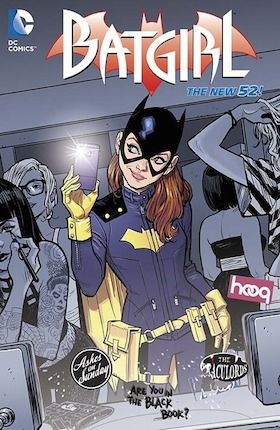 Barbara Gordon's ready for a fresh start. She's packing her bags, crossing the bridge, and heading to Gotham's coolest neighborhood: Burnside. And when a freak fire burns up her costume and gear, Babs has the chance to become a whole new Batgirl!
But she barely slips on her new DIY costume before Batgirl starts trending as Gotham's first viral vigilante — and attracting a new wave of enemies who want her social-media spotlight for themselves. Meanwhile, the girl beneath the gear's got a whole new crew of friends, college classes that are kicking her Bat-butt and a dating scene that can make anyone want to swipe left on life.
This bat's done living in the shadows. But will the bright lights of Burnside burn her for good?
Red-hot creative team Cameron Stewart, Brenden Fletcher and Babs Tarr reinvent Barbara Gordon from the boots up in BATGIRL: THE BATGIRL OF BURNSIDE (collects issues #35-40 and a story from SECRET ORIGINS #10). — Amazon

Publication date: June 16, 2015 by DC Comics
Buy: Amazon · Barnes & Noble · The Book Depository
Why I'm excited: MY GIRL BABS! ❤️ Gail Simone did an excellent job exploring Barbara's life and family, so I want to see if Brenden Fletcher does Barbara's story a justice. I'm a bit apprehensive though because this particular volume of Batgirl have disappointed a lot of readers, but that doesn't dissuade me from being excited! I want to see whether I'd agree with those disappointed readers or if I'll end up appreciating the comic. I just want good things for Babs!
GOTHAM ACADEMY · Vol. 1: Welcome to Gotham Academy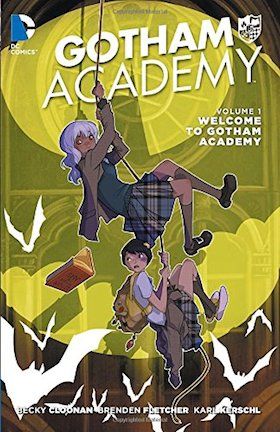 Welcome to Gotham Academy, the most prestigious school in Gotham City. Only the best and brightest students may enter its halls, study in its classrooms, explore its secret passages, summon its terrifying spirits…
Okay, so Gotham Academy isn't like other schools. But Olive Silverlock isn't like other students. After a mysterious incident over summer break, she's back at school with a bad case of amnesia, an even worse attitude… and an unexplained fear of bats.
Olive's supposed to show new student Maps Mizoguchi the ropes. Problem: Maps is kid sister of Kyle, Olive's ex. Then there's the ghost haunting the campus…the secret society conducting bizarre rituals…and Bruce Wayne, the weirdo billionaire who funds the Academy – and may know the secret to Olive's big mystery.
Find out in GOTHAM ACADEMY VOL. 1, the acclaimed new series from co-writers Becky Cloonan (DEMO) and Brendan Fletcher (BATGIRL) and artist Karl Kerschl (TEEN TITANS: YEAR ONE)! Collects GOTHAM ACADEMY #1-6.— Amazon
Publication date: June 23, 2015 by DC Comics
Pre-order: Amazon · Barnes & Noble · The Book Depository
Why I'm excited: If you were in Gotham City, I'm sure you'd want to go to Gotham Academy—probably one of the best school there. Besides the fact that it was funded by billionaire Bruce Wayne, what makes this school different from the others? I want to find out! Also, Gotham Academy has mysteries and friendships? Sign me up. It just looks like fun!
Do any of these comics tickle your interest? Tell me which ones you're excited about!