I had an absolutely blast during the first week of April because JESSIE WARE! LIBRARY BOOK SALE! The rest of the month cannot compare! If I could travel back in time somewhere in this past month, it would be then.
I saw Jessie Ware! 
.@jessieware is a fucking 👑. 🙌🙌🙌pic.twitter.com/B9VidCKFfO

— Cee (@thenovelhermit) April 8, 2015
Jessie Ware is a fucking delight! Gorgeous, funny, adorable, and great personality!
She sang every song from her Tough Love album as well as "Running," "Night Light," "110%," "No to Love," "Sweet Talk," and "Wildest Moments" from her first album, Devotion and a Billie Holiday cover (since it was Billie's birthday). And when she sang "Kind of…Sometimes…Maybe," it was amazing because she was super flirtatious and dancey. Even though she was sick, she totally rocked the stage!
In between songs, she told hilarious stories about her flight from Chicago to SF, where the flight attendant was giving Jessie advice on singing whilst sick, and trying to get her to tug her ears as a nod on the Late Late show; when D'Angelo was performing in London, and her friend shoved Jessie into him; and people giving her things because she said in an interview she was craving marmite or red wine. The audience actually gave her stuff too, and it was too funny to see her holding all those things and singing.
Despite the occasional dude blocking my view, it was just fucking wonderful. Everybody should really listen to her album, and try to see her when she's performing.
* The opener was Jesse Boykins III, who was absolutely wonderful! He got everybody to come up to the front rows to watch him perform, and got everybody pumped up! 
I went solo to the SF library book sale. 
This was a first. I usually go with my friends, but because I totally blanked on the date and I hadn't a clue it was the first week of April, most of my friends already had plans. No friends to go with?  That's okay! That means no friends can hold me back! It was great, but it was also Easter weekend, and I went the touristy route to get to the sale. Whoops. The books I wanted most were graphic novels. Unfortunately, both the graphic novel and Young Adult section didn't have a lot of choices, but I managed to snag a few awesome books!
I totally failed Camp NaNoWriMo.
Yup. By the third day, I just gave up. However, watch as I decide to write my project in May instead.
I ordered my business cards! 
My first business cards ever! I am extremely excited about it! Moo.com was having a 25% discount until yesterday, so I had to order some! The design I created is absolutely fabulous! I hope it prints nicely. (There's a lot of lines in the design, so I'm not at all sure if it'll turn out well!) I'll show them off next month when I get them!
(* I left out a couple things like Marina and the Diamonds and milestones because this post was getting lonnnnngggg, but I'll be making individual posts for them next month, so watch out for those! :) )
BOUGHT FROM LIBRARY BOOK SALE
Chew Vol. 7: Bad Apples by John Layman and Rob Guillory
The Near Witch by Victoria Schwab x2
Where Things Come Back by John Corey Whaley
Old School by Tobias Wolff
The Shadow of the Wind by Carlos Ruiz Zafon
The Art Forger by B.A. Shapiro
WON
Through the Woods by Emily Carroll (from Sydney of The Daring Adventure)
Throne of Glass by Sarah J. Maas
We Are Pirates by Daniel Handler
Pushing the Limits by Katie McGarry
This Is What Happy Looks Like by Jennifer E. Smith
Trial by Fire (ARC) by Josephine Angelini
Better than Perfect (ARC) by Melissa Kantor
I'll Give You the Sun (ARC) by Jandy Nelson
The Secrets We Keep Wild Hearts (ARC) by Jessica Burkhart
Becoming Bryn by Angelia Carling (All from Alexa of Alexa Loves Books <3)
REVIEWS
BOOK COVERS
DISCUSSIONS
FONTS
LETTERS
LISTS
Daredevil is just everything I could've asked for in a Marvel series!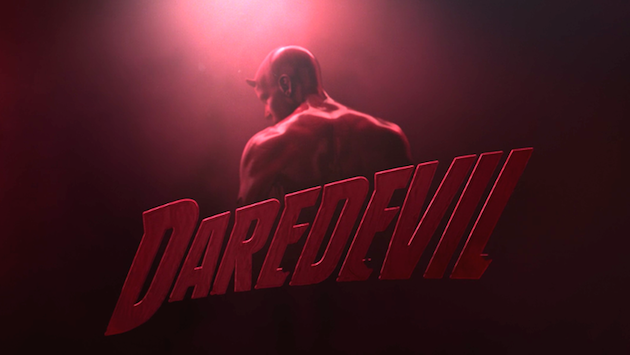 Daredevil is fucking fabulous. For those who do not know about this show (have you been living under a rock?), it's a Netflix series about Matt Murdock (played by the lovely Charlie Cox), a blind lawyer by day and a blind vigilante at night, fighting for justice in his neighborhood, Hells Kitchen, which is full of criminals and corruption. If you've seen people shouting to watch it, you really should. Great main character, awesome friendships, fabulous ladies, and creepy villains who really do exist IRL. The main reason I started watching because CHARLIE COX AND ROSARIO DAWSON ARE FABULOUUUUSSSS! (YES, ROSARIO IS IN THIS. BLESSSSSSS. HER SCENES ARE EVERYTHING.) CLAIRE AND MATT = <3. SHE NEEDS TO BE IN ALLLL THE EPISODES IN SEASON 2 PLZ.
I swoon for Poldark!

(Source)
Okay, I had meant to talk about Poldark last month, but it totally slipped my mind. So here we are now! SO IN LOVE WITH THIS SHOW. Gorgeous scenery, precious leading lady, an adorable couple that I'm just rooting for, and a very complicated leading man trying to make something of himself after the War. I JUST WATCH THIS SHOW FOR THOSE TWO. THOSE SWEET (AND SOMETIMES SAD) MOMENTS. THE WAY HE LOOKS AT HER. JUST LOOK. UGH. RIGHT IN THE FEELS.
NOTE TO SELF FOR NEXT MONTH
 MY BIRTHDAY IS NEXT MONTH! 
YES IT IS. IT WILL BE GLORIOUS, AND WILL MAKE ME FEEL OLD.
There will be some blog layout changes next month!
I wanted some design changes, and bless Charlotte for helping me out with them. There won't be drastic changes in the design. Just some tweaks here and there, and some much needed changes that I won't delve into because SURPRISE!
How was your April? Anything you're looking forward to in May like books?