I love comics and graphic novels, so what do I do with that love? Well, I turn it into a new feature!

From Panel to Panel is a new feature where I talk about the awesome (and perhaps not-so awesome) comic books and graphic novels I've read. Basically, this will be me pushing them onto your laps. You're welcome.
May approaches, and that means a month of awesome graphic novels that will be released! Yeeee.
As some of you may know, I'm a big comic book/graphic novel reader. I spend 1/4 of my time shoving comic books into people's faces and demanding they read it (take The Wicked + The Divine and Ms. Marvel). And guess what I'm doing this time? Alerting you to all the awesome May graphic novels I'm excited about (and neeeeeeeeeed)!
Zoe isn't exactly the intellectual type, which is why she doesn't recognize world-­famous author Thomas Rocher when she stumbles into his apartment…and into his life. It's also why she doesn't know that Rocher is supposed to be dead.
Turns out, Rocher faked his death years ago to escape his critics, and has been making a killing releasing his new work as "lost manuscripts," in cahoots with his editor/ex-wife Agathe. Neither of them would have invited a crass party girl like Zoe into their literary conspiracy of two, but now that she's there anyway…well, as it turns out, both Thomas and Agathe think Zoe is awfully cute.
Zoe doesn't know Balzac from Batman, but she's going to have to wise up fast… because she's sitting on the literary scandal of the century! — Goodreads
Publication date: May 5th 2015 by First Second
Pre-order: Amazon · Barnes & Noble · The Book Depository
Why I'm excited: LITERARY SCANDAL! Can you just imagine stumbling across an author who faked his death and become entangled in his and his ex-wife's web? That's exactly what Zoe gets herself into! I want to see where this all goes and what Zoe does!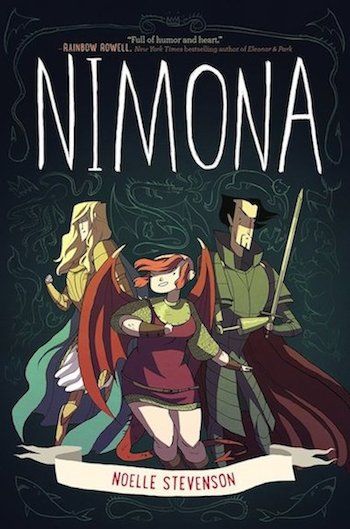 Nimona is an impulsive young shapeshifter with a knack for villainy. Lord Ballister Blackheart is a villain with a vendetta. As sidekick and supervillain, Nimona and Lord Blackheart are about to wreak some serious havoc. Their mission: prove to the kingdom that Sir Ambrosius Goldenloin and his buddies at the Institution of Law Enforcement and Heroics aren't the heroes everyone thinks they are.
But as small acts of mischief escalate into a vicious battle, Lord Blackheart realizes that Nimona's powers are as murky and mysterious as her past. And her unpredictable wild side might be more dangerous than he is willing to admit.
Nemeses! Dragons! Science! Symbolism! All these and more await in this brilliantly subversive, sharply irreverent epic from Noelle Stevenson. — Goodreads

Publication date: May 19, 2015 by Harper Teen
Pre-order: Amazon · Barnes & Noble · The Book Depository
Why I'm excited: I've read of Nimona as a webcomic, and oh boy, I always had the biggest smile on my face because Nimona is so frickin' delightful! HOLY HUMOR! + AMAZING CHARACTERS! It thrills me to finally see it in a book format!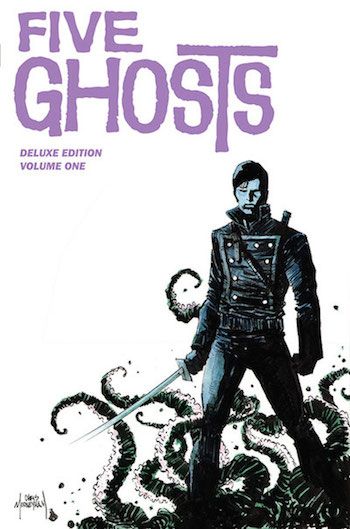 After a tragic encounter with an artifact known as "The Dreamstone," infamous treasure hunter Fabian Gray is possessed by five literary ghosts and granted access to their unique abilities. Join Fabian and his allies as they travel across the world in a pulp-inspired literary action/adventure from writer Frank J. Barbiere (Avengers World, Solar: Man of the Atom) and artist Chris Mooneyham (Predator)!
Collects FIVE GHOSTS #1-12 plus exciting bonus features! — Image Comics
Publication date: May 20, 2015 by Image Comics
Pre-order: Amazon · Barnes & Noble · The Book Depository
Why I'm excited: A TREASURE HUNTER + LITERARY GHOSTS? Count me in! I'm always interested in books that are, well, about books—literature.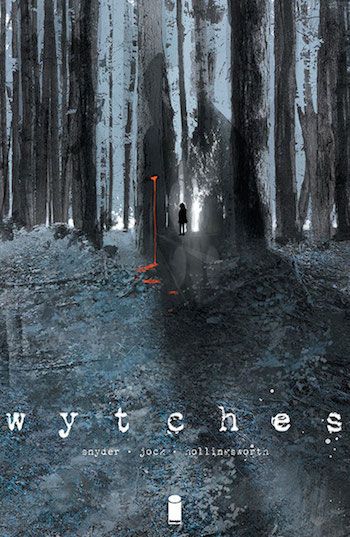 When the Rooks family moves to the remote town of Litchfield, NH to escape a haunting trauma, they're hopeful about starting over. But something evil is waiting for them in the woods just beyond town. Watching from the trees. Ancient…and hungry. 
Collects WYTCHES #1-6. Story by Scott Snyder and art by Jock. — Image Comics
Publication date: May 20, 2015 by Image Comics
Pre-order: Amazon · Barnes & Noble · The Book Depository
Why I'm excited: Haunting trauma? Ancient and hungry? Tell me more! I'm not a big fan of horror stories because I can scare easily, but WITCHES! It spins the whole witch idea around. I'm just so intrigued!
THOR | Goddess of Thunder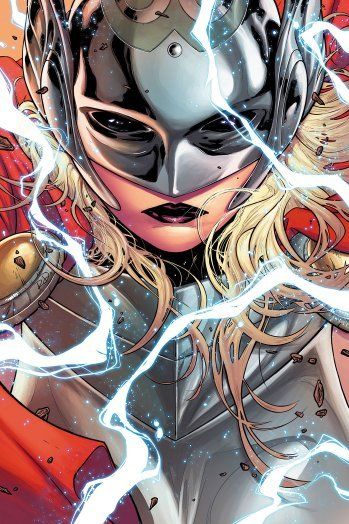 Mjolnir lies on the moon, unable to be lifted! Something dark has befallen the God of Thunder, leaving him unworthy for the first time ever! But when Frost Giants invade Earth, the hammer will be lifted – and a mysterious woman will be transformed into an all-new version of the mighty Thor!
Who is this new Goddess of Thunder? Not even Odin knows…but she may be Earth's only hope against the Frost Giants! Get ready for a Thor like you've never seen before, as this all-new heroine takes Midgard by storm! Plus: the Odinson clearly doesn't like that someone else is holding his hammer…it's Thor vs. Thor! And Odin, desperate to see Mjolnir returned, will call on some very dangerous, very unexpected allies. It's a bold new chapter in the storied history of Thor!
Publication date: May 26, 2015 by Marvel Comics
Pre-order: Amazon · Barnes & Noble · The Book Depository
Why I'm excited: FEMALE THOR! What's not to be excited for the badass goddess of Thunder? IT'S FEMALE THOR, GUYS! YEESSSSSSS
An epic 26 centuries in the making: In the aftermath of a galactic war a hundred years long, Odyssia the Clever Champion and her compatriots begin their longest, strangest trip yet: the one home. A gender-bent eye-popping psychedelic science fiction odyssey begins here, by Matt Fraction (Casanova, Sex Criminals, Satellite Sam) and Christian Ward (Infinite Vacation, Olympus). — Image Comics
Publication date: May 27, 2015 by Image Comics
Pre-order: Amazon · Barnes & Noble · The Book Depository
Why I'm excited: A RETELLING OF THE ODYSSEY? BUT IN SPACE + GENDER BENT + GORGEOUS COLORING? OF COURSE I WANT THIS. DO YOU KNOW HOW MUCH I WANT THIS? A BURNING NEED.
* Note: The graphic novels from Image Comics will be published in May, but the publication date on online retail stores are different (they're in June or July).
Do any of these comics tickle your interest? Tell me which ones you're excited about!