I know it's not Tuesday anymore, but it's never to late to discuss books, especially when it's the best books I've read in 2017!!!
There are twelve books here—six of them are the best books that were published in 2017 and the other six are the best books that weren't published in 2017. I decided against including rereads because well, I reread them because they were the best books. In my list, there are a lot of comics. A LOT. It's mainly what I've been reading, and I'm not about to stop the awesomeness.
Here are the books on my list.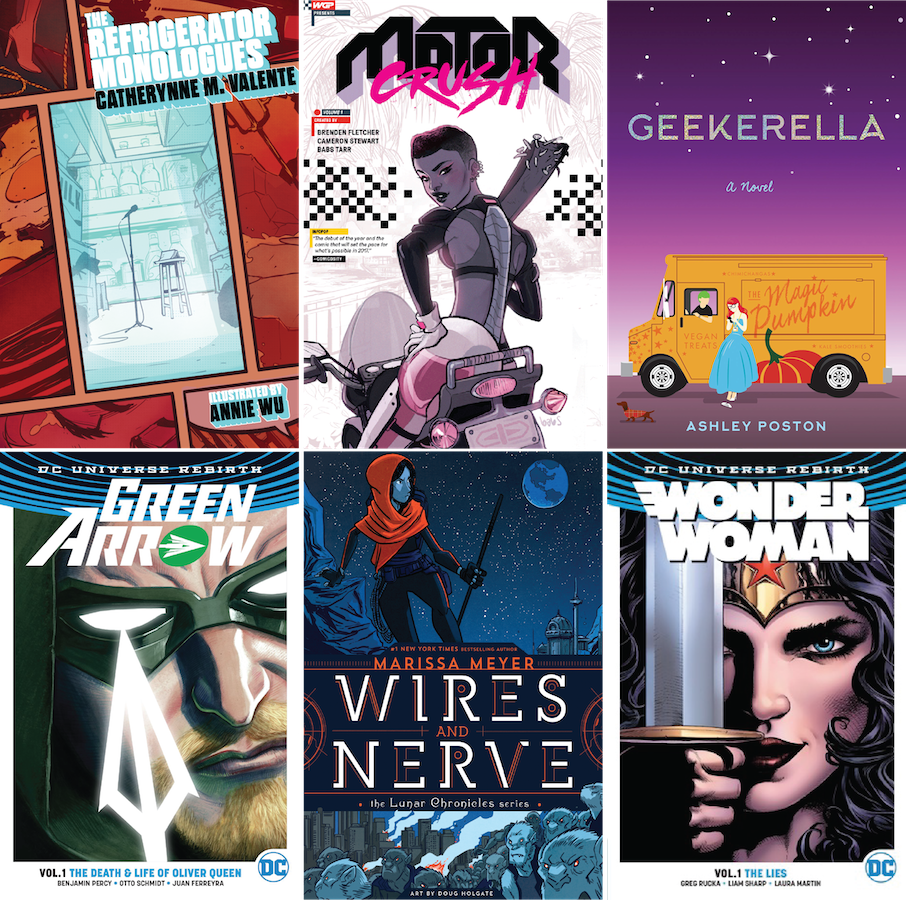 Do you want angry and desperate women in comics telling their side of the story? The Refrigerator Monologues is that book, and I love it to pieces. I love how raw the emotions are. Catherynne M. Valente delivers yet another fabulous piece. Let these women's voice roar!
Motor Crush is so badass. You get badass ladies who rides bikes like no other; it's queer; it has the most interest side characters that you'd want more of; the art is sooo fantastic; and something unexpected happens, which  I'm so in love with this comic I bought five of the different covers for volume 1. (That's how much I loved it.)
Geekerella is a perfect love letter to fandom and geek culture. I usually don't like fairytale retellings because they don't captivate me instantly, but Geekerella did. I found myself relating to these characters and to the fandom. Starfield brings people together—much like books and movies and so on.
MY QUEEN IS IN THIS. Black Canary is in this! And she's just extra delightful and badass like usual.
You want more Iko? You'll get lots of here in Wires and Nerves, a graphic novel about her bounty hunting duties. You get to see this beloved sidekick become her very own hero, hunting down the rogue packs of wolf-hybrid soldiers. It's a lot of fun.
This is the Wonder Woman I've been yearning for! After subpar stories about Wonder Woman, I've found the one I love and am deeply impressed with, and that's Greg Rucka's rebirth run! Wonder Woman has trouble remembering who she is, and goes about figuring out why her memories aren't as present. The Lies has some of the best writing I've seen in comics.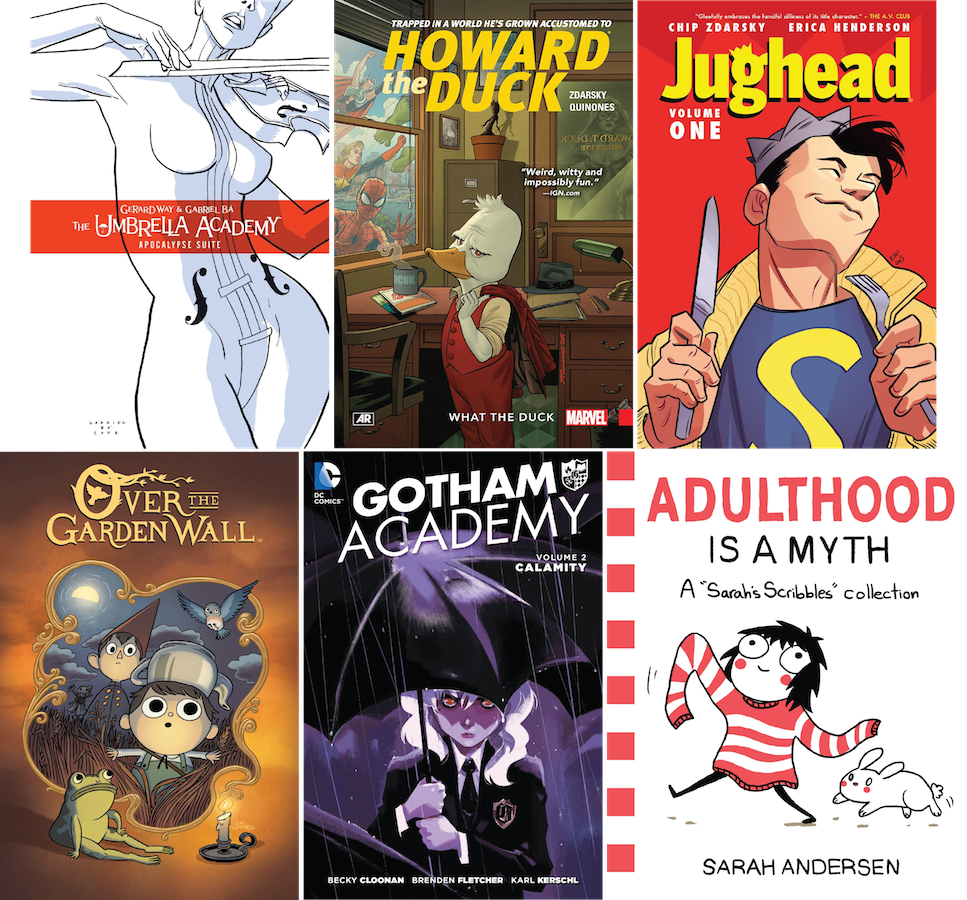 Why did it take me long to read The Umbrella Academy? This comic is a legit masterpiece! The writing and the art are so frickin' awesome. This comic has exactly what I love reading about: dysfunctional superhero families, and the character's in this comic is definitely messed up.
Who would've thought a talking dude would be so much fun? Well, Chip Zdarsky is behind the writing so you know you're in for a hilarious ride. I constantly found myself snickering under my breath at the different jokes making fun of characters.
Oh Jughead Jones. This is the comic that gave us asexual Jughead, and I'm ever so thankful for this representation. Nothing can get in-between a boy and his love for burgers. When an evil principal does, Jughead sets a mission to unmask the evil that is this principal. It's a fun story that takes us into Jughead's weird brain.
I love Over the Garden Wall, and does this graphic novel live up to everything I ever wanted it to be? Yes! And then some. If you ever watched the animated series, this graphic novel is exactly like that! But it's deleted scenes in book form.
Gotham Academy is one of the best DC comics out there. You get all these awesome kids at Gotham Academy trying to figure out what the hell is going on at their school. I'd love to befriend all these characters who created a family of their own. It's so damn cute.
Everything in this book is a depiction of me. I related to everything, and I wanted more.
What books have you read in 2017 that were the best books in your opinion? Recommend me some titles!