Inspired by What She Reads, Pure Imagination Blog, and Stacked.

I admit I'm a book cover snob. Who isn't though?

Book covers are the first thing that attracts readers to a book. A good cover can draw someone is, just as a bad cover can easily draw someone away. It can essentially make or break a book. Holy, Mother Cover! is where I showcase the book covers that stand out (or make me cringe) and discuss cover changes.

(A big special thanks to Georgie at What She Reads for bestowing me this fabulous name and to Charlotte at Gypsy Reviews for creating the beautiful feature banner you see before you.)

Today, we look at the cover How to Love by Katie Cotugno!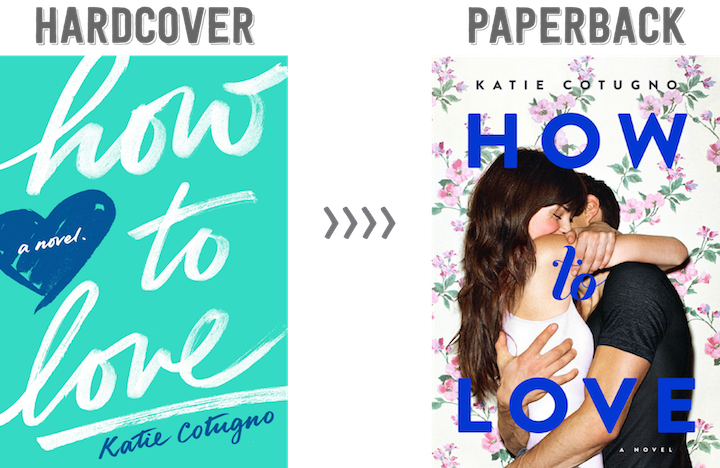 I am baffled. Who would buy the paperback? Tell me. Which one of you would buy it because you liked the cover? (Be prepared for major sideeye from me.)
I love typography covers. (Not surprising if you know me. ;D) I think the hardcover design of How to Love is gorgeous because of its simplicity. The typography and the coloring gives the books a nice touch and makes it stand out on a bookshelf (at least to me). Look at how personal that cover looks? I love the strokes of the lettering of the title. It gives it a nice paintbrush quality, and I'm always a sucker for that. The cover weirdly reminds me of a chalkboard too, which I love. I really don't think you need a complicated cover (or one with models) to show what will happen in the book because you can infer it from the title.
Now, about that paperback cover, why? It looks like one of those artsy couple pictures that you'd find on Flickr or Tumblr was merged with a flower background lifted from Pinterest. It's not a good look. Yeah, sure the couple represent the characters well, but do we really need that? Absolutely not. The title of this book speaks for itself. I am absolutely disappointed that there's no more gorgeous typography. Instead, we get this pretty boring type with that hideous blue font color, which totally does not fit with the general cover palette. Nothing stands out except for the crappy floral background and the out of place blue. I would be a bit embarrassed to pick up this book. The paperback does not live up to the awesomeness that is the typography hardcover.
Which cover design do you prefer? Would you buy the paperback one (even if you don't like the cover)? Or would you stick with the hardcover?