Today's topic is about children's literature! The genre that we've been waiting for.

Children's literature is important. I hadn't realize how much of an impact it had on me until after I finished writing this post. I don't read a lot of children's literature anymore so I couldn't tell you which ones are my favorite. At least, for the ones that have been recently released. I don't follow that. I do have two favorite childhood series – one is full of picture and short, the other is full of words and tragedy.
For those who do not know who Kevin Henkes is, he wrote and illustrated the Mouse Books series and Kitten's First Full Moon (which won him the Caldecott Medal). When I was a child, this picture book was my absolute favorite:
Chrysanthemum.
I am fond of this book. It's about a mouse named Chrysanthemum who is teased by her classmate because her name is unusual. You can imagine how Chrysanthemum reacts – nobody likes to be teased, especially because of a name. The book deals with bullying and personal identity. I adored the pictures and the color scheme. Despite a couple of problems I have now, I thought it was a cute and lovely book.
Thinking about this book makes me nostalgic. When I was younger, I disliked my name. Kids teased me, but not to the extent that I cried about it when I returned home. I feel that most kids go through that stage where they dislike their names and want a new one. Seeing Chrysanthemum come to terms with her name helped me realize that I don't want a boring name that every kid have. And I think that may have began my interest in names and meanings (which deeply influenced the stories I had written in workshop).
Lemony Snicket holds a special place in my heart because of this series of books: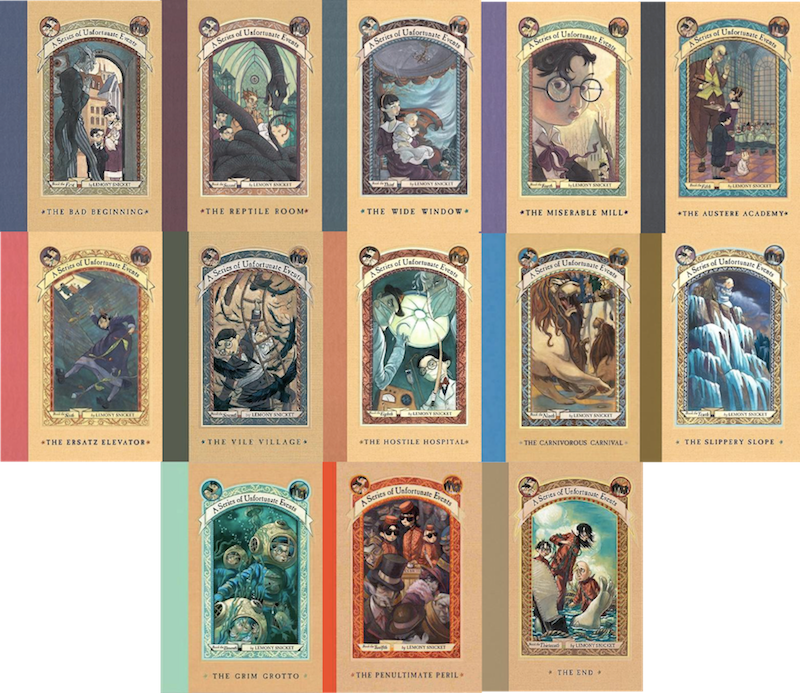 I loved A Series of Unfortunate Events and was completely invested in the lives of the Baudelaire orphans and the Quagmire triplets. It's a fairly dark tale, especially for children. I remember reading these books and wanted something good to happen for the Baudelaire orphans, but when it did, you just know Lemony Snicket will taketh it away. 
I know that some people are completely put off by the writing style, but I am not one of them! I find it extremely charming. I feel like it's Daniel Handler (Lemony Snicket is his pseudonym) is making fun of this guy who writes nothing but horrible things to  children. Almost like satire on gothic theme.
I remember being in awe and envious when one of my classmates in elementary school had gotten an early copy of the newly released books. My heart pounded for the Baudelaire orphans, worried about how the Baudelaire orphans would escape from Count Olaf's grasp. I was obsessed.
The Impact!
After I wrote this post, I realized, surprisingly, that the stories I create are influenced by these two books. Chrysanthemum started my interest in the naming and the importance of it. Every time I write a story, I always try to find a name that has a specific meaning because I like to see how their actions/attitudes are representative or atypical of their names. A Series of Unfortunate Events started my love for satire (making fun of people/things), wordplay, and the silly tragedies that seem utterly absurd. I feel a bit in awe that this post made me realize that even as a kid, I was interested in these type of themes. And it carried on to adulthood. Wow. 
What books did you read when you were little? What were your favorites? Did they leave a big impression on you?
Check out my previous post in Armchair BEA: