[note note_color="#BFD1D1″ text_color="#ffffff"]Hosted by 
Alexa of Alexa Loves Books
,
Cee of The Novel Hermit
, 
Mel of The Daily Prophecy
, &
Kristin of Super Space Chick
, 
Love-A-Thon
is an event—a lovefest—that is dedicated to spreading positivity and love. It's time dedicated to visiting other bloggers/Instagrammers/BookTubers, leaving a comment or two, making new friends and fostering positivity among the members of our amazing community.[/note]
Is there anything more exciting than receiving a surprise care package from one of your best book buddies? Didn't think so! If you had the opportunity to surprise one or more of your favorite characters with a care package for Valentine's Day, what would you be sure to include? Have fun virtually shopping for the character(s) you love and let us know via photos, collages, etc., what you would love to send them!
If I had all the money in the world, Iko (from the Lunar Chronicles by Marissa Meyer) would be getting these beautiful, yet expensive items in her care package because she deserves the best!

Oscar de la Renta • Valentino • Ralph Lauren • Valentino

Narcisco Rodriguez • Mulberry • Pamella Roland • J. Crew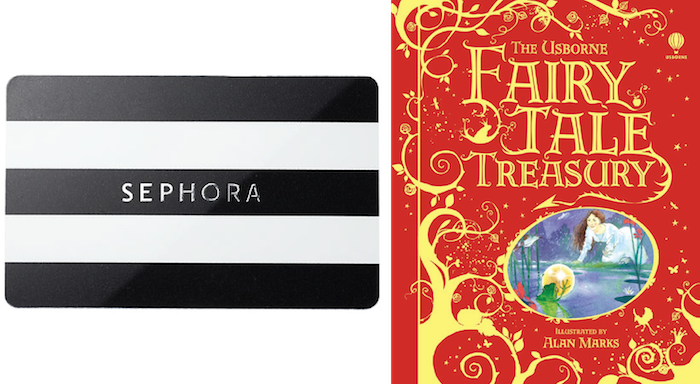 Sephora gift card • Fairy Tale Treasury • Tickets to Fashion Week (not pictured :P)
The care package for Iko would be filled with dresses and shoes (she adores them so much); a Sephora gift card (she can go crazy buying all the makeup); a book about fairytales (she can see her friends in this); and tickets to Fashion Week (she's a fashion lover so this is perfect.
If you want to be entered in the giveaway for this challenge, you have to link up at Super Space Chick. (If you're not awake yet, don't fret! The linky will be open until the event officially ends on February 20, so add yours any time before then.)
What character did you pick things would be in your care package?  Don't forget to blog hop and chat with us via #LoveAThon hashtag on Twitter!