I love comics and graphic novels, so what do I do with that love? Well, I turn it into a new feature!

From Panel to Panel is a new feature where I talk about the awesome (and perhaps not-so awesome) comic books and graphic novels I've read. Basically, this will be me pushing them onto your laps. You're welcome.
What an extremely belated post about the June graphic novels I'm excited about! I had been caught up in the beautiful whirlwind of May that I forget to make this post! But you know what they say, better late than never.
This month, a couple of awesome graphic novels have been published! And it is my job to alert you to the awesomeness of it all! I have my eye on three particular ones—one dealing with murders in four time periods; one revisiting Barbara Gordon as Batgirl; and one dealing with mysteries + a Gotham City school!
Here are the June graphic novels I'm excited about!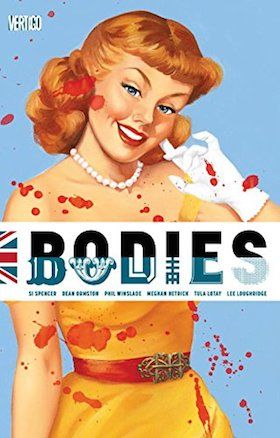 LONDON, 1890. As Jack the Ripper stalks the streets, Inspector Edmond Hillinghead-the city's most diligent detective-applies his skills to an even harder case. The victim is an unidentified male. The killer may have powerful allies. And Edmond's darkest secret may be exposed if he gets too close to the truth…
LONDON, 1940. As the Blitz rains bombs down on the city, Inspector Charles Whiteman reigns over its streets. He escaped the Nazis in Poland only to run the very rackets he's supposed to shut down. But when he discovers a mysterious murder victim, his double life may be destroyed…
LONDON, 2014. As racist rioters wreak havoc in the name of their prejudiced patriotism, Detective Sergeant Shahara Hasan leads the fight against them. As a Muslim cop, she's English to the core. But the corpse she's uncovered may reveal something rotten deep below the surface…
LONDON, 2050. As the mind-scrambling pulsewave plagues the last survivors of a terrifying techno-apocalypse, the amnesiac young woman known only as Maplewood can barely understand the body she's discovered. But this ritual killing is identical to those from decades past-and the link between them all is stronger, and stranger, than anyone could dream…
In BODIES, writer Si Spencer teams up with Meghan Hetrick, Dean Ormston, Tula Lotay and Phil Winslade-four incredible artists, one for each era-to slice open the modern murder mystery and uncover the strange secret heart within! Collects issues #1-8. — Goodreads
Publication date: June 16th 2015 by Vertigo
Pre-order: Amazon · Barnes & Noble · The Book Depository
Why I'm excited: Murders? Different time periods that are somehow linked together in London? Same murder victim? What's not to be excited about that? I was instantly intrigued by the premise, and wanted to see how this comic will execute it.