Inspired by What She Reads, Pure Imagination Blog, and Stacked.

I admit I'm a book cover snob. Who isn't though?

Book covers are the first thing that attracts readers to a book. A good cover can draw someone is, just as a bad cover can easily draw someone away. It can essentially make or break a book. Holy, Mother Cover! is where I showcase the book covers that stand out (or make me cringe) and discuss cover changes.

(A big special thanks to Georgie at What She Reads for bestowing me this fabulous name and to Charlotte at The Simple Tales for creating the beautiful feature banner you see before you.)
Neon lights! Big city! That's what I wanna see! (I may or may not have "That's the Life For Me" from James and the Giant Peach stuck in my head.)
Neon lights is the next trend I wanted to showcase. Like the post-it theme, I couldn't find a lot of book covers with neon lights on it. I figured it would be fairly easy to find because designers can do excellent typography awesomeness with neon lights. Unfortunately, I only found four (which is better than none)! And those four are definitely fabulous ones.
TREND: Neon Lights
Love Me Back by Merritt Tierce • Yes Please by Amy Poehler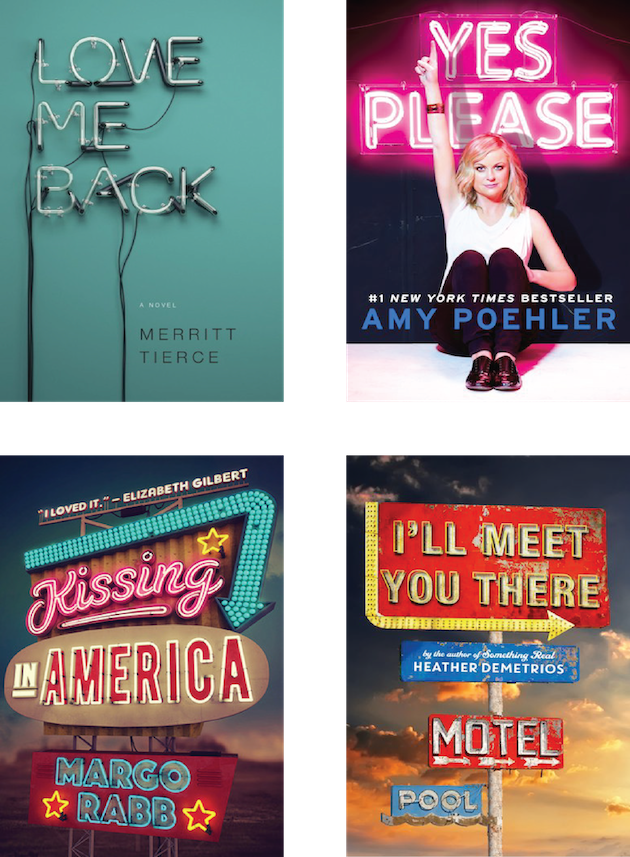 Kissing In America by Margo Rabb • I'll Meet You There by Heather Demetrios
Best neon lights cover? Gahhhhh, it's definitely between Love Me Back and Yes Please.
I love the simplicity of Love Me Back, the background color, and the lights not being turned on. I love Yes Please because HOT PINK BOLDNESS + AMY POEHLER! Need I say more?
What about you? Which book cover do you think has the best neon light? Can you think of any other books with this theme?