Well, April was basically my "hiatus" month. I really hadn't intended it. I thought I would be back a week after the "semi-hiatus," but nope. Certain circumstances prevented me from having regular access to internet. I honestly was not productive on my time away from it.
WHAT I DID IN APRIL
Moved house! No longer in an apartment, but in a fabulous duplex. :D So from mid-April, I was quite busy moving and unpacking and adjusting to my new surroundings.

Had a major reading and blogging slump. Courtesy of Sebastian Stan and Charlotte at Gypsy Reviews + Chiara at Delicate Eternity.

Watched a lot of Sebastian Stan's work (mainly Political Animal)

Went to a big book sale!

Went to Rachel Hawkins's (one of my absolute favorite authors) book event

Finally got my new cover feature name!

Went slowly crazy from the lack of internet.
Y'know, the usual. ;D
REVIEWS
Welp, only one review. Better than nothing, right?
BOOKS GALORE!
I got all these books at the big book sale! I was glad that I didn't have as much as last time because that meant I didn't have to lug it on the bus and up a hill. :D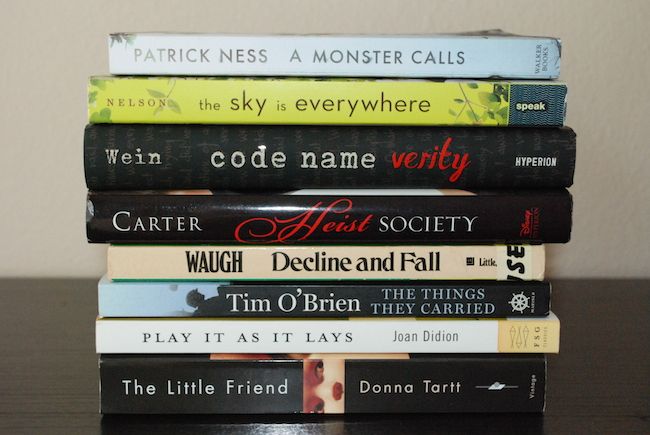 A Monster Calls by Patrick Ness
The Sky is Everywhere by Jandy Nelson
Code Name Verity by Elizabeth Wein
Heist Society by Ally Carter
Decline and Fall by Evelyn Waugh
The Things They Carried by Tim O'Brien
Play It As It Lays by Joan Didion
The Little Friend by Donna Tartt
BOOKS READ/CURRENTLY READING
I actually started A Mad, Wicked Folly, but stopped because I wasn't in the mood to read it and y'know me, I'm a free-spirited reader!
Ajax Penumbra 1969 by Robin Sloan
The Art of Wishing by Lindsay Ribar
Confessions from an Arranged Marriage by Miranda Neville
The Amorous Education of Celia Season by Miranda Neville
Half Bad by Sally Green
ON THE BLOG
Not a lot happened this month because y'know, hiatus and all. I didn't prep for it since I had no idea I'd be gone for half a month. :P
I wrote a letter to myself because I went into major Sebastian Stan obsession mode, which Charlotte and Chiara can vouch for. It was horrible, but wonderful.
If you missed my font posts, check them out here:
— My Camp NaNoWriMo project, which was a murder mystery and had a ghost haunting.
— my semi-hiatus because I was moving house, which turned into an actual lonnnnngg hiatus!
WHAT I'M EXCITED ABOUT MAY!
May will be a glorious month because of these reasons:
MY BIRTHDAY! First and foremost! Major party timeeeeeeeee!
INTERNET. I HAVE GLORIOUS INTERNET.
my cover feature! I HAVE A BEAUTIFUL NAME! It will be unveiled soon!
It will be awesomeeeeee.
How was your April? Any memorable thing happen? Are you looking forward to May?