August was filled with splurges and farewells.
I finally got a KINDLE PAPERWHITEEEEEEEE. BEST DECISION EVER MADE. Its name is Ned. Ha.
My BFF returned from Japan for nearly two weeks, and it was the best everrrrrr. (I miss her. :( )
My older sister's partner came down from Tacoma to visit his family and our family. We went on an adventure to San Jose to drop off his friend (which took a lonnnnnng time, but still fun!). While he was down in California, he gave me a present that my sister made for me. It's a beautiful watercolor piece of how she envisioned my dream bedroom (full of books and etc). Let's just say, I was making squealing dinosaur noises for 15 minutes, while my sister and her partner laughed when we talked on Skype.
My internship ended. :( So sad. I miss going to the office, curating content, and laughing with my co-workers.
I finally have a name and design for that top secret project. I'm aiming to open it in October. Hopefully.
I started another project for tumblr, and I'm so excited to start posting.
BOOKS GALORE!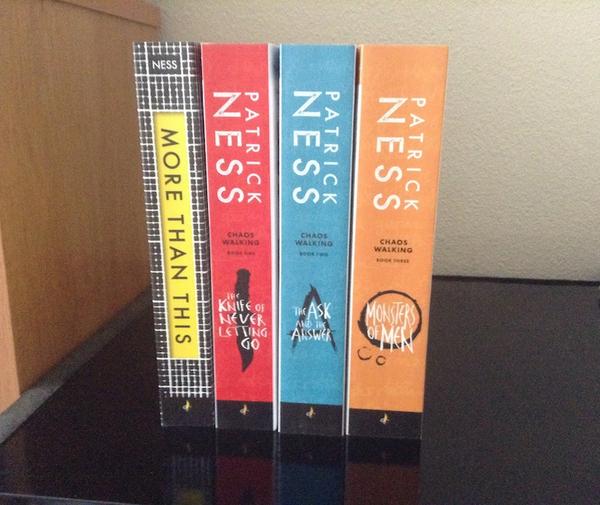 Ned, the Kindle Paperwhite (Bought, not pictured above)
More Than This by Patrick Ness (from Lisa @ Read Breathe Relax)
The Knife of Never Letting Go (Chaos Walking #1) by Patrick Ness (from Lisa @ Read Breathe Relax)
The Ask and the Answer (Chaos Walking #2) by Patrick Ness (from Lisa @ Read Breathe Relax)
Monsters of Men (Chaos Walking #3) by Patrick Ness (from Lisa @ Read Breathe Relax)
Thank you for the books, my dear friends! <3
ON THE BLOG
I've read more books than I had the previous month, so yayyyyy. (Though it's not reflected in my reviews. Ha!)
If you missed my font posts, check them out here:
DID I ACHIEVE MY AUGUST READS? 
Hahahahahahahahahahahaha. Not at all. I'm still in a bit of a slump. But I did finish Jackaby by William Ritter! And it is frickin' amazing.
THINGS I NEED TO DO IN SEPTEMBER 
Start writing and drafting work for the secret project.
Read my ARCs.
How was your August? Any memorable thing happen? Did you enjoy any of my posts? Are you looking forward to September?