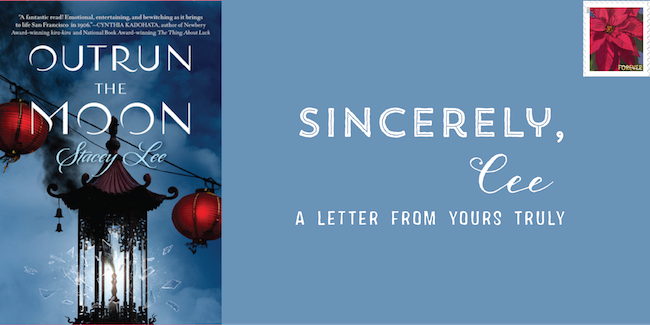 The 1906 San Francisco earthquake + a Chinese main character? Count me in.
[quote cite="Goodreads" url="https://www.goodreads.com/book/show/26192915-outrun-the-moon"]
San Francisco, 1906: Fifteen-year-old Mercy Wong is determined to break from the poverty in Chinatown, and an education at St. Clare's School for Girls is her best hope. Although St. Clare's is off-limits to all but the wealthiest white girls, Mercy gains admittance through a mix of cunning and a little bribery, only to discover that getting in was the easiest part. Not to be undone by a bunch of spoiled heiresses, Mercy stands strong—until disaster strikes.
On April 18, an historic earthquake rocks San Francisco, destroying Mercy's home and school. With martial law in effect, she is forced to wait with her classmates for their families in a temporary park encampment. Mercy can't sit by while they wait for the Army to bring help. Fires might rage, and the city may be in shambles, yet Mercy still has the 'bossy' cheeks that mark her as someone who gets things done. But what can one teenaged girl do to heal so many suffering in her broken city?[/quote]
Here are my reasons why I want to read this book:
It takes place during the 1906 San Francisco Earthquake! I'm no stranger to the events that devastated the Bay Area. It's one of those events I love reading about because it happened essentially in my backyard over a century ago, and I rarely get to read fictional accounts of it.

The main character is Chinese. I jumped in joy! A Chinese character during the 1906 San Francisco earthquake? I don't think I've ever read a book portraying a non-White person's journey before and during that natural disaster. Also, I am loving how Mercy Wong is characterized in the synopsis. She goes after what she wants, I love that.

Mercy Wong pretends to be an heiress from China. This was in a brief synopsis of Outrun the Moon, and it hooked me. (Well, every aspect of this book hooked me.) Can you imagine all the shenanigans she'll get up to, pretending to be someone she's not? What does she do? I need to know!

I want to see how the book deals with the Sinophobia. Since the late 19th century, Americans hadn't looked very kindly on the Chinese that had emigrated to work (to put it lightly), and the surge of anti-Chinese sentiment was still prevalent when the 1906 earthquake hit. A lot of people who died in Chinatown were unaccounted for, and I'm interested to see how Stacey Lee approaches and (hopefully) portrays Sinophobia.
May is so far away. I gotta get this book early somehow.
Who else is excited about this book?
Sincerely,