I love comics and graphic novels, so what do I do with that love? Well, I turn it into a new feature!

From Panel to Panel is a new feature where I talk about the awesome (and perhaps not-so awesome) comic books and graphic novels I've read. Basically, this will be me pushing them onto your laps. You're welcome.
September is the month with lots of interesting (and hopefully kickass) comics/graphic novels! I've found so many that I want to add into my shopping cart!
Let's talk about those September graphic novels I'm excited about (and you should too!). You'll see ones about a lady killer, a comic book character with her own Netflix series, historical humor, a gay Jamaican cop, people seeking revenge, and so much more!
BITCH PLANET: VOL. 1 · EXTRAORDINARY MACHINE
Eisner Award-nominated writer Kelly Sue DeConnick (Pretty Deadly, Captain Marvel) and Valentine De Landro (X-Factor) team up to bring you the premiere volume of Bitch Planet, a deliciously vicious riff on women-in-prison sci-fi exploitation.
In a future just a few years down the road in the wrong direction, a woman's failure to comply with her patriarchal overlords will result in exile to the meanest penal planet in the galaxy. When the newest crop of fresh femmes arrive, can they work together to stay alive or will hidden agendas, crooked guards, and the deadliest sport on (or off!) Earth take them to their maker?  — Image Comics
Publication date: October 7, 2015 by Image Comics
Buy: LCBS · Amazon · Barnes & Noble · The Book Depository
Why I'm excited: "The series is a feminist send-up of the exploitation film genre that takes place in a dystopian reality where non-compliant women are sent to an off-planet prison."1 Can I get a hell fucking yes? Plus, it was also marketed to me as Orange Is The New Black but in space.
Bitch Planet is a comic that is full of ladies—both in writer and content. I love that. It's a safe bet with Kelly Sue Deconnick at the helm of this comic. Ladies gotta represent, and we get it here.
STAR WARS: DARK VADER · VOL. 1 – VADER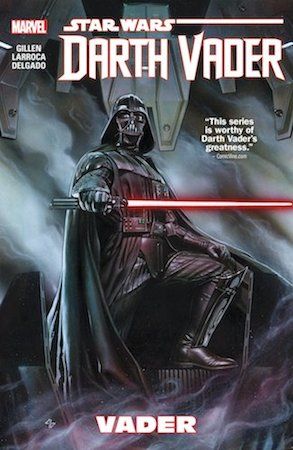 The original Dark Lord of the Sith stars in his first ongoing series!
Ever since Darth Vader's first on-screen appearance, he has become one of pop culture's most popular villains. Now, follow Vader straight from the ending of A NEW HOPE into his own solo adventures – showing the Empire's war with the Rebel Alliance from the other side! But when a Dark Lord needs help, who can he turn to? As Vader pursues a very personal vengeance against the Rebels and investigates the Emperor's secret machinations, he clashes with weapons scavenger Aphra and deadly Battle Droids, and returns to Geonosis to build an army. But some very powerful people don't want him to learn the truths he seeks! Guest-starring Jabba the Hutt, Boba Fett and more!
Collects issues #1-6. Written by Kieron Gillen (The Wicked + The Divine, Phonogram, Young Avengers) and illustrated by Salvador Larocca. — Marvel Comics
Publication date: October 7, 2015 by Marvel Comics
Buy: LCBS · Amazon · Barnes & Noble · The Book Depository
Why I'm excited: *cues Dark Vader theme* Let's be honest, who wouldn't want to read about Darth Vader?
Darth Vader has his very own comic, and it's being helmed by Kieron Gillen (who is my favorite!)? Yes, I would like this comic in my life. I'd love to see what Vader gets up to after A New Hope because we know him as this badass villain, but what else about him? What is his life like? What does he do?
STAR WARS: VOL. 1  SKYWALKER STRIKES
The greatest space adventure of all returns to Marvel!
Luke Skywalker and the ragtag rebel band opposing the Galactic Empire are fresh off their biggest victory yet – the destruction of the massive Death Star. But the Empire's not toppled yet!
Join Luke, Princess Leia, Han Solo, Chewbacca, C-3PO, R2-D2 and the rest of the Rebel Alliance as they fight for freedom against the evil of Darth Vader and his master, the Emperor! But when a Rebel assault goes very wrong, Han and Leia will have to think fast to make their escape…while Luke fi nds himself faceto-face with Darth Vader! In the explosive aftermath, a humbled Luke returns to Tatooine to learn more about his mentor Obi-Wan Kenobi. Meanwhile, Leia and Han undertake a vital – and dangerous -secret mission…but can they succeed without Luke? 
Collects issues #1-6. Written by Jason Aaron and illustrated by John Cassady— Marvel Comics
Publication date: October 7, 2015 by Marvel Comics
Buy: LCBS · Amazon · Barnes & Noble · The Book Depository
Why I'm excited: There are a bazillion Star Wars comics already, and does that make me tired of it? Not at all. (It's a good thing I haven't read those). The Star Wars story is a classic, and I'm always interested to see how the writers and artists tell the story. And with this comic, I'm even more interested in it because Jason Aaron is writing the story (who also writes the intriguing revenge comic Southern Bastards).
Welcome to the Human Body Theater, where your master of ceremonies is going to lead you through a theatrical revue of each and every biological system of the human body! Starting out as a skeleton, the MC puts on a new layer of her costume (her body) with each "act." By turns goofy and intensely informative, the Human Body Theater is always accessible and always entertaining.
Maris Wicks is a biology nerd, and by the time you've read this book, you will be too! Harnessing her passion for science (and her background as a science educator for elementary and middle-school students), she has created a comics-format introduction to the human body that will make an expert of any reader — young or old. — Goodreads
Publication date: October 7, 2015 by First Second
Buy: LCBS · Amazon · Barnes & Noble · The Book Depository
Why I'm excited: I am already nerding out about Human Body Theater. Three great things about it: 1. it has cute artwork, 2. it looks fun, and 3. you get to learn about the human body. This is definitely a great book that'll keep kids & teens entertained and learning, and it's is a comic I wished was around when I was learning about the human body.
USAGI YOJIMBO THE SPECIAL SC BOX SET
Stan Sakai's Usagi Yojimbo is a popular all-ages graphic novel series that chronicles the action-packed wanderings of a ronin in feudal Japan ― as told with anthropomorphic animals. For the first ten years of his career, the battling bunny was published by Fantagraphics Books. This slipcase set collects that entire run (previously published as seven trade paperbacks). With over 1000 pages of story, this is the complete, definitive, early Usagi in a paperback edition, with plenty of extras for fans and collectors. Black & white with 24 pages of color. — Dark Horse
Publication date: October 7, 2015 by Dark Horse
Buy: LCBS · Amazon · Barnes & Noble · The Book Depository
Why I'm excited: Usagi Yojimbo is one of those comics that I see constantly, but never sat down and read the synopsis. I happened across the first repackaged volume of it on my recent trip to Tacoma, and I was instantly intrigued by anthropomorphic animals wandering and fighting in 17th century Japan. It has a samurai rabbit, and goes into Japan's history (or so I hope), so I gotta read more about this!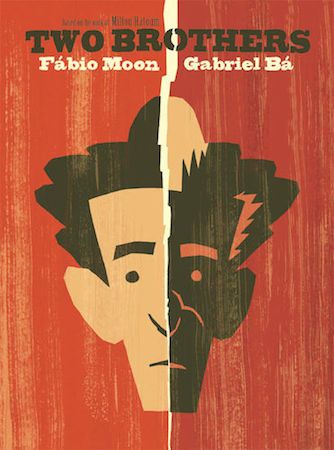 Twin brothers Omar and Yaqub may share the same features, but they could not be more different from one another. And the possessive love of their mother, Zana, stirs the troubled waters between them even more. After a brutally violent exchange between the young boys, Yaqub, "the good son," is sent from his home in Brazil to live with relatives in Lebanon, only to return five years later as a virtual stranger to the parents who bore him, his tensions with Omar unchanged. Family secrets engage the reader in this profoundly resonant story about identity, love, loss, deception, and the dissolution of blood ties.
Set in the port city of Manaus on the riverbanks of the Amazon, Two Brothers celebrates the vibrant life and diversity of Brazil. Based on a work by acclaimed novelist Milton Hatoum, Two Brothers is stunningly reimagined by the award-winning graphic novelists Fábio Moon and Gabriel Bá. — Dark Horse
Publication date: October 14, 2015 by Dark Horse
Buy: LCBS ·  Amazon · Barnes & Noble · The Book Depository
Why I'm excited: Brazilian twins. Brazilian culture. Gorgeous art (which you can expect from creators of this comic, who are twins as well!)
I'm excited to see how Fabio Moon and Gabriel Ba explores the relationship between the brothers in comic-format.
Do any of these comics tickle your interest? Tell me which ones you're excited about! Have you read any of these?