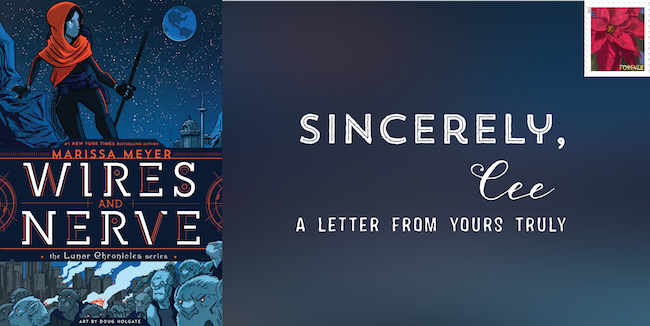 [quote cite="Goodreads" url="https://www.goodreads.com/book/show/29772863-wires-and-nerve-volume-1″]
In her first graphic novel, #1 New York Times and USA Today bestseller Marissa Meyer follows Iko, the beloved android from the Lunar Chronicles, on a dangerous and romantic new adventure — with a little help from Cinder and the Lunar team.
When rogue packs of wolf-hybrid soldiers threaten the tenuous peace alliance between Earth and Luna, Iko takes it upon herself to hunt down the soldiers' leader. She is soon working with a handsome royal guard who forces her to question everything she knows about love, loyalty, and her own humanity. With appearances by Cinder and the rest of the Rampion crew, this is a must-have for fans of the bestselling series. [/quote]
It's about time! How long have we waited for Iko to get her own story? Ages. And now it's here! In graphic novel form! I am so frickin' excited!
Although I have yet to finish the Lunar Chronicles, I've been waiting for Iko. This beloved android takes it upon herself to hunt down a rogue wolf-hybrid leader and has to work with a royal guard? Oh boy. I hope that royal guard makes Iko and readers swoon. ;) I'm excited to see what roles that other Lunar Chronicles characters play in Iko's graphic novel.
Sincerely,