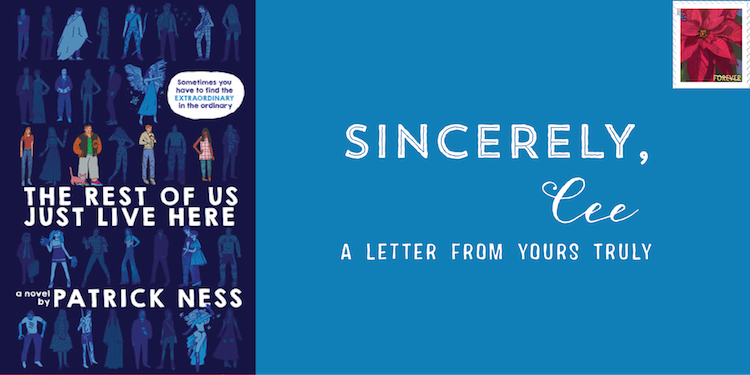 Yes, yes, yes, yesssssssssss.
What if you aren't the Chosen One?
The one who's supposed to fight the zombies, or the soul-eating ghosts, or whatever the heck this new thing is, with the blue lights and the death?
What if you're like Mikey? Who just wants to graduate and go to prom and maybe finally work up the courage to ask Henna out before someone goes and blows up the high school. Again.
Because sometimes there are problems bigger than this week's end of the world, and sometimes you just have to find the extraordinary in your ordinary life.
Even if your best friend is worshiped by mountain lions.
Award-winning writer Patrick Ness's bold and irreverent novel powerfully reminds us that there are many different types of remarkable. Goodreads
Here are my reasons why I want to read this book:
I adore Patrick Ness's writing. He's my favorite! Every chance I get, I like to thrust More Than This into people's faces. That book means a lot to me (FRIENDSHIPS! and weird sci-fi awesomeness), so I gotta get everybody to read one of my favorite books! When I heard that Patrick Ness had another book coming out, I was screaming in joy because I thought I would be waiting forever for his next book. His writing is very profound and fills me with so much emotions. I just love it.

It's not focused on those "Chosen One" characters, rather the ordinary folks who's going about their normal lives. Forget about those characters. We're tired of hearing about how their purpose in life is to save the world. In The Rest of Us Just Live Here, we get these ordinary teenagers who just want to do the typical high school stuff like prom and dating. Question is though: is their life really that ordinary? What do they get up to in this book? I need to know!
I want to see the extraordinary in these teenagers's ordinary life. What could they get up to with the end of the world looming? Do they do the normal day-to-day stuff teenagers stuff? Or is there something more? I know Patrick Ness will pull something unexpectedly awesome in his bag of tricks.

I hear there's good weirdness in it. I'm not completely sure what to expect. I bet it won't be strictly contemporary despite what the synopsis tells us. I really don't know what to expect, and that makes me even more excited about this book!
This book comes out in a couple of weeks in the UK, but for folks, like me, in the US, we gotta wait until October. Eeeeep.
Who else is excited about this book?
Sincerely,