* The lovely banner was created by Charlotte with the resources I bestowed onto her.
[quote]Epic Recs is hosted by the lovely Judith (Paper Riot) and Amber (Books of Amber). It is a feature where each month, you and your partner force a book onto each other, or to put it nicely, recommend one to read. My partner in crime will be the one-and-only Charlotte of The Simple Tales. Let the fun (*ahem* pain) begin![/quote]
January's Epic Recs was a big success! Charlotte loved The Boyfriend List (YEEEEEEEEE!), and well, me? I finally read Vicious and LOVED IT! Every scene, character, word, absolutely EVERYTHING! Supervillains + found family? C'mon now! It's just a frickin' fantastic book, and everybody needs to go read it!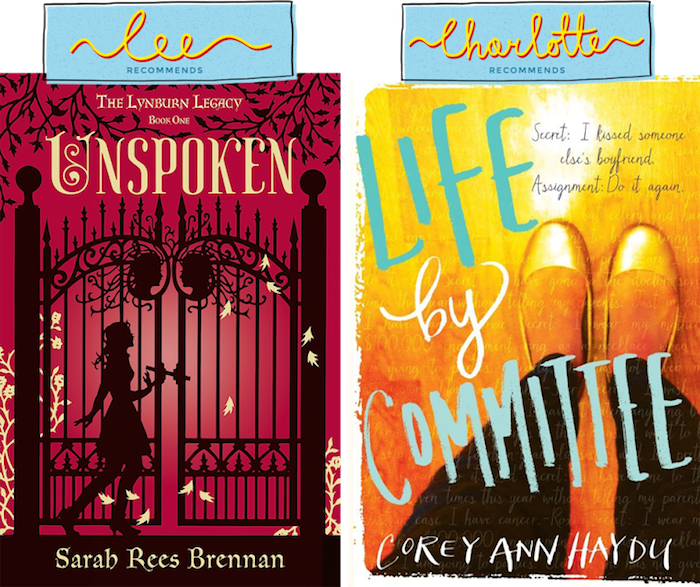 For this month's Epic Recs, I'm recommending Charlotte Unspoken (The Lynburn Legacy #1) by Sarah Rees Brennan. I LOVE this book. I recently reread it and oh boy, it never fails to get me frickin' emotional! Just one thought about it sends me on an emotional rollercoaster, and you know if you get that feeling, it'll be a good ride. I love the gothic atmosphere to this book, all the characters who are amazing especially Kami (who I wish was my best friend), the witty dialogue, the friendships, and the romance. Guys, let me just talk about how in love I am with 1. Kami Glass (she's such a fabulous and kickass character) and 2. the romance. I'm not a fan of YA romance, but something about the one in Unspoken works for me. I AM IN THAT SHIP FOREVER. SO IN LOVE WITH THEM AND EVERYTHING.
Charlotte recommended me Life by Committee by Corey Ann Haydu. Charlotte loves this book, but she hasn't said too much about why I should read it other than "I loved this. Read it!" I know she's a bit worried I might not like it since it doesn't have my favorite tropes, but I'm hoping I do like it! *crosses my fingers* You can read her Epic Recs post about why she recommended me this book.
What do you think about our recommendations? Have you read either book? Tell me all about it!