* The lovely banner was created by Charlotte with the resources I bestowed onto her.
[quote]Epic Recs is hosted by the lovely Judith (Paper Riot) and Amber (Books of Amber). It is a feature where each month, you and your partner force a book onto each other, or to put it nicely, recommend one to read. My partner in crime will be the one-and-only Charlotte of The Simple Tales. Let the fun (*ahem* pain) begin![/quote]
Charlotte and I have just been acing this Epic Recs thing. Given, I didn't read Life By Committee until the last week of February, but oh boy, I enjoyed it more than I expected even though Tabitha was all sorts of messssy, which I appreciated. I loved when the Life By Committee group appeared because it was a unconventional support group that recommended Tabitha to do things she shouldn't, but those advice weirdly worked and had a way of working itself out.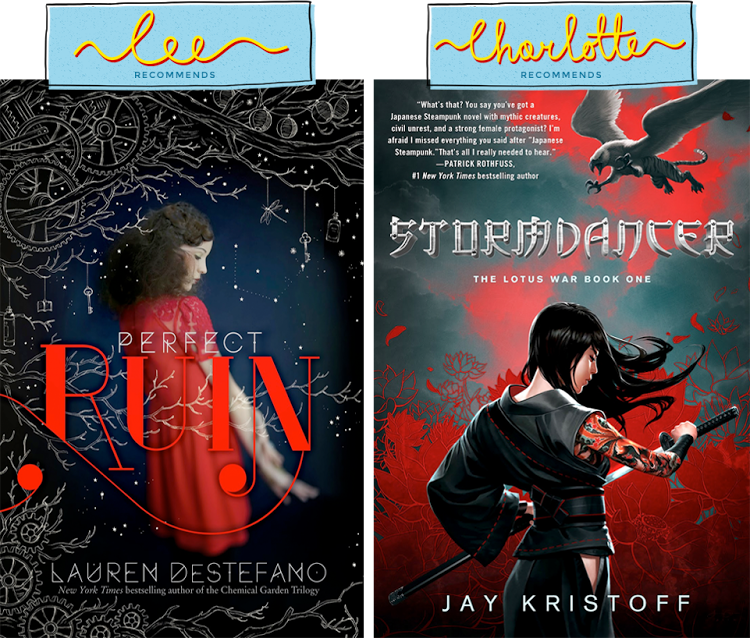 For this month's Epic Recs, I'm recommending Charlotte Perfect Ruin (The Internment Chronicles #1) by Lauren DeStefano because I want to torture her. I don't think I've made it a secret that I utterly loathe this book. I want Charlotte to read it so she can get a taste of how ridiculous and anger-inducing this book is and so she can understand why I hate it. Essentially, I want to have another buddy in my "let's talk about how horrible Perfect Ruin is" club. Godspeed, Charlotte. I am here for you.
Charlotte recommended me Stormdancer by Jay Kristoff. Eeeeeeek. Reasons why I'm excited: 1. that cover is so gorgeous and badass, 2. there's a mythological creature, and 3. Asian main character! I love the thought of this mythological creature and Yukiko having to rely on each other to survive even though they might not like each other at all. And can we talk about how Yukiko sound so kickass? I'm just a bit worried that it'll be a bit hard for me to get into. You can read her Epic Recs post about why she recommended me this book.
What do you think about our recommendations? Have you read either book? Tell me all about it!