Inspired by Pure Imagination Blog and Stacked.

Let's be honest, nobody follows the age-old cliché that tells us not to judge a book by its covers. If you say you do, I am side-eying you. Book covers are the first thing that attracts any of us readers to a book. Before you pick up a book, the cover can essentially make or break a book. If I don't like a cover design, I won't pick it up. Lucky for us, publishing companies publish different cover designs, especially when a paperback book comes out. Sometimes we like it, sometimes we don't. Whatever the changes with cover designs, I will discuss it.
Today, we look at the cover of Perfect Escape by Jennifer Brown.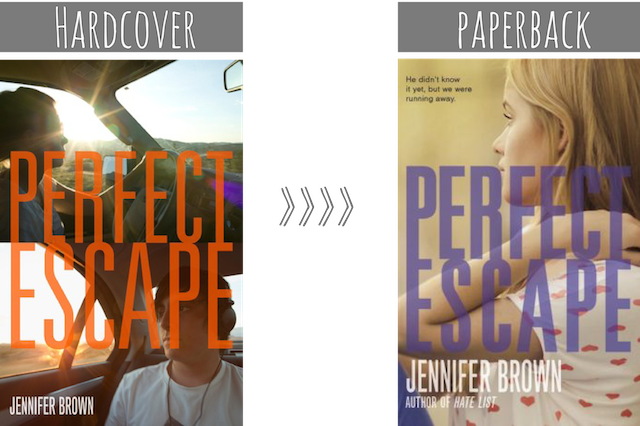 Okay, so, you know how I don't like it when book cover shows a person face? Yeeeahhh, not of fan of both covers. When I first saw the cover for the hardcover version, I made a face because I am shallow and that guy's face is not cute at all! Despite that, I do prefer the hardcover design over the paperback because it shows that these two kids are in a car, basically running away (exactly like what happens in the book). It emphasizes that this book is about two people.
(This is a nitpicky thing about the hardcover design. Do you see how the two models are situated in the car? Is it just me or is the guy sitting in the back seat? I do believe Grayson sits in the front seat next to Kendra in the book. So why is he sitting in the back?)
I really do not like the paperback design. It doesn't show that this book is about a pair of teen siblings taking a car and running away. Also, why is her shirt heart shapes? EWWWW. But I do like the font and the light purple color! It fills up the cover better.
What do you think about the cover change? Which do you prefer?