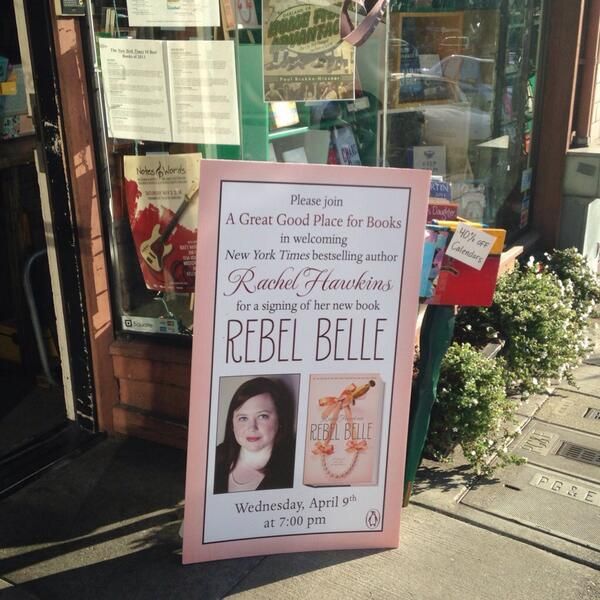 How do I even begin to describe Rachel Hawkins? Awesome, sweet, amazing, THE BEST. I'm sure you've heard me credit her time and time again for convincing me to give YA a chance after I read her books. (It's true though!) I haven't had a minute to sit down and process my feelings on meeting one of my absolute favorite authors (because of moving and packing and unpacking).
I went to see Rachel Hawkins early April and you can guess that it was AH-MAZING! It was the first event I've been to since last October (Yes, that's a long time!). The event was pretty small (because there was another event the next day in the South Bay). There were about seven people (nine if you include the bookstore staff), which was a bit awkward but awesome at the same time! She gave each attendee (fake) pearls and it was fabulous.
For like 15 minutes, I watched Rachel (in a totally non-creepy way) walk around the bookstore and I was already a nervous wreck because holy star struck! I was clamming on the inside. Eeeeek. I knew I would be pretty much unable to articulate words to her.
Fun facts
Rachel Hawkins wrote Rebel Belle after Hex Hall (when she was waiting for the edits from her editor), but before Demonglass and Spellbound.
There will be three Rebel Belle books.
Hyperion bought Rebel Belle, but Rachel's editor left Hyperion and went to Penguin, so the book went with her.

She used a Gossip Girl analogy. Harper Price is basically Blair Waldorf. And Harper and David are basically Dan and Blair. (Ha!)

She had a lot of friends in high school who had cotillions/debutante balls, so she contacted them for research.

First scene she thought up for Rebel Belle was Harper fighting a guy to the death in a school bathroom.

David was originally supposed to be the new kid in school, but whenever he and Harper interacted, it was too mean and seemed like Harper was picking on the new kid. Rachel Hawkins changed their relationship so that they knew each other their entire lives.

Rachel's favorite scene: the car chase scene!

She wrote the cotillion scene (at the end of the book) in Scotland.

She created the Rebel Belle title. Hex Hall was kind of her title. Demonglass, Spellbound, and School Spirits were not hers.
— When Hex Hall went out for submissions, it was called Demonglass. Hyperion thought it was too dark of a title. Rachel changed the school name (which was an originally a really plain name) to Hecate Hall so the book can be named that.
— Nobody could agree with the pronunciation of Hecate. If kids didn't know how to pronounce it, they won't ask for it. They changed it to Hex Hall since that's what the students call it as a joke.
— With School Spirits, an editorial assistant came up with it after Rachel and her editor had trouble finding a good name.
The second book in the Rebel Belle series has an awesome cover and keeps with the Rebel Belle cover.

Rachel doesn't get a say on her book covers. She personally doesn't want to put input in it.

She has a couple of middle grade books with Penguin.

Roald Dahl and Katherine Tucker Windham inspire her. (Windham was the first author she ever met when she was 7 or 8.) They got her into spooky things.

Her book recommendations: We Were Liars by E. Lockhart, The Archived series by Victoria Schwab, A Darker Shade of Magic by Victoria Schwab (which won't come out until next year or so), Rachel Hartman's Seraphina series.

She and Victoria Schwab vacationed together in Scotland last summer!

Stephanie Perkins and Rachel Hawkins bonded over their mutual love for nonfiction books about animals eating people.

She watches Game of Thrones, Reign, The Mindy Project, and Brooklyn Nine-Nine.
Signing
I was a nervous wreck! I was actually worried by voice was shaking when I talked to her. As Rachel Hawkins signed my books, I told her that I love her and her books because they convinced me to give Young Adult a chance.
I told her how pumped I was for her book with the Henry James inspired names! And she instantly remembered that I was the person who was pumped for this book! We started talking about Henry James's work (more specifically about The Turn of the Screw, which is a frickin' amazing book. I told her that whenever I read the book, I was either in my college's library or right before I went to bed, which was a bad idea because I always half-afraid that one of the characters (Peter Quint, the red haired former valet) would appear in my room). Haha.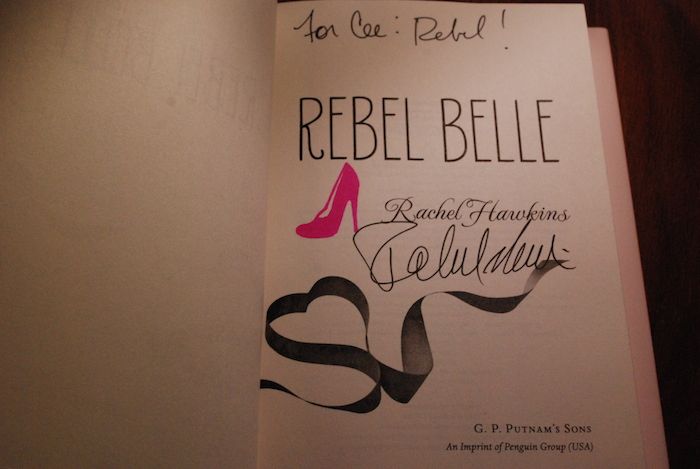 I took a picture with Rachel Hawkins, but it wasn't the best picture. Oh wells!
It was great event even though I didn't speak to her as much as I wanted to. I was just too star struck and scared! I just askjdasdiuqwoudoshsahajkfhs. I want to see her again!