The Book Blogger Love-a-Thon, hosted by Alexa and Katelyn, is an event dedicated to spreading the love for blogs + bloggers! It's time dedicated to exploring the blogging community, leaving a comment or two, meeting new friends and fostering positivity among the bloggers of the community.
For this challenge, you're supposed to create a Valentine for your favorite book guy or gal. And I decided I would dedicate this Valentine's to the underrated Cricket Bell of Lola and the Boy Next Door. He's such an earnest and endearing character who has loved Lola since forever. He wins my heart!
I have put together items I would gift Cricket Bell (if money was not a concern). With only two thoughts on my mind (1. he's an inventor and 2. he dresses well), I went searching for things I'd think he'd really love. And voila!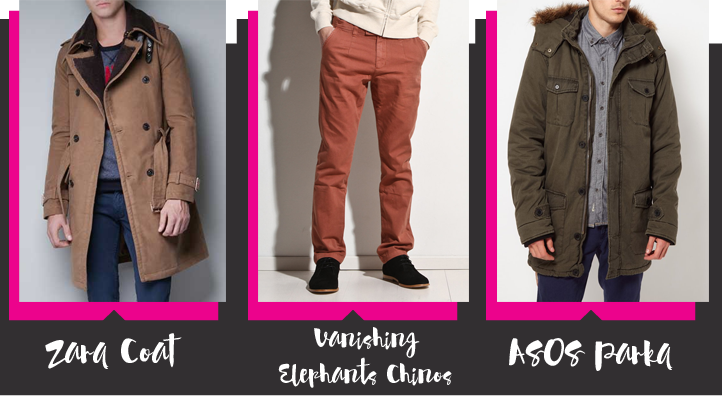 Lola Nolan noted that Cricket wears a lot of "unusual coats," so I went hunting for coats that I imagine he would wear, and well, this Zara Coat was one that I thought Cricket would look really good in. I love the style and color of this coat.
Vanishing Elephants Chinos
Cricket would totally wear chinos, especially ones that are different colors. He just seems like that type of guy who would own a few. And he'd look good in it too.
Can you imagine Cricket snuggled in this parka? I'm well aware that this coat may be too much for San Francisco weather, since the weather is never really cold enough to wear parkas in the first place, but hey, this coat is amazing! And it'll look so frickin' amazing on Cricket.
(All three clothing item are not available for purchase, hence the lack of a link to buy it.)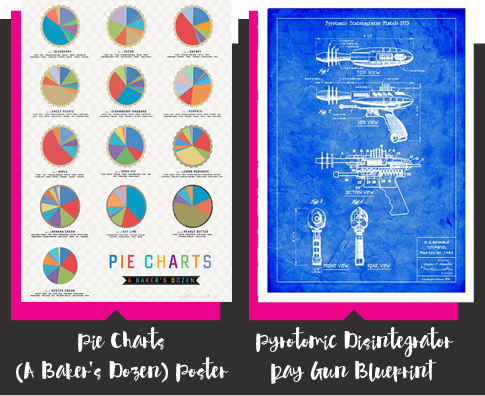 Pie and math? Way into Cricket's heart! He has a hugeeee appetite and loves pies, especially the ones Lola's dad makes. And, he's good with numbers. I love that this poster cleverly uses the ingredients in a pie to create a pie chart. It's such beautiful image wordplay. Totally meant to be!
I think this is a perfect print for Cricket to put on his wall. It's "from an original artwork by Christopher Brown" and is a "blueprint of the original Pyrotomic Toy Ray Gun invented in 1953." Who doesn't love ray guns? I sure hope Cricket does!
3D Printer is a must for Cricket. An absolutely necessary and perfect tool. An inventor needs to make samples or build things (even if it's plastic). It's also really cool for playing around.
This watch is so cool. It's very stylish and astronomy-inspired! Cricket can tell time and map the night sky with it! It might take a bit of getting used to, but it's just so awesome!
LEGO Star Wars Ultimate Collector's Millennium Falcon
Any builder would love this. And when you invent stuff, you have to build it. I think it would be an awesome project to assemble with Cricket. Think about the bonding you'd do with him. At over five thousand pieces, this project will take a while, but the results would be satisfying since you get an awesome Millennium Falcon after all that hard work.
What do you think about my choices? Awesome gifts, yes? Do you want any of these?