I haven't been great at keeping with my TBR books this past month. (Blame that on all the stress! Ack.) Currently Reading will act as my check-in, letting you guys know what I'm forever reading at the moment, and what I'm enjoying about it. Today, I'm sharing with you three books I'm juggling/reading
Three Dark Crowns by Kendare Blake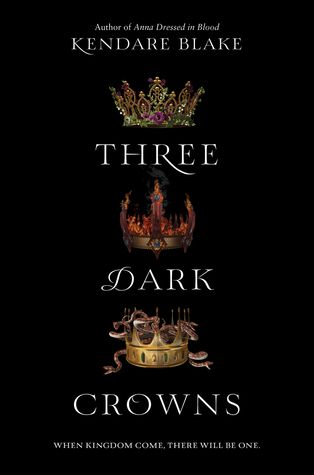 Every generation on the island of Fennbirn, a set of triplets is born: three queens, all equal heirs to the crown and each possessor of a coveted magic. Mirabella is a fierce elemental, able to spark hungry flames or vicious storms at the snap of her fingers. Katharine is a poisoner, one who can ingest the deadliest poisons without so much as a stomachache. Arsinoe, a naturalist, is said to have the ability to bloom the reddest rose and control the fiercest of lions.
But becoming the Queen Crowned isn't solely a matter of royal birth. Each sister has to fight for it. And it's not just a game of win or lose…it's life or death. The night the sisters turn sixteen, the battle begins. The last queen standing gets the crown.
If only it was that simple. Katharine is unable to tolerate the weakest poison, and Arsinoe, no matter how hard she tries, can't make even a weed grow. The two queens have been shamefully faking their powers, taking care to keep each other, the island, and their powerful sister Mirabella none the wiser. But with alliances being formed, betrayals taking shape, and ruthless revenge haunting the queens' every move, one thing is certain: the last queen standing might not be the strongest…but she may be the darkest.
Why did I want to read Three Dark Crowns? When I read that Three Dark Crowns was about three triplets—all queens in their rights—I thought about the daughters of Shakespeare's King Lear and this beautiful image of three ladies from Dinara Mirtalipova. Since then, I can't stop thinking about these two things. I like reading stories about sisters, and you had a fantastical element with a power struggle? I'd want to experience the unexpectedness and weirdness.
What do I like about it so far? That I don't know how to feel about it? I just started the book, but it really throws me into what's happening, not giving you a clue what I've stepped into. I imagine I will get to know all these characters as I keep reading. But you guys, one queen ingesting poison? Another being able to bloom flowers? Another being able to control the elementals? I hope the ??? I feel about the book turns into a definite opinion of like.
Where Am I Now? by Mara Wilson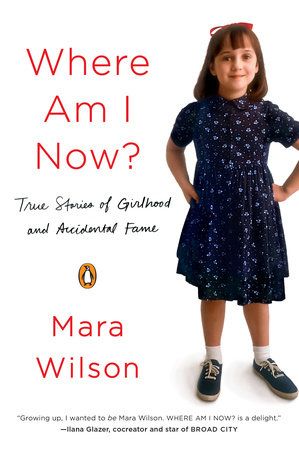 A former child actor best known for her starring roles in Matilda and Mrs. Doubtfire, Mara Wilson has always felt a little young and out of place: as the only kid on a film set full of adults, the first daughter in a house full of boys, a Valley girl in New York and a neurotic in California, and a grown-up the world still remembers as a little girl. Tackling everything from what she learned about sex on the set of Melrose Place, to discovering in adolescence that she was no longer "cute" enough for Hollywood, these essays chart her journey from accidental fame to relative (but happy) obscurity. They also illuminate universal struggles, like navigating love and loss, and figuring out who you are and where you belong. Candid, insightful, moving, and hilarious, Where Am I Now? introduces Mara Wilson as a brilliant new chronicler of the experience that is growing up female.
Why did I want to read Where Am I Now? From Matilda to Mrs. Doubtfire, Mara Wilson was a child actor that was part of movies I adored as a child. I always wondered what happened to this girl. How did she grow up? What made her break away from Hollywood?
What do I like about it so far? Getting to know Mara. She's not that little girl you think you know. Whatever you think you know about her from the movies, that's not her. I like seeing how she grew up—from her acting career to being out of place with boys and such. This is behind the scenes of a child actor.
Have you read these books? Did you like them?