How do I recount to you the awesomeness of meeting comic book writers/artists when I was at ALA a few weeks ago? With great difficulty, apparently!
DAY ONE
When I went to ALA, I stumbled across the creators of Grayson (Tom King and Tim Seeley) signing at the Penguin Random House booth (across from the Random House kids section). While I was hovering around that area, I heard that the writers/artists of Batgirl and Gotham Academy were gonna sign afterwards. You bet your ass I was gonna stick around. Why? Because of Brenden Fletcher, who writes the recent Batgirl, Gotham Academy, and Black Canary. (If you read my June recap, I recently fell in love with Black Canary, where I talked about it and my adventures of obtaining the poster over there.)
When I got up to Brenden and Cameron Stewart, I sung praises for Black Canary (how I'm in love with it + Annie Wu's amazing art work), and Brenden's face absolutely lit up. I didn't get to go into specifics of my love because there were people behind me, but since he was going to be around ALA, I decided to save it for later.
(I totally forgot to take pictures when I was waiting in line. Whoops.)
DAY TWO
I decided to scout him out on Sunday because I wanted him to sign my Black Canary posters.
I spent lunch time hanging around Artist Alley and the Graphic Novels/Gaming Stage, and caught the last 20 minutes of the "Protecting Comics: Authors & Experts on Fighting Graphic Novel Challenges" panel that had Mariko Tamaki, Gene Luen Yang, and Eva Volin speaking.
They talked about the challenges that graphic novels face in terms of censorship and how it's organized in libraries. They made a great point of saying that graphic novels should not be lumped together. A children's graphic novel should be in the children's section, not lumped in with graphic novels that are more geared to adults. It was a really great panel that made me wish I had caught the beginning.
I settled into a seat for the "DC Entertainment – Inside the Page: Bat-Universe" panel with Mark Doyle (DC Comics Group Editor) who moderated, Brenden Fletcher, Becky Cloonan, Karl Kerschl, Cameron Stewart, Tim Seeley and Tom King. The panel was about giving a behind the scenes look at young Gotham universe through Batgirl, Gotham Academy, and Grayson.
First to speak were Karl, Becky, and Brenden about Gotham Academy. They talked about the process of translating the script of the comic into art, and Karl talked about how he would usually read through script, and then go through it again page by page, picking moments he thinks are the most important or exciting and designing around that. However, since he, Becky, and Brenden all live in Montreal, they hash out the story, change things, and rewrite them together.
Then Cameron came up to the stage to talk about Batgirl with Brenden and Mark.
Cameron said that he and Brenden were inspired by the fun and the lightheartedness of the '60s and '90s animated Batman series.
They wanted to see what would it be like to see Barbara Gordon balance friends, college, boys with being a superhero. They wanted the new comic to speak to the age of the character and the circumstances that she would face.
For the new Batgirl, they wanted to bring in a new artist who will be a voice for young woman like Barbara. Cameron talked about how Babs Tarr, the artist of The Batgirl of Burnside, never did comics, and how he had to do the storyboards for the first volume while Babs did the final art.
They wanted to showcase Barbara's superpower: her photographic memory. It was never portrayed visually, so they wanted to see how Barbara goes into her mind and recall information.
In every pitch, they always emphasize Barbara, the person, and not Batgirl, the superhero. Always Barbara does this, Barbara does that. (It's Barbara first, Batgirl second.)
Last up was Tim Seeley and Tom King on Grayson.
They wanted to write about Dick Grayson because they wanted to show what happened to the kid that we used to see growing up. They said that Grayson works well in espionage since it feels completely natural for his character given his past experiences as a Circus performer and as Batman's sidekick/protege.
Tom used to be in the CIA, and got to put his experience into Grayson.
They talked about how Dick Grayson is a male character that has a huge female following, and how he's essentially the romantic lead of the DC comic world. They wanted to give female readers "an object to objectify," as they put it.
They said Grayson was a mix of a book and a movie because it's like an action movie on page.
After the three comics writers/artists talked about their comic, the panel was opened to questions and answers.
When you were in college, did you want to write the great American novel or the next Rembrandt?
Tom King said he wanted to write the great American novel. He loved both comics and general fiction, and wanted to do both.
Did anybody get into the comic books to put food on the table?
Getting into comic books is hard. You don't go into it for the money. You do comics because you want to.
To Becky, as a female, how do you break into this "all boys club"?
Becky talked about how she always wanted to get into comics and studied animation (hand drawn kind), but by her junior year, hand drawn animation was being replaced with CGI + digital animation, so she decided to drop out. She started self-publishing, and handed out her work to people. She talked about making connections, and how comics is a long game—you meet someone years ago, and they'll call you six years later asking to work on a project.
How do you change the status quo of a character?
Mark talked about how it's a very complicated process which deals with a lot of back and forth. It starts off internally in the editorial room where the editors want something new or different and start making phone calls to artist and writers, asking them to give them different takes of, say, Batgirl. Then it goes back to Mark where the pitch has to be perfected before it goes to his editor-in-chief and his publisher.
Cameron added they have to narratively-justify the characters, the tone, and the costume. The first volume is a way to reconcile the new status quo and the tone. It's still accessible to someone who feels fresh, but also make it familiar to people who are longtime fans of the series or characters.
What graphic novels/comic books are you reading?
After the panel, I waited around so I can talk to Brenden. IT WAS AN ABSOLUTE MUST. Essentially, I told him how much I love Black Canary (again) and gushed about how in love I was with the found family (and how these ladies refuse to leave even when in danger). I told him that was my bread and butter—the trope I love. Brenden showed me sneak peeks of Black Canary #2 on his phone. It's these ones:
[lightbox type="image" src="http://i1274.photobucket.com/albums/y425/thenovelhermit/bc%202-1_zpsvhw44snm.jpeg"]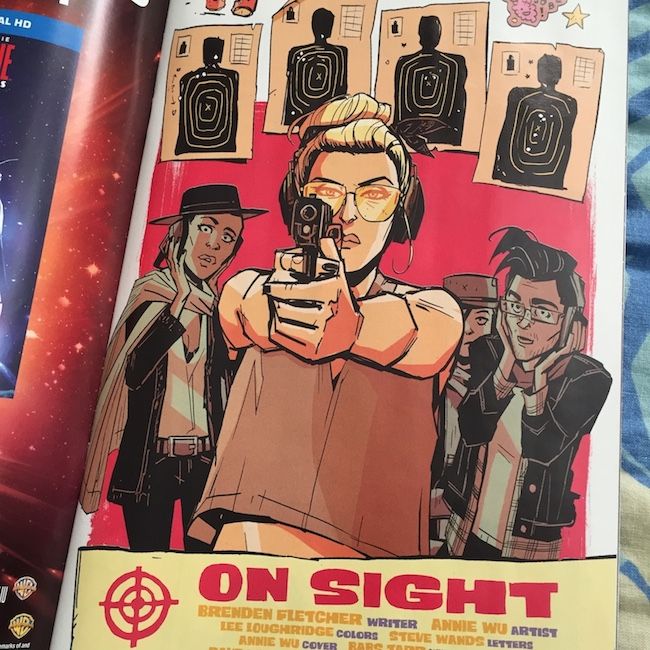 [/lightbox][lightbox type="image" src="http://i1274.photobucket.com/albums/y425/thenovelhermit/bc%202-2_zpslkzyfz9t.jpeg"]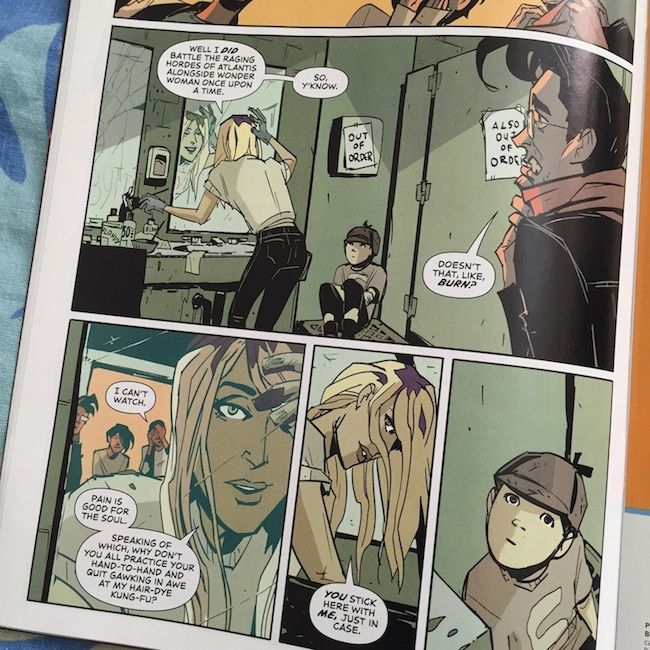 [/lightbox][lightbox type="image" src="http://i1274.photobucket.com/albums/y425/thenovelhermit/bc%202-3_zpsnablyx9q.jpeg"]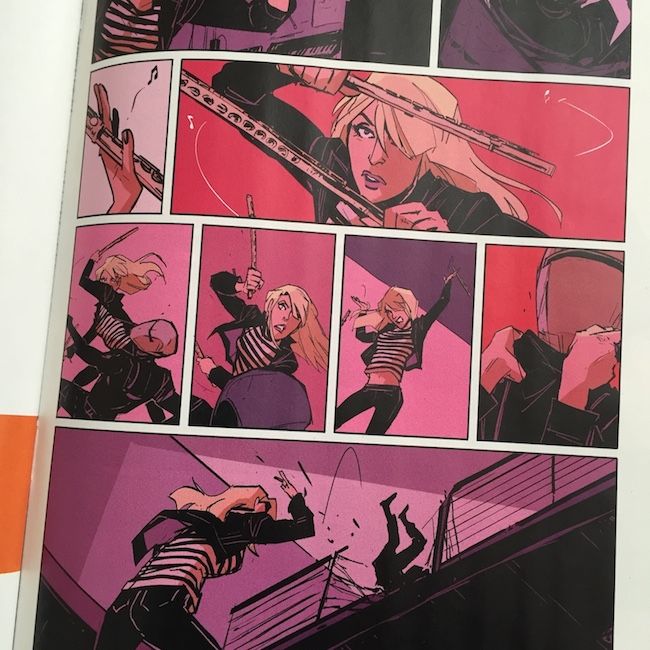 [/lightbox]
(I can show you now that I have issue #2. :D I was so excited to see the sneak peeks.)
Then I made him sign my two Black Canary posters and take a selfie ! Ha. Brenden was really the sweetest to talk to. You can tell he's just every excited to share the Black Canary love. I was just walking on clouds afterwards. One of the best meetings of a growing-favorite comic book!