Stacking the Shelves is a weekly meme hosted by Tynga's Reviews where you share books you are adding to your shelves, may it be physical or virtual. You can include books you buy in physical store or online, books you borrow from friends or the library, review books, gifts and of course ebooks!  I bought a lot of books at an annual book sale. SCOOORREEEEE. Young Adult books were $1 each. SO GOOD. I wish I had more time to search for more books. I'm quite disappointed that I didn't get the fourth book of A Series of Unfortunate Events (because I would've had #1-8, but nope!) and the third book of the Millennium Trilogy; I couldn't find it anywhere.
A Series of Unfortunate Events #1-3, 5, 11, 13 by Lemony Snicket
The Giver by Lois Lowry
The Iron King by Julie Kagawa
If I Stay by Gayle Forman
Audrey, Wait! by Robin Benway
A Great and Terrible Beauty (Gemma Doyle #1) by Libba Bray
Going Bovine by Libba Bray
I'd Tell You I Love You, But Then I'd Have To Kill You (Gallagher Girls #1) by Ally Carter
The Girl With The Dragon Tattoo (Millennium #1) by Stieg Larsson
The Girl Who Played with Fire (Millennium #2) by Stieg Larsson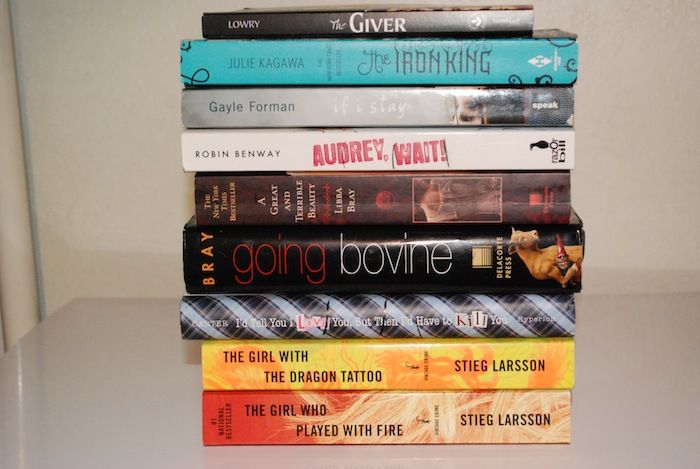 I'm still deciding whether I should go on Sunday because every book that's left over is $1, but I realize my book event is actually on that day and obviously – seeing Marissa Meyer > $1 book sale. (I could always go early, but I don't want to wake up early. :P)
ALSO.
If you have missed my previous posts, check them out: 
How was your week? What books did you pick up? Have you read any of the books I got in the mail?