[quote]Top Ten Tuesday is a weekly meme hosted by The Broke and the Bookish where we list our top tens![/quote]
This week's topic is "top ten nine books I read because of another person." Whenever I hear friends raving about books (that has things I love reading about), I immediately put it on my TBR list. They're a helpful resource who recommend books I may love or find surprising. It's always thrilling to find myself enjoying their recommendations because I don't love books so easily.
Here are the books I remember reading because of another person.
I recommend this comic a lot to so many people, but believe it or not, I did not discover this comic myself. Sana talked about reading this on Netgalley, and I decided I wanted to read it as well. Gods + pop culture? That sounds like heaven. And when I read it? I fell head over heels in love.
A lot of people were yelling at me to read Jackaby, and of course I listened. How can you go wrong with supernatural creatures + no romance + a Doctor Who/Sherlock-likeness? I read Jackaby and understood why people were shouting at me to read it.
I love Claire Legrand's books. I had always planned to read The Year of Shadows; I just didn't know when y'know until Charlotte recommended it for an Epic Recs post we did. This Middle Grade book is a true delight (like all of Claire Legrand's book). A concert hall + ghosts + just so much love.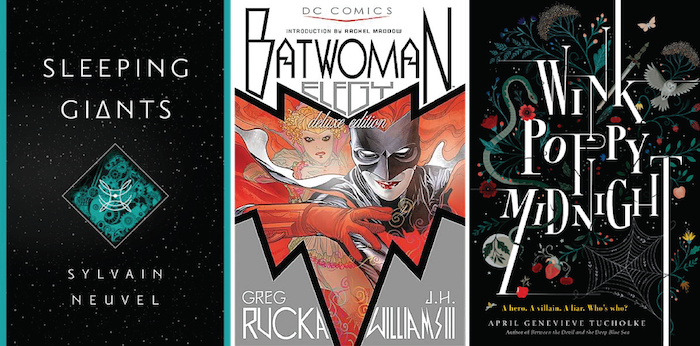 If you say a book is weird and is written in a different format (like in an interview style), I will immediately want to read the book. When I read Crini's review of Sleeping Giants, I needed to experience the book. Her description of the arm that's found made me think of Pacific Rim and the Iron Giant.
My sister loves Batwoman. A lot. She had been urging me to read it, and I had been meant to, but I didn't have a copy. Last year when I visited her, she lent me her copy, and I could definitely see why she loved Batwoman. Kate Kane is amazing.
Okay, to be fair, Aentee didn't exactly recommend Wink Poppy Midnight to me. She was reading it, and I remember reading her tweets about how bizarre it was, so I decided to pick it up because why not! I love reading bizarre books, and oh man, this book was really bizarre. I didn't know if I liked or hated the book (I still don't know right now), but I was weirdly charmed by these terrible characters.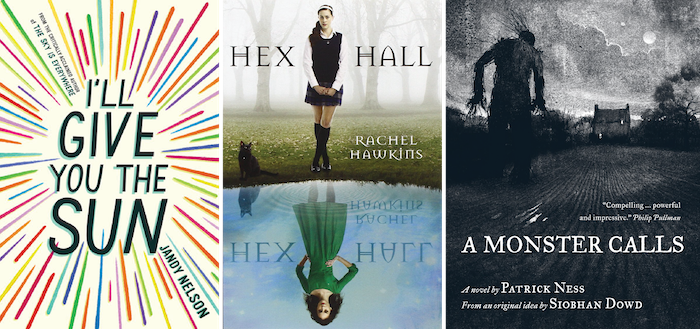 When Elena talks about a book, I sit up and listen. I remember reading her review of I'll Give You the Sun and was convinced this book would change my life, and it did. I love that book to pieces. I'm still so unintelligible when I try to talk about this beautiful book.
I can't remember who exactly was raving about Hex Hall, but it was before I started book blogging and before I started reading book blogs. Hex Hall was the book that brought me back into reading Young Adult regularly. Forever thankful to that person and this book.
A Monster Calls by Patrick Ness (Recce'd by Asti)
Asti is a big fan of Patrick Ness, and I remember she would recommend A Monster Calls to everybody. I gave in, and oh boy, it sent me down the Patrick Ness rabbit hole.
What books do you love or like that were recommended by others?